Tell us about your organization
Phone required (###) ###-####, or int ######...
Looks like we're already familiar with you!
Please press next to continue with the survey.
Looks like we're already familiar with you!
According to your account type you are not eligible to take surveys at this time. If this is a mistake, please contact KLAS.
If you are trying to access KLAS research data and reports, an email has been sent to with a link to login.
If the email doesn't appear in your inbox, ask your IT department to add KLASresearch.com to your company spam filter's "whitelist", and check your email's spam folder.
Membership Commitment
In exchange for giving their feedback, healthcare providers can create an account to get access to industry reports, user commentary, and real-time ratings.
By submitting your account request, you are engaged in patient care as either an employee (or contractor) of your provider organization and that you confirm that you have reviewed and agree to abide by the Terms of Use for this website as updated periodically.
To learn more about how we process and protect your personal data, you may view our Privacy policy.
By submitting your account request, you confirm that you have reviewed and agree to abide by the Terms of Use for this website as updated periodically. To learn more about how we process and protect your personal data, you may view our Privacy policy.
By submitting your account request, you confirm that you have reviewed and agree to abide by the Terms of Use for this website as updated periodically.
Thank You! Your information was submitted successfully!
Next Steps - An email has been sent to . Please follow its instructions to verify your email, and login.
If the email doesn't appear in your inbox, try asking your IT department to add KLASresearch.com to your company spam filter's "whitelist", and checking your email's spam folder.
Thank You! Your information was submitted successfully!
Next Steps - A KLAS representative will contact you to discuss working with KLAS, typically within 24 to 48 hours.
If you have any further questions please contact info@klasresearch.com or 1-800-920-4109.
Surprise! Looks like we already have an account for you.
An email has been sent to blah@blah.com with a link to login.
If the email doesn't appear in your inbox, try asking your IT department to add KLASresearch.com to your company spam filter's "whitelist", and checking your email's spam folder.
ECG 2013
Interfacing Is the Heart of the Matter
Current Time Inside Cache Tag Helper: 10/1/2020 1:59:25 PM and Model.reportId = 792
Providers want their ECG data management systems to connect more easily to their EMR to improve efficiency. Also, providers are looking for more flexibility and interoperability between carts and data management systems, along with wireless capabilities. Which vendors are meeting those needs and expectations in regard to flexibility, interoperability, and functionality? KLAS spoke with 163 providers at 154 healthcare organizations about their ECG carts and data management systems to find out.
Healthcare Providers,
Want to see more reports?
Key Findings
Integration Issues—Philips and GE offer integration between their own systems, but MUSE and TraceMasterVue have historically had challenges communicating with non-GE and non-Philips carts. Epiphany's Cardio Server is the only ECG data management solution that we have validated to integrate well with carts from multiple vendors. Providers want open sharing of data between carts and data management systems, but that is not readily available from the two big vendors in the space, Philips and GE.
GE's Strength in the Market Is Waning—Providers using GE are considering other vendors, though with no immediate plans to move on. The proprietary nature of GE's carts and ECG algorithms has been a source of frustration for several GE customers, along with the expense of the carts and service plans.
Wireless Is a Win—All vendors now offer wireless capabilities for their carts, and overall, it has made providers more efficient. Some Philips customers reported that while it took some work to set up the wireless connection, in the end it worked well. GE customers reported that the GE wireless connection ran flawlessly. Mortara customers enjoy the advantage of wireless as well. Cardiac Science offers wireless with their Quinton Eclipse cart; however, wireless is not offered with the Burdick 8500 rated in this study.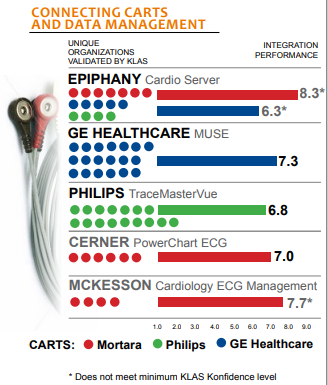 Lacking Bidirectional Interoperability Is a Challenge for Providers
Historically, ECG has been an island, but with the pressure from meaningful use to aggregate patient data into the EMR, providers' expectations of integration and interoperability have been raised. Providers not only want to store and interpret ECG data electronically, but they also want it to be part of the EMR. The ability to transfer data begins with carts being able to send information to the ECG data management system accurately. Vendors differ in their ability to accomplish this.
One Cerner customer reported issues with the connection from their Mortara cart to the Cerner data management system. GE carts can usually send information to MUSE, but MUSE lacks the ability to work with other carts. Epiphany has the ability to work with multiple vendors' carts.
Once the data management system has retrieved the ECG data, the EMR then must be able to accurately access the ECG data management system to retrieve the information. Cerner's and McKesson's data management systems theoretically have an advantage with their systems already being connected to the EMR. However, several Cerner and McKesson customers reported issues with the integration to their EMR. GE customers reported that they do not have a true interface with the EMR: "We are happy with the link between GE Healthcare MUSE and the carts. . . . The EKGs are sent from the cart to the MUSE system via a GE proprietary algorithm. That file can be cold fed into the EMR as a PDF. The PDF is not editable. It is just a document that the physicians can look up."
Philips customers reported that in order to get the interface set up with their EMR, it takes a lot of work and time, but in most cases they were able to get a link set up. One MEDITECH customer said that Philips was not able to interface with their system, and another customer said that they could transfer data from Philips to their EMR, but it was not of diagnostic quality. Epiphany has more customers reporting a positive experience with linking to their EMR; however, they noted it is not plug and play and required Epiphany to build several interfaces.
Bottom Line on Vendors:
GE Healthcare—Largest install base with carts and data management. MAC 5500 carts integrate well with MUSE. Good wireless capability, but proprietary algorithms limit communication with systems other than MUSE. Customers desire flexibility to use other carts with MUSE. Cost of carts and service is painful. Bigger sites report more problems with MAC 5500 carts.
Philips—TraceMasterVue easy to use with Philips carts, but interoperability with other vendors is limited and expensive. Linking to EMR is difficult. Reports need improvement in flexibility. Service is slow to respond for TraceMasterVue and TC70. Customers like the ability to connect wirelessly, but connection between cart and software is not yet consistent.
Epiphany—Great value compared to Philips and GE. Good workflow and reporting capabilities. Flexible interoperability with different vendors' carts. Mixed reviews on EMR interoperability. Support not always immediately available, but problems get resolved. Almost all plan to stay. Partners with Fuji, Merge, and LUMEDX. Good in a mixed environment.
Mortara—ELI 350 is cost-effective option. Facilitates connectivity and bidirectional communication with systems, including Cerner, Epiphany, and McKesson. Cost effective but lower quality. Little market penetration with data management solution, EScribe.
Early Data
Cardiac Science—Burdick 8500 streamlines workflow with prompts and is easy to learn overall. Attaching leads can be problematic. Pyramis needs improvement on functionality and workflow. Primarily an outpatient vendor for resting ECG.
Cerner—Relatively new option. Only validated to work with Mortara carts. Some integration and connectivity challenges. Potential advantage with Cerner EMR sites—showing some promise with bidirectional communication to EMR and CVIS.
McKesson—Solid partnership with Mortara carts. Connectivity is coming along. Not validated outside of Mortara. Easy to use. Upgrades offer meaningful improvements; 100% would buy again.
Midmark—Incredibly easy to use and reliable. Sales and service team can be difficult to work with. IQecg is most current Midmark ECG unit. Found in the ambulatory market.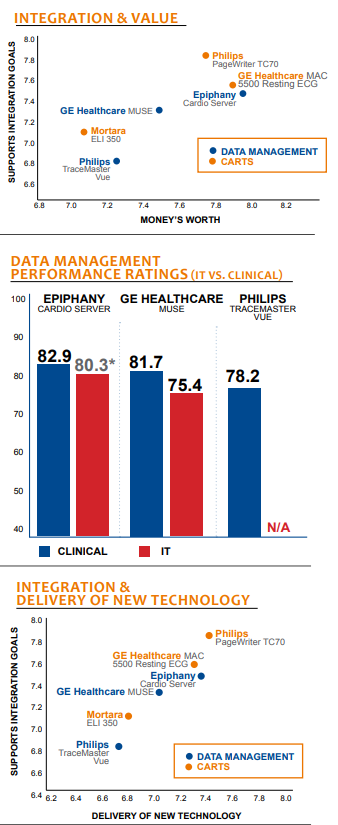 This material is copyrighted. Any organization gaining unauthorized access to this report will be liable to compensate KLAS for the full retail price. Please see the KLAS DATA USE POLICY for information regarding use of this report. © 2020 KLAS Research, LLC. All Rights Reserved. NOTE: Performance scores may change significantly when including newly interviewed provider organizations, especially when added to a smaller sample size like in emerging markets with a small number of live clients. The findings presented are not meant to be conclusive data for an entire client base.
​