Tell us about your organization
Phone required (###) ###-####, or int ######...
Looks like we're already familiar with you!
Please press next to continue with the survey.
Looks like we're already familiar with you!
According to your account type you are not eligible to take surveys at this time. If this is a mistake, please contact KLAS.
If you are trying to access KLAS research data and reports, an email has been sent to with a link to login.
If the email doesn't appear in your inbox, ask your IT department to add KLASresearch.com to your company spam filter's "whitelist", and check your email's spam folder.
Membership Commitment
In exchange for giving their feedback, healthcare providers can create an account to get access to industry reports, user commentary, and real-time ratings.
By submitting your account request, you are engaged in patient care as either an employee (or contractor) of your provider organization and that you confirm that you have reviewed and agree to abide by the Terms of Use for this website as updated periodically.
To learn more about how we process and protect your personal data, you may view our Privacy policy.
By submitting your account request, you confirm that you have reviewed and agree to abide by the Terms of Use for this website as updated periodically. To learn more about how we process and protect your personal data, you may view our Privacy policy.
By submitting your account request, you confirm that you have reviewed and agree to abide by the Terms of Use for this website as updated periodically.
Thank You! Your information was submitted successfully!
Next Steps - An email has been sent to . Please follow its instructions to verify your email, and login.
If the email doesn't appear in your inbox, try asking your IT department to add KLASresearch.com to your company spam filter's "whitelist", and checking your email's spam folder.
Thank You! Your information was submitted successfully!
Next Steps - A KLAS representative will contact you to discuss working with KLAS, typically within 24 to 48 hours.
If you have any further questions please contact info@klasresearch.com or 1-800-920-4109.
Surprise! Looks like we already have an account for you.
An email has been sent to blah@blah.com with a link to login.
If the email doesn't appear in your inbox, try asking your IT department to add KLASresearch.com to your company spam filter's "whitelist", and checking your email's spam folder.
Echocardiography 2013
2D or Not 2D?
Current Time Inside Cache Tag Helper: 9/30/2020 12:43:59 AM and Model.reportId = 825
With cost pressures and radiography dose concerns growing, echocardiography continues to be a key in diagnosing heart conditions. Providers are wondering what new echo technologies are proving to be most beneficial. With new offerings of 3D/4D imaging and TEE, who is delivering? KLAS spoke with 172 providers to find out.
Healthcare Providers,
Want to see more reports?
Key Findings
Toshiba Is the Top Performer: Product performance exceeds expectations, and service and support bring the customer experience up above other vendors'. The Aplio 500 (CV) is a multiuse machine that works very well for a variety of scans types and receives particularly high marks for portability and ergonomics. Toshiba's customer base is unique to the market in this report, with almost all clients at hospitals under 200 beds, which tend to have different needs than the general echo customer base.
Siemens Has Found the Fix: Siemens implemented several upgrades in both hardware and software that are beginning to overcome the SC2000's early performance struggles. Improvement is reflected in their scores.
2D Leaned on Most: Providers are very interested in more advanced imaging, but 2D imaging is still the most functional for the vast majority of providers and scans. 3D or 4D imaging may replace 2D in the future if providers see that the workflow and image quality meet the current level of 2D. No vendor is meeting that expectation yet.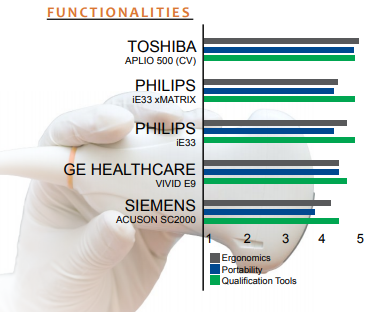 Key Success Elements
Functionality, workflow, and image quality are the three key pieces to a great echo unit. Providers want excellent images acquired quickly and easily. That means great ergonomics, portability, and quantification tools. While providers rely most on 2D imaging as the cornerstone, other imaging types are gaining popularity.
Functionality
Ergonomics—Toshiba outperforms other vendors, with providers praising the vertical movement as well as the ease of swiveling the keyboard and monitor. Siemens is the lowest-performing vendor, though providers like the control panel and knobology. Philips' iE33 with xMATRIX is not performing better than without it. GE ranks average, and customers say the keyboard and monitors move easily into place but gripping the probes can be uncomfortable.
Portability—Toshiba is strongest in portability, and customers mention that Toshiba has a small footprint and is easy to maneuver. The Philips iE33 lands in the middle of the pack, with several providers saying it is big and heavy to push around.
Quantification tools—Philips and Toshiba do really well with quantification tools (both scoring 4.8 out of 5). Philips customers point out that the quantification tools are a win and are very customizable. Siemens is the lowest-performing vendor in this area.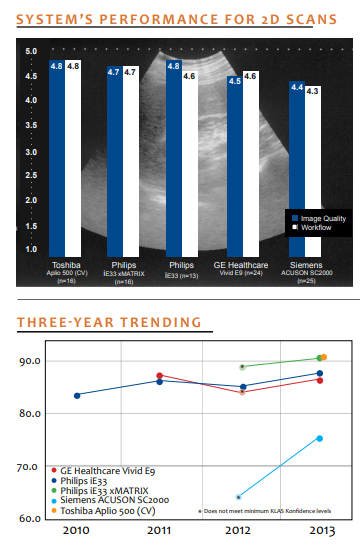 Image Quality & Workflow
2D scans were deemed most important by providers. Philips and Toshiba are the image quality leaders for 2D, and the xMATRIX performs slightly better than the iE33 on 2D workflow. GE's 2D image quality and workflow receive mixed reviews. While customers confirm the images are good, some manual adjusting is required. A few providers say that Siemens' 2D image quality is negatively affected by the lack of penetration.
3D imaging is not yet at the level of 2D in quality or workflow for vendors in the study that offer it. GE customers say that the 3D image quality is not as good as 2D images and the 3D workflow is complicated. Toshiba does not offer cardiac 3D imaging with the Aplio 500.
4D imaging is being done by far fewer providers. Philips had a total of eight respondents doing 4D, while Siemens and GE had five. For Philips customers, those doing 4D images are typically using the xMATRIX, but providers would like to see a smoother workflow.
Doppler is an area where Toshiba and Philips excel. Philips customers both with and without the xMATRIX are extremely happy with the Doppler images and workflow, though a couple say that the clarity could improve. Toshiba customers mention that the workflow for Doppler is very easy to use. Siemens and GE tie for the lowest rated, though they still perform well.
TEE is where the xMATRIX has made the biggest impression on Philips customers, who confirm the benefit of having one probe for 2D and 3D imaging. Philips customers without the xMATRIX are also very happy with TEE. GE customers say that TEE images are excellent and presets make the process very easy. Siemens customers await a 3D TEE probe.
Bottom Line on Vendors
GE Healthcare: Improved service efforts noticed and appreciated. Customers want cleaner 2D and 3D images and better workflow automation to improve scan experience. Customers under 200 beds are happiest. Better training could help with advanced imaging. Ergonomics and portability meet needs but do not exceed expectations.
Philips: Strong performance with xMATRIX. Ninety-five percent would buy again, and Philips is tied with Toshiba for top marks for Would You Recommend to a Peer. The xMATRIX dominates with TEE but not with 3D imaging. The xMATRIX is good, but the overall ergonomic payoff is not clear with the xMATRIX probe. Heavy cart with large footprint makes it hard to push around.
Siemens: Originally fraught with challenges but now meeting expectations. Good service and account management help to improve overall experience. Mixed reviews on portability. Complex system is not easy to use and has steep learning curve. Image quality, specifically penetration, could be improved. Missing 3D TEE.
Toshiba: Top performance in the study. Earns provider praise with service and product quality. Versatility works for Toshiba customer base, which is made up of mostly smaller hospitals in a shared-service model. 2D image quality and workflow are top notch. Portability and ergonomics also well liked. Low advanced imaging adoption with few clients doing TEE. Cardiac 3D/4D imaging not available.
This material is copyrighted. Any organization gaining unauthorized access to this report will be liable to compensate KLAS for the full retail price. Please see the KLAS DATA USE POLICY for information regarding use of this report. © 2020 KLAS Research, LLC. All Rights Reserved. NOTE: Performance scores may change significantly when including newly interviewed provider organizations, especially when added to a smaller sample size like in emerging markets with a small number of live clients. The findings presented are not meant to be conclusive data for an entire client base.
​