Tell us about your organization
Phone required (###) ###-####, or int ######...
Membership Commitment
In exchange for giving their feedback, healthcare providers can create an account to get access to industry reports, user commentary, and real-time ratings.
By submitting your account request, you are engaged in patient care as either an employee (or contractor) of your provider organization and that you confirm that you have reviewed and agree to abide by the Terms of Use for this website as updated periodically.
To learn more about how we process and protect your personal data, you may view our Privacy policy.
By submitting your account request, you confirm that you have reviewed and agree to abide by the Terms of Use for this website as updated periodically. To learn more about how we process and protect your personal data, you may view our Privacy policy.
By submitting your account request, you confirm that you have reviewed and agree to abide by the Terms of Use for this website as updated periodically.
To learn more about how we process and protect your personal data, you may view our Privacy policy.
Thank You! Your information was submitted successfully!
Next Steps - An email has been sent to . Please follow its instructions to verify your email, and login.
If the email doesn't appear in your inbox, try asking your IT department to add KLASresearch.com to your company spam filter's "whitelist", and checking your email's spam folder.
Thank You! Your information was submitted successfully!
Next Steps - A KLAS representative will contact you to discuss working with KLAS, typically within 24 to 48 hours.
If you have any further questions please contact info@klasresearch.com or 1-800-920-4109.
Surprise! Looks like we already have an account for you.
An email has been sent to blah@blah.com with a link to login.
If the email doesn't appear in your inbox, try asking your IT department to add KLASresearch.com to your company spam filter's "whitelist", and checking your email's spam folder.
Imaging Modality Purchasing Trends 2017 (Smaller Organizations)
Small Market Remains Wide Open
KLAS spoke to 74 smaller healthcare organizations (hospitals under 500 beds and imaging centers) to find out which vendors' technologies they plan to expand and which will be used less frequently or abandoned. Vendor-exclusive contracts are less prevalent in smaller organizations, who are more inclined than larger facilities to choose a product based on functionality and relationship. Though smaller organizations are willing to entertain a wide variety of vendors, different vendors do dominate the various modalities, and the vendors' predicted growth rates vary greatly.
1. NEARLY TWO-THIRDS OF PROVIDERS CHOOSING GE HEALTHCARE OR SIEMENS FOR FUTURE BIG IRON (CT/MR) PURCHASES
Durability, high image quality, and a perceived higher level of technology have led the lion's share of smaller organizations to choose Siemens and GE Healthcare in their CT and MR purchasing. Philips trails distantly, with only 17% of providers expressing interest. These providers consider Philips due to contracting advantages and innovative CT and MR technology. Questions about Toshiba Medical's future have given potential customers pause, leading to little expected growth for the vendor. Though some providers are still interested in Hitachi's open-bore MR, it no longer holds the sway it once did, and providers are engaging other vendors for their MR needs.
2. NINE IN TEN PROVIDERS CHOOSING FOCUSED VENDORS FOR FUTURE X-RAY NEEDS—CARESTREAM AND SHIMADZU LEAD THE WAY
With a wide selection of x-ray vendors to choose from, providers are being drawn nearly exclusively to specialty vendors. Of these, Carestream and Shimadzu lead in product performance, product quality, and supportive relationships. Quality problems with some of GE Healthcare's newer mobile units as well as an eroding legacy customer base have led to an exodus of GE x-ray customers; GE is the only vendor with negative net growth. No interviewed organizations are considering GE or Toshiba Medical for their future x-ray needs, and interest in Siemens and Philips is very limited. Providers remain hesitant to commit to Canon or Samsung, who have little market share.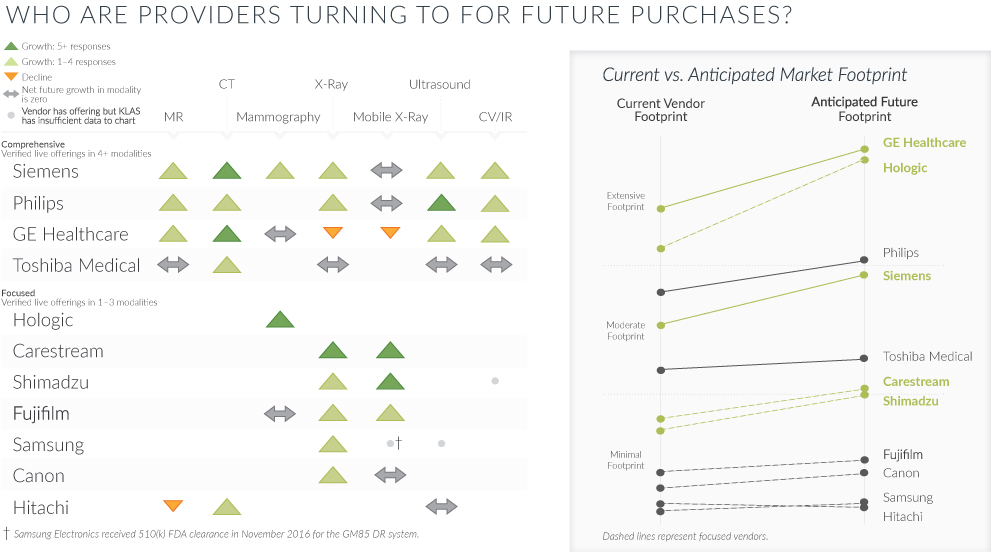 3. PROVIDERS SURPRISINGLY QUIET ON TOSHIBA MEDICAL
Toshiba Medical has traditionally been a strong option for smaller organizations, but presently, potential customers are in a holding pattern. No customers report plans to increase the use of Toshiba in MR, CV/IR, or x-ray, and few express excitement around either the technology or the relationship. Toshiba Medical was recently acquired by Canon, and customers of both companies are anxious to see what the impacts of this change will be.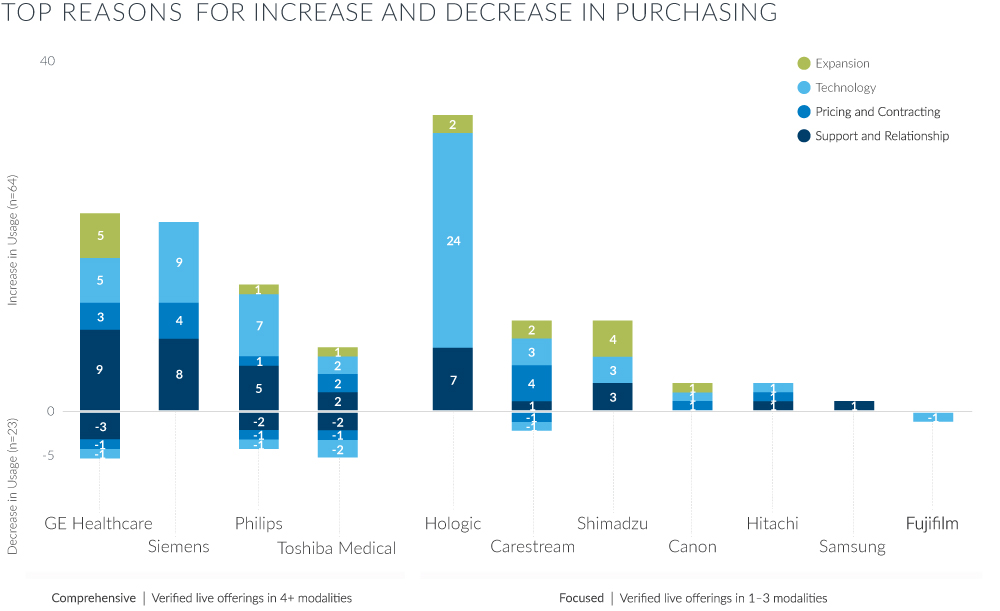 4. HOLOGIC DOMINATES MAMMOGRAPHY WITH SUPERIOR TECHNOLOGY AND RELATIONSHIPS
Hologic's lead in mammography remains substantial, with a predicted sharp increase in purchasing among smaller organizations. Providers overwhelmingly choose Hologic as their women's imaging vendor because they feel the technology and support benefits far outweigh any benefits that could come from consolidating to a single vendor with either GE Healthcare or Siemens. Providers view Hologic as the only vendor that delivers industry-leading technology and a noticeable impact on patient outcomes. Hologic's customer relationships go beyond product support to being true partnerships for provider success.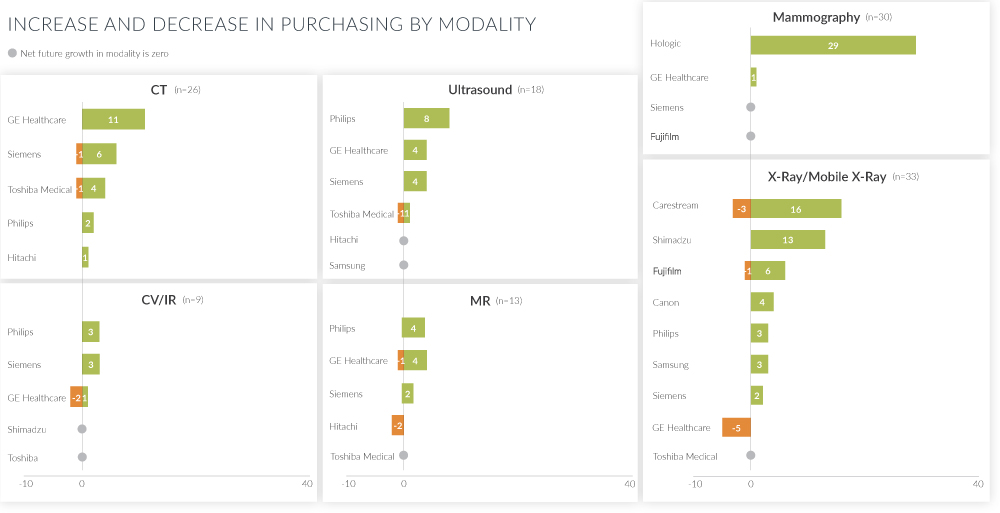 Want to see full details?
KEY TOPICS
Nealy Two-Thirds of Providers Choosing GE Healthcare or Siemens for Future Big Iron (CT/MR) Purchases)
Nine in Ten Providers Choosing Focused Vendors for Future X-Ray Needs—Carestream and Shimadzu Lead the Way
Providers Surprisingly Quiet on Toshiba Medical
Hologic Dominates Mammography with Superior Technology and Relationships
This material is copyrighted. Any organization gaining unauthorized access to this report will be liable to compensate KLAS for the full retail price. Please see the KLAS DATA USE POLICY for information regarding use of this report. © 2019 KLAS Enterprises, LLC. All Rights Reserved. NOTE: Performance scores may change significantly when including newly interviewed provider organizations, especially when added to a smaller sample size like in emerging markets with a small number of live clients. The findings presented are not meant to be conclusive data for an entire client base.