2023 BEST IN KLAS
Preferences
Related Series
---
Getting More Value & Avoiding Surprises
Diagnostic Imaging Purchases 2010
Diagnostic Imaging Equipment
End chart zoom
* A page refresh may be necessary to see the updated image
Imaging Modality Partnerships 2014
Provider Executives Weigh In on Imaging Partnerships
Current Time Inside Cache Tag Helper: 6/4/2023 3:59:26 AM and Model.reportId = 989
As imaging moves from being a profit center to being a cost center, virtually all major vendors have described plans to be the sole-source partner of choice in helping providers make the shift. Most make strong statements as to their strength and success in both volume and risk-based agreements and project growth in provider partnerships. KLAS spoke with 79 executives from some of the largest health systems in the country (average 2,400 beds) to investigate vendors' success claims and examine which vendors are preferred for this more strategic role.
HtmlReportContent Current Time Inside Cache Tag Helper: 6/4/2023 3:59:26 AM and Model.reportId= 989 and Model.HtmlReportContent_LastWriteTimeUtcInTicks=637499736890797690
WORTH KNOWING
AN UNCLEAR VALUE PROPOSITION:
Vendors promote volume and risk-based agreements, but most providers don't perceive these partnerships as having enough added value to justify the loss of bargaining power.Only 23% are currently in a volume/partnering agreement. Another 17% are considering agreements, but an equal number have tried it in the past and ended up discontinuing their partnerships. 43% said they have no plans to partner.
CONSISTENCY GIVES SIEMENS AN EDGE:
Nearly half of current partnership agreements (47%) are with Siemens. In addition, Siemens is one of the most likely to be chosen for future agreements (34%) and is one of the least avoided (14%). Providers say Siemens is innovative and reliable and offers strong technology across most modalities, especially CT and MR.
GE HEALTHCARE HAS THE MOST TO LOSE:
Marketshare and a focus on executive relationships gave GE an early edge in partnership agreements, and they are still among the vendors most likely to be chosen in general (33%) and the most likely partner of choice for the largest health systems (53%). Concerns around consistency of development, service, and leadership have eroded some trust. GE represents 29% of current partnerships but has seen more discontinued partnerships than other vendors.
PHILIPS HAS THE MOST TO GAIN (IN THE NEAR TERM):
A broad portfolio and good technology have helped Philips become a partner in 29% of current agreements. Philips is service oriented, but providers say they can be somewhat disorganized and that customer relationships are more fractured. Only 21% say Philips would be their most likely choice in the future (versus 34% for Siemens, 33% for GE). Of the 14 discontinued past partnerships, Philips accounts for 4.
TOSHIBA LOST IN THE SHUFFLE:
Only one provider said they would consider Toshiba as first choice for a partnership. The company also had the largest portion of respondents say they would specifically avoid them (26%). Although some say Toshiba's technology and service are getting better, their lack of market presence and track record in the U.S., plus perceived portfolio gaps, keeps them off providers' partnership short lists.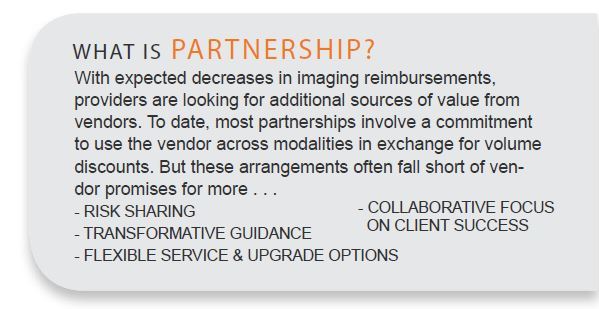 BOTTOM LINE ON VENDORS
GE HEALTHCARE
Broad portfolio, including offerings outside modalities. A leading choice for standardizing MR, CT, and x-ray. Good executive-level relationships with providers, occasionally disrupted by reorganizations. Inconsistent service delivery. Highly considered for partnership, but also most likely to be dropped as a partner.
PHILIPS
Solid technology track record. A favorite for standardizing cath, x-ray, and echo. Good service/relationships on providers' ground floors. Highly considered for partnership, but less so as a "most likely choice."
SIEMENS
Most innovative technology. A preferred standard in CT, MR, interventional x-ray, and molecular imaging. Currently has the most active, and the fewest dissolved, partnerships. Perceived as flexible, but higher cost.
TOSHIBA
Technology and service have improved, but limited market presence and track record are concerns. Gaps in modality portfolio. No current partnerships encountered by KLAS. Least considered for partnerships in the future.
This material is copyrighted. Any organization gaining unauthorized access to this report will be liable to compensate KLAS for the full retail price. Please see the KLAS DATA USE POLICY for information regarding use of this report. © 2023 KLAS Research, LLC. All Rights Reserved. NOTE: Performance scores may change significantly when including newly interviewed provider organizations, especially when added to a smaller sample size like in emerging markets with a small number of live clients. The findings presented are not meant to be conclusive data for an entire client base.
​