2023 BEST IN KLAS
Preferences
End chart zoom
* A page refresh may be necessary to see the updated image
Intelerad InteleOne
A KLAS Innovation Review
Current Time Inside Cache Tag Helper: 6/6/2023 11:21:46 PM and Model.reportId = 782
Intelerad® InteleOne® is an interoperable HL7 DICOM automation solution designed to weave disparate PACS and RIS solutions together into a single enterprise radiology workflow platform, with a goal of achieving greater efficiency, getting quicker study turnaround times, and delivering better patient care. Rather than signing in and out of different PACS solutions all with their own idiosyncrasies, radiologists can sign into one system and see their reads for the day.
HtmlReportContent Current Time Inside Cache Tag Helper: 6/6/2023 11:21:46 PM and Model.reportId= 782 and Model.HtmlReportContent_LastWriteTimeUtcInTicks=637497014381322605
Worth Knowing

OVER 70% SEEING GOOD OR EXCELLENT ROI—InteleOne® benefits (like efficiency, the number-one benefit identified by InteleOne customers) lead to ROI for customers. InteleOne's technology offerings save physicians' time by reducing the need to log in to multiple PACS solutions. Also, those groups with remote clients were saved time and money because they did not have to drive out to different locations. A few customers said their ROI is flat, but those are optimistic that they will see ROI in the future.
OVER 60% HAVE SEEN IMPROVED CLIENT RELATIONSHIPS—InteleOne customers report that read turnaround times and accuracy have improved as well as their ability to handle subspecialty reads, which has led to better patient care. As InteleOne users can demonstrate that patient care improves, their clients are happier.
STRONG IT STAFF IS IMPERATIVE—The many benefits of InteleOne cannot be realized unless interfaces can be set up, which does require some work. Those without IT expertise or a trained IT staff had difficulty getting interfaces set up. Some spent extra money hiring contractors to complete the work. Being prepared to handle that piece is a key to satisfaction.
PROVEN ABILITY TO INTERFACE—InteleOne was validated to interface with 36 PACS, RIS, and EMR solutions. However, convincing hospital IT staff to fully interface with InteleOne can take time. Despite the challenges, users are still bullish.
WHO ELSE DID PROVIDERS EVALUATE BEFORE SELECTING INTELEONE?—Fuji was the competitor most often assessed as providers were making their selection. Also looked at, but by only two providers each, were vRad, Philips, Merge, and Agfa.
Why This Report?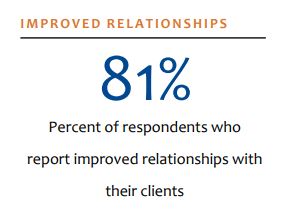 Providers are looking for pioneering technologies that solve workflow issues especially when dealing with disparate image management systems. Intelerad's InteleOne has emerged as one of these pioneering products and is the only vendor KLAS is aware of with enough live clients for an early measurement worth sharing with our provider partners. In order to understand how well the technology is working for every InteleOne client, KLAS spoke with 22 total providers at 13 of 15 live InteleOne sites.
The study identifies the benefits and challenges of the InteleOne solution as each client shared their experience directly with KLAS. For such an undertaking to be free from bias and not serve as a marketing service for a vendor, or early condemnation sponsored by a competitor, it is important that KLAS start with a full client list, and KLAS must be free to interview any or all of the clients. In that light, KLAS is committed to offering early performance reports that satisfy the appetite of those providers that have interest.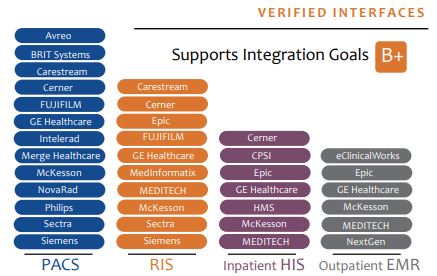 According to current InteleOne customers, the major benefits of working with the system centered on increased efficiency leading to a return on their investment. Almost half of study participants said that increased efficiency was the number-one benefit of working with InteleOne. Efficiency gains are in large part due to the technology offerings of InteleOne, like the enterprise worklist, which over a third mentioned as a major benefit. Also noted were the clean, intuitive user interface and the achievement of better patient care. All of these benefits work hand in hand and ultimately result in a good ROI for the majority of customers. Many have also seen this solution improve relationships with the clients these radiology groups serve.
"Our biggest benefit from Intelerad InteleOne has been the efficiency it has brought to the table for the outside clinics. Also, when I put it in place, we got five or six new contracts because of it. So it paid for itself in under a year. And we are pretty happy with it. Choosing InteleOne was a good financial move for us. We have been able to take on additional work without having to add manpower because of how well InteleOne is able to handle the volume. We have been able to distribute the extra volume among our radiologists who are on the ground."
All customers are optimistic about the future with InteleOne, and those who have not yet seen measurable impact on outcomes expect that they will. The key challenge has to do with getting the right IT support set up and managing the process of interfacing with numerous systems. A few customers feel that Intelerad could better set expectations around those areas.
What providers should know before buying
While most said there were no major challenges, a small group noted that InteleOne requires a strong IT staff to implement the system and that implementations with new sites can be challenging. For some facilities, generally larger hospitals, a certain amount of convincing needed to take place before the radiologist groups' clients were comfortable having their studies sent to InteleOne.
This material is copyrighted. Any organization gaining unauthorized access to this report will be liable to compensate KLAS for the full retail price. Please see the KLAS DATA USE POLICY for information regarding use of this report. © 2023 KLAS Research, LLC. All Rights Reserved. NOTE: Performance scores may change significantly when including newly interviewed provider organizations, especially when added to a smaller sample size like in emerging markets with a small number of live clients. The findings presented are not meant to be conclusive data for an entire client base.
​