2022 BEST IN KLAS
Preferences
Related Segments
End chart zoom
* A page refresh may be necessary to see the updated image
Long-Term Care 2014
Which vendors deliver on the fundamentals?
Current Time Inside Cache Tag Helper: 9/24/2022 10:34:20 PM and Model.reportId = 896
Long-term care (LTC) organizations are becoming more prominent in the care continuum. As the market evolves, long-term care providers need up-to-date, easy-to-use solutions that meet fundamental needs and adapt to market demands. Which vendors best meet providers' basic needs for usability, functionality, and support? Which are best known for development? Which best meet the needs of larger and/or smaller organizations? KLAS interviewed 154 provider organizations to find out.
HtmlReportContent Current Time Inside Cache Tag Helper: 9/24/2022 10:34:20 PM and Model.reportId= 896 and Model.HtmlReportContent_LastWriteTimeUtcInTicks=637498860757058216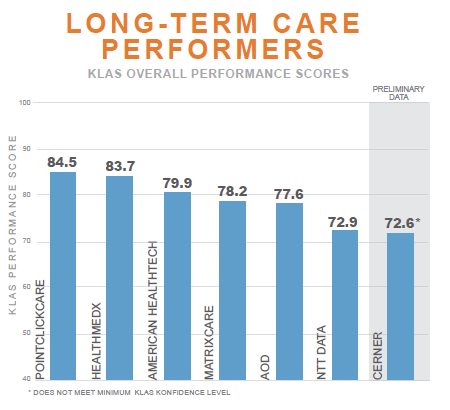 WORTH KNOWING
POINTCLICKCARE LEADS IN FUNCTIONALITY; HEALTHMEDX LEADS IN DEVELOPMENT:
PointClickCare's web-based model offers robust functionality that can be easily deployed with relatively low upfront costs. HealthMEDX customers noted some missing functionality but were optimistic thanks to recent development and HealthMEDX's go-forward vision. American HealthTech, AOD, and MatrixCare offer the needed functionality, though development beyond regulatory changes is generally lacking. NTT Data customers indicated many functionality holes, though some mentioned recent development efforts.
AMERICAN HEALTHTECH TAKES SERVICE TO THE NEXT LEVEL:
American HealthTech leads in proactively partnering with their customers. HealthMEDX and AOD customers also indicated high levels of engagement from executives but mentioned that the vendors are less proactive in their outreach. Although more proactive in basic support, PointClickCare, NTT Data, and MatrixCare have less executive engagement. Cerner customers indicated that the vendor has a solid partnership with their limited customer base. Basic product support and communication are comparable across all vendors.
VALUE TIED TO PRODUCT QUALITY AND DEVELOPMENT:
HealthMEDX and PointClickCare deliver great value. Providers most often attributed this value to exceptional product quality and development, but they also appreciated the all-inclusive pricing models. MatrixCare also offers all-inclusive pricing, but customers feel the value is lacking as they have seen the product's development lag behind expectations. NTT Data, AOD, and American HealthTech fall in the middle of the spectrum for delivering value, though customers noted annoyance over extra costs for additional training, support, or enhancements.
CERNER LEADS ACUTE CARE EMR VENDORS' EARLY PUSH INTO LTC:
Cerner is the only acute care EMR vendor whose LTC-specific offering has been validated by KLAS. This comes after their acquisition of CareTracker in 2011. Epic released an LTC product in November 2013 for their acute care EMR customers, but KLAS has not yet validated it in use. MEDITECH claims to deliver an LTC solution, but it also has yet to be validated by KLAS. Other acute care EMR vendors Allscripts, McKesson, and Siemens do not currently offer solutions.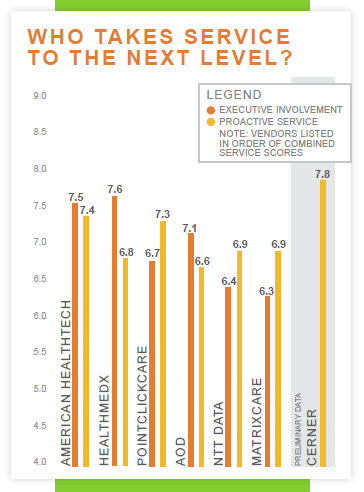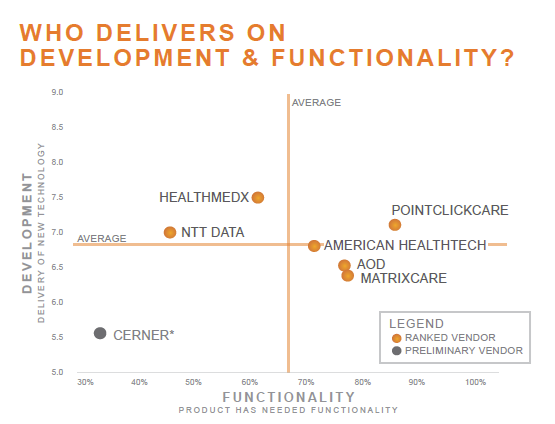 VENDORS
RANKED VENDORS
AMERICAN HEALTHTECH (AHT):
Solid product that meets majority of customers' functionality needs in large and small organizations. Proactive engagement with customers, from executives to regular support. Many noted paying for extras like support calls. 95% plan to stay with AHT. Too early to tell impact of recent acquisition by Healthland.
AOD:
Focused on continuing-care retirement communities. Good functionality, but ease of use can be a challenge. Larger customers more satisfied with vendor responsiveness and communication. Customers pay for additional training and service calls over the allotted amount. Rates poorly for new development. 85% plan to stay with AOD.
HEALTHMEDX:
Top-tier performer. Easy-to-use product. Customers noted existing gaps in functionality, but optimistic thanks to top-rated development. New executives highly involved and communicative with customers. Scales well for large and small customers. Code-quality concerns reported with recent updates. Good value for the money. 100% of respondents would buy again and plan to stay with HealthMEDX.
MATRIXCARE:
Web-based product with good support and communication. Meets regulatory requirements, and most said product has needed functionality. Lowest rated for getting money's worth—large customers much less satisfied with development and integration. 88% plan to stay with MatrixCare.
NTT DATA:
Lowest-performing vendor. Web-based product. System downtime is a reported issue. Lackluster support, communication, and involvement from vendor, though slightly better for larger customers. Some noted recent development, yet over half said product currently does not have needed functionality. Over one-third reported paying for "extras." 86% plan to stay with NTT Data; 71% would buy again.
POINTCLICKCARE:
Top-performing vendor. Easy-to-use, web-based product that is easy to implement and deploy. Highly regarded product with robust functionality. Scales well for large and small customers. Average service and support. Good value for the money. 100% of respondents plan to stay with PointClickCare, and 95% would buy again.
PRELIMINARY VENDOR
CERNER:
New entrant to LTC market. Limited customer base. Most stated that product functionality was lacking at this point, but very good support and communication. Training and implementation challenged. Customers very optimistic for future and none have plans to leave.
This material is copyrighted. Any organization gaining unauthorized access to this report will be liable to compensate KLAS for the full retail price. Please see the KLAS DATA USE POLICY for information regarding use of this report. © 2022 KLAS Research, LLC. All Rights Reserved. NOTE: Performance scores may change significantly when including newly interviewed provider organizations, especially when added to a smaller sample size like in emerging markets with a small number of live clients. The findings presented are not meant to be conclusive data for an entire client base.
Related Segments
​