2023 BEST IN KLAS
Preferences
Related Series
---
Women's Imaging 2013
Women's Imaging 2012
Related Articles
End chart zoom
* A page refresh may be necessary to see the updated image
Women's Imaging 2015
Are New Technologies Delivering Promised Benefits?
Current Time Inside Cache Tag Helper: 12/6/2023 12:38:19 AM and Model.reportId = 976
New technologies in women's imaging promise to deliver better patient care and save providers time, but are these benefits truly being realized? How do the old and new technologies compare? Provider interviews shed light on vendor performance, what technologies providers feel are worth the investment, and where the market will be heading over the next two years.
HtmlReportContent Current Time Inside Cache Tag Helper: 12/6/2023 12:38:19 AM and Model.reportId= 976 and Model.HtmlReportContent_LastWriteTimeUtcInTicks=637508196585286307
1. HOLOGIC STILL DOMINATES 3D TOMOSYNTHESIS MARKET BUT FACES NEW ENTRANTS
Hologic continues to stand out for technology innovation and high image quality, and Hologic's C-View dose-reduction technology is strengthening satisfaction and encouraging 3D adoption. While Hologic owns the majority of the tomosynthesis market, Siemens and GE Healthcare are beginning to compete. Siemens received FDA approval for tomosynthesis in April 2015 and has hit the ground by upgrading their 2D install base. KLAS spoke with a handful of organizations that have Siemens 3D and to several others who are contracting or implementing. Early feedback from these sites indicates smooth implementations and high image quality. Similar numbers were validated for GE Healthcare's tomosynthesis, despite it receiving FDA approval almost a year ago. Adoption of GE's 3D technology is lagging due to integration issues that cause implementation delays. Some providers who have been holding out for GE 3D report they are reconsidering staying with their vendor based on GE's history of slow development compared to other vendors.
TOMOSYNTHESIS VALIDATED LIVE ORGS           MAMMOGRAPHY PERFORMANCE
2. PHILIPS HAS THE STRONGEST IMAGE QUALITY FOR GENERAL BREAST ULTRASOUND
Despite bumps early on, the workflow for the Philips EPIQ is improving, and both the EPIQ and iU22 provide the best breast ultrasound image quality. Toshiba's development of new technology, engaged support, and adequate image quality and workflow with their breast application contribute to them receiving the highest overall satisfaction score. Siemens' image quality meets most providers' needs, and the strength of Siemens' diverse applications overall sets them apart. GE Healthcare's LOGIQ series delivers consistent image quality.
GENERAL ULTRASOUND
3. PROVIDERS ARE WATCHING BUT STILL RELUCTANT TO ADOPT AUTOMATED WHOLE-BREAST ULTRASOUND
Providers are having a hard time justifying the purchase of automated breast ultrasound equipment, but many are watching and still have interest. Budgets are tight, and general ultrasound for breast is competitive. GE has gained market share, and those using GE's Invenia ABUS feel it is strong and give credit to GE for advancing the acquired U-Systems platform. Many Siemens customers who are considering a new purchase are looking at Siemens' system for its ability to combine general and automated breast ultrasound into one unit.
AUTOMATED BREAST ULTRASOUND
4. BEST-OF-BREED VENDORS MRS INC & PENRAD STILL OUTPERFORM ENTERPRISE VENDORS
MRS Inc has the strongest functionality and best workflow, in addition to regularly providing meaningful upgrades. Many, however, find integration costs to be higher than expected. PenRad users feel that the system has the needed functionality but would like to see the usability improved. Epic's mammography module (within the RIS) is not as functionally rich as MRS Inc's or PenRad's, and the workflow is clunky. However, the functionality is improving, and some providers are hopeful that the 2016 update will bring needed improvements. Cerner's performance lags behind, with usability, development, and functionality falling below providers' expectations. MagView's scores have declined over the last year—many are unsatisfied with upgrades, customization, and unresponsive support.
MIS/RIS COMPARISON                                                                        MIS/RIS PURCHASING PLANS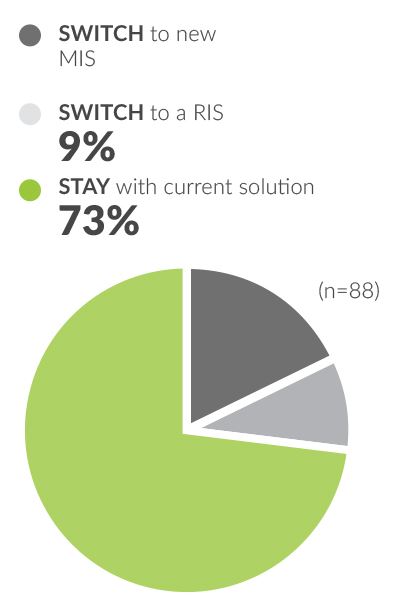 % PLANNING TO PURCHASE IMAGING EQUIPMENT
Writer
Emily Paxman
This material is copyrighted. Any organization gaining unauthorized access to this report will be liable to compensate KLAS for the full retail price. Please see the KLAS DATA USE POLICY for information regarding use of this report. © 2023 KLAS Research, LLC. All Rights Reserved. NOTE: Performance scores may change significantly when including newly interviewed provider organizations, especially when added to a smaller sample size like in emerging markets with a small number of live clients. The findings presented are not meant to be conclusive data for an entire client base.
Related Articles
​