2022 BEST IN KLAS
Preferences
Related Series
---
Advanced Visualization 2017
Enterprise 3D 2011
Advanced Visualization Market Review 2007
End chart zoom
* A page refresh may be necessary to see the updated image
Advanced Visualization 2013
How Advanced Is It?
Current Time Inside Cache Tag Helper: 12/7/2022 3:14:00 AM and Model.reportId = 809
Advanced visualization software (AVS) is evolving and growing quickly as vendors add more functionality and tools for different types of procedures and modalities. Providers are looking to consolidate vendors, and two-thirds said they would even consider using the AVS for their primary reading environment, but only if and when complete functionality is offered. How far are vendors from offering a complete system? Are major imaging players Siemens, Philips, and GE Healthcare ahead of the game in functionality and service? Or are best-of-breed vendors Vital and TeraRecon better at meeting providers' needs?
HtmlReportContent Current Time Inside Cache Tag Helper: 12/7/2022 3:14:00 AM and Model.reportId= 809 and Model.HtmlReportContent_LastWriteTimeUtcInTicks=637497201809965202
WORTH KNOWING
Vital Leads in Functionality, Disappoints in Purchasing Experience—Vital customers are happy with the functionality they get, and Vital is rated as having the most advanced functionality in all but one area (second in neurology) measured in this study. However, Vital is ranked fourth out of five vendors due to a poor sales experience and customers feeling they are not experiencing anticipated value. Some report that Vital oversold what the system could do.
Vital, Followed by Philips and TeraRecon, Leads in Critical Areas—Cardiac, vascular, and neurology are the most critical areas for advanced visualization, according to providers.
For cardiac, Philips and Vital offer the most advanced tools. Vital customers say they like the CTA processing.
For vascular, TeraRecon and Vital lead. One Vital customer said they like the automated vascular mapping and stent graft planning. TeraRecon customers also like iNtuition Enterprise for planning stents.
For neurology, Philips and Vital are the top two performers. Vital users say the CT perfusions are excellent, while brain-tumor mapping is intermediate.
GE and Philips Earn Points for Ease of Use, Siemens Struggles—Siemens customers report there are too many steps for postprocessing and the interface is too complex. Also, the menus are not intuitive and as a result it takes a long to time to complete tasks. Poor training from Siemens exacerbates the issue. On the other hand, GE customers say that the user interface is well done and tasks can be completed with few clicks. Philips customers say that in general they find the IntelliSpace Portal user friendly.
AVS As the Primary Reading Environment?—Two-thirds would consider using their advanced visualization system as the primary reading environment. The reason cited most often was the desire to consolidate vendors. As a result, Siemens, GE, and Philips may have a leg up as modality suppliers. However, Siemens and TeraRecon are tied with the highest percentage of their customers who would use them as their primary reading environment. For the third that said they would not consider it, the prevalent reason was that their department runs on a PACS workflow and the AVS does not offer the same functionality.
GE Improved Greatly over Last Year—Providers are much happier with the integration of AW Server to their PACS, which has created a smoother workflow for radiologists. Providers also note that GE is more proactive, improving the service quality. With better product performance and efforts to improve service, providers feel that GE as a company is better at fulfilling commitments.
Bottom Line on Vendors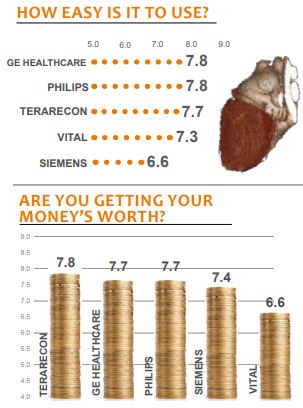 GE Healthcare—Significant improvement in scores since last year, particularly in product usability as well as sales expectations. Cardiac functionality advanced, but still needs automation. Product functionality still not meeting all needs, especially in lung and oncology. Small number sending PET/CT images to 3D system. Sixty-eight percent say product has needed functionality—lowest in the study.
Philips—Excellent overall client experience. Best in service and support with strong involvement from Philips' executives. Several Philips customers with multiple advanced visualization solutions said they prefer to work with Philips over Vital or TeraRecon. Overall easy to use. Several note that processing images takes too long. Offers top-notch functionality for cardiac, but last place for vascular and interventional.
Siemens—Overall difficult to use, despite some automation. Inadequate training, especially for physicians, intensifies frustration with poor user interface. Interface has too many steps, hidden and confusing menus. Some like automation for techs but want the option for more manual manipulation. Bone removal is subpar. Overall, struggles to offer the advanced tools providers want. Syngo via's newest version, v.20, geared toward improving ease of use. KLAS validated v.20 in use at one site.
TeraRecon—Providers see best value and pleased with contracting experience; 100% say it is part of long-term plans. Postimplementation support is weak. Functionality not meeting expectations, especially in cardiology and oncology. However, much higher proportion of users doing interventional studies. Highest percentage of physicians doing postprocessing. Loyal customer base—100% plan to stay.
Vital—Eighty-eight percent of customers feel they have needed functionality, highest in the report. Ease of use only average. Users doing more PET/CT than others, also higher proportion of MRI, though MRI postprocessing is not at the high level of CT currently. Dedicated 3D lab more prevalent for Vital customers, but fewer physicians doing reconstruction than other vendors. Contracting can be painful. Technology is strong but perception of value has suffered with expensive licensing.
This material is copyrighted. Any organization gaining unauthorized access to this report will be liable to compensate KLAS for the full retail price. Please see the KLAS DATA USE POLICY for information regarding use of this report. © 2022 KLAS Research, LLC. All Rights Reserved. NOTE: Performance scores may change significantly when including newly interviewed provider organizations, especially when added to a smaller sample size like in emerging markets with a small number of live clients. The findings presented are not meant to be conclusive data for an entire client base.
​