2023 BEST IN KLAS
Preferences
Related Articles
End chart zoom
* A page refresh may be necessary to see the updated image
Accountable Care Payers 2013
Partners in a Changing Paradigm
Current Time Inside Cache Tag Helper: 10/2/2023 10:10:45 PM and Model.reportId = 827
In this report, KLAS has taken an early look at the nascent strategies of four national payers that are making a name for themselves in accountable care: Aetna, Cigna, Humana, and UnitedHealth. Each has a unique approach, which in some cases includes offering broad portfolios of information technology obtained through acquisition. KLAS spoke with 14 provider organizations, representing 21 contractual arrangements with these payers, to find out how the new relationships are shaping up and what providers can expect as they consider following in frontrunners' footsteps.
HtmlReportContent Current Time Inside Cache Tag Helper: 10/2/2023 10:10:45 PM and Model.reportId= 827 and Model.HtmlReportContent_LastWriteTimeUtcInTicks=637497183809336229
WORTH KNOWING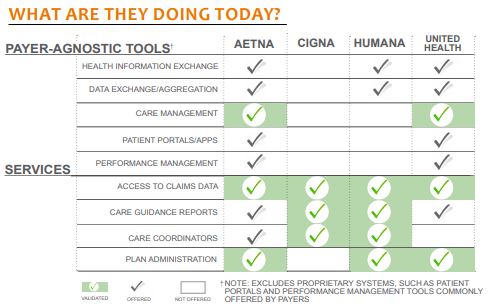 Commercial Payers Play a Major Role—Although Medicare has led the growth in ACOs, commercial payers now account for more than half of accountable care agreements. Providers are embracing these relationships, and many are so confident in their ability to perform that they contract with multiple payers, including Medicare. Among commercial payers, Cigna lays claim to the most formal accountable care agreements at 66.
Helping in Different Ways—Although providers may work with all four payers, each payer brings different approaches to the table that may suit providers differently. On a continuum of operational involvement, Cigna provides the most day-to-day hand-holding by retaining analytics and guiding local care coordinators with tactical reports. Aetna and UnitedHealth occupy the other end, with tools and consulting geared to make providers self-sufficient. Humana falls in the middle, expanding cooperation in longtime relationships but headed down the transformation path.
Providers-Only Sampling from Payer Portfolios—In recent years, payers like Aetna, Humana, and UnitedHealth have acquired HIT vendors with solutions helpful for population health management. Aetna and UnitedHealth have even combined their acquisitions into separate technology-related business units (Healthagen and Optum, respectively). With the addition of consulting and other services, some could claim to be one-stop-shops for ACO needs. At this early stage, however, most providers are not partaking of the payer buffet and prefer to use their existing homegrown or third-party solutions.
Set Specific Goals & Clear Expectations—Regardless of the payer, providers advise peers to approach negotiations with well-defined objectives and to put expectations in writing. None regret their payer relationship, but some describe an awkward dance as roles and expectations for data access and care coordination were defined after the fact.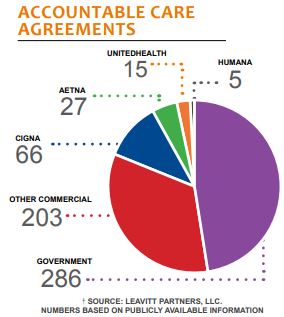 BOTTOM LINE PAYERS:
Aetna: A flexible partner that adjusts to meet provider goals/needs. Described as forward thinking. Healthagen business unit offers wide portfolio of tools and services, but provider adoption is shallow. Tools are payer agnostic. Has seen success in helping providers build private-label health plans.
Cigna: Has the most shared-savings contracts with providers. Collaborative accountable care model among most structured and keeps Cigna in driver's seat. Sometimes slow to share claims data. Wellness vendor, Kronos Optimal Health, closest thing to an HIT acquisition. Cigna subscribers only. A good learning opportunity for cautious providers.
Humana: Trusted partner that builds on existing provider relationships. Few formal agreements counted, but reports hundreds of collaborative, value-based relationships. Acquired some technology solutions, but cohesive, payer-agnostic accountable care portfolio still in process. A willing guide for providers, but less aggressive in innovating and pursuing formal accountable care partnerships.
UnitedHealth: The largest portfolio of tools and services under Optum brand. Payer agnostic. Little coordination with traditional UnitedHealthcare insurance business. Limited number of ACO relationships as an insurer. UnitedHealthcare hesitant to cede control of claims data or support provider care management. Optum Care Suite a promising development.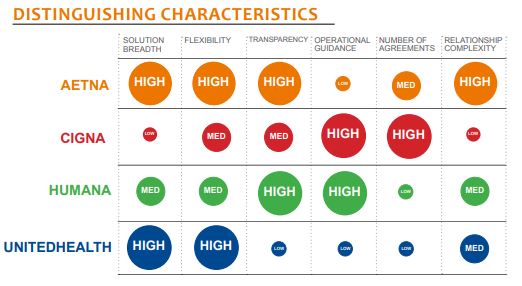 This material is copyrighted. Any organization gaining unauthorized access to this report will be liable to compensate KLAS for the full retail price. Please see the KLAS DATA USE POLICY for information regarding use of this report. © 2023 KLAS Research, LLC. All Rights Reserved. NOTE: Performance scores may change significantly when including newly interviewed provider organizations, especially when added to a smaller sample size like in emerging markets with a small number of live clients. The findings presented are not meant to be conclusive data for an entire client base.
Related Articles
​