2023 BEST IN KLAS
Preferences
End chart zoom
* A page refresh may be necessary to see the updated image
Cloud Computing Perception
The Hybrid Cloud in Healthcare
Current Time Inside Cache Tag Helper: 4/2/2023 6:48:00 AM and Model.reportId = 766
Adoption of the cloud in healthcare is slowly growing as concerns over security, performance, and data control still loom in providers' minds. This report asked providers about cloud solutions for their clinical and ERP needs and found that just over one-third of the market has adopted attributes of cloud computing—mostly hybrid cloud computing —for these solutions. This report explores the dynamics of providers using cloud technology as well as the strategies and concerns of those providers who are not currently using cloud technology.
HtmlReportContent Current Time Inside Cache Tag Helper: 4/2/2023 6:48:00 AM and Model.reportId= 766 and Model.HtmlReportContent_LastWriteTimeUtcInTicks=637497134310794273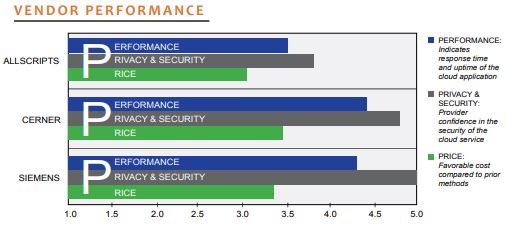 Key Findings
Cerner, Siemens, Allscripts at the forefront: These three traditional application hosting vendors were mentioned most often by the nearly 100 respondents in this report as providing cloud computing solutions, and 16 other vendors were also mentioned. Of Cerner, Siemens, and Allscripts, Cerner clients were the most satisfied with application's performance, uptime, and cost. Siemens clients were highly confident in their system's security, ranking Siemens above the other two vendors. While Allscripts earned average or above-average ratings, they lagged behind Cerner and Siemens.
Internal vs. External—Privacy, Performance, and Price: Most providers (72%) using cloud computing said hosting in the cloud costs the same or less than managing the application internally. Of respondents using cloud technology, 79% use an external private cloud and rated the application's performance and HIPAA privacy and security level nearly the same as did the 19% that use an internal cloud environment.
Security Performance, and Control—Top Concerns: For every size of organization listed in this report, security was the top concern. For small hospitals (1–200 beds), connectivity rivals security as the top concern. The third most mentioned concern by providers not utilizing cloud computing was losing access to and control of their data.

Q&A
Q: Does a true cloud environment exist in Healthcare?
A: Yes, but it is rare. All of the cloud vendors within this report use a hybrid cloud environment, except for Amazon. They have virtualized the applications and the hardware, but the application architectures are not cloud or web enabled, perhaps except for Siemens Soarian. Thus these vendors use a middle layer to provide webenabled access. This middle layer is predominantly Citrix, followed by VMware.
Q: What Type of Clinical Applications Do Providers Have in the Cloud?
A: Most providers in this report were using a hybrid cloud to host their acute care EMR, followed by ambulatory EMR. (Please note that the scope of this study was limited to acute care organizations. If the scope had been expanded to include ambulatory organizations, then ambulatory EMR may have been a larger percentage.) For those providers who are not using cloud technology, EMR tops the list of applications providers are interested in using in the cloud, followed by PACS.
Q: Who Hosts What?
A: Most vendors in this report provide cloud services around their own proprietary solutions. For example, Cerner and Siemens provide cloud services for their acute care EMR solutions, while Allscripts has both their acute care EMR and ambulatory EMR and eClinicalWorks provides cloud services for their ambulatory EMR clients. A full list of vendors with at least one cloud client is found in the list to the left.
Q: What Needs to Change for More Providers to Adopt the Cloud?
A: Providers said they would need assurances in the performance and uptime of both the cloud technology and their Internet connectivity, as well as improved data security. Additionally, many also said they did not currently see a compelling business case for their organization to move to the cloud. (For example, large organizations already own their own servers, thus decreasing the need for cloud services.) Several providers also mentioned that amidst meaningful use and ICD-10, some vendors have not put much focus on optimizing their applications for the cloud, which has prevented providers' move to virtualization.
Bottom Line on Vendors
Allscripts: Multiple clients are confident with the level of security Allscripts provides, yet they gave mediocre scores for performance (response time and uptime). Some low performance scores are due to failure with clients' Internet connectivity. In 2012, Allscripts outsourced their application hosting services for SCM to Xerox.
Cerner: The most mentioned by providers of any vendor in this report. Has won Best in KLAS awards for their application hosting services. Despite an outage in July 2012, clients maintain confidence and gave Cerner the highest uptime and cost ratings in this report.
Siemens: Perfect score from clients in confidence in security as clients feel Siemens is experienced and has solid technology. Providers also scored them high for performance. Soarian is the only acute care EMR solution providers identified as web enabled.

This material is copyrighted. Any organization gaining unauthorized access to this report will be liable to compensate KLAS for the full retail price. Please see the KLAS DATA USE POLICY for information regarding use of this report. © 2023 KLAS Research, LLC. All Rights Reserved. NOTE: Performance scores may change significantly when including newly interviewed provider organizations, especially when added to a smaller sample size like in emerging markets with a small number of live clients. The findings presented are not meant to be conclusive data for an entire client base.
​