2022 BEST IN KLAS
Preferences
End chart zoom
* A page refresh may be necessary to see the updated image
McKesson Paragon 2013
Balancing the Risk & the Reward
Current Time Inside Cache Tag Helper: 12/3/2022 6:47:02 AM and Model.reportId = 845
Since McKesson's Better Health 2020 announcement, many large Horizon customers have wondered whether Paragon is a viable option for them. Can Paragon really scale to meet the needs of larger hospitals? What risk would hospitals be taking to get a more affordable price? What are their peers doing? To answer these questions, KLAS spoke with 44 Paragon organizations (16 over 200 beds, 28 under 200 beds).
HtmlReportContent Current Time Inside Cache Tag Helper: 12/3/2022 6:47:02 AM and Model.reportId= 845 and Model.HtmlReportContent_LastWriteTimeUtcInTicks=637497838638732043
Worth Knowing
Paragon Has Significant Clinical Functionality Gaps, but Customers are Optimistic
Providers indicated that ED, lab, pharmacy, radiology, CPOE, medication reconciliation, and physician documentation all need to mature and the ambulatory EMR is still in development. In addition, Paragon has limited experience in large organizations and while several customers indicated they felt Paragon's underlying architecture can support large, complex organizations, there will still be a learning curve before it is fully vetted. While acknowledging current gaps, customers expressed confidence in McKesson's vision and, based on Paragon's history of development, were optimistic that Paragon would deliver.

Paragon Getting Attention in Early Horizon Movement
Over the past year Paragon has been competing with Allscripts, Cerner, Epic, MEDITECH, and Siemens for the large Horizon hospitals. Paragon's affordability has caught the attention of many Horizon sites. In 2012, Paragon secured 11 of the 32 larger Horizon hospitals, edging out Cerner and Epic who had 10 wins each. There are still 131 large Horizon hospitals yet to decide, with several larger organizations indicating they are watching to see how Paragon matures before making a decision.

Costs often higher than expected
Cost was the number-one reason customers have gone with Paragon, but almost half reported that costs associated with bringing Paragon live and operational were higher than expected. Unanticipated licensing and additional hardware/capital/infrastructure costs are the most frequent complaints. Cost overruns were reported to be equal between large and small sites. Costs are still significantly lower than with the traditional large hospital EMRs.

Stretched by Growth and Distracted by Horizon
Paragon customers of all sizes complained that Paragon resources have been stretched thin, especially when it comes to implementation services and day-to-day support for existing customers. As Paragon's development team pushes out more products and features, customers have reported that quality has suffered. As a result, performance scores have fallen five points over the last year. While customers understand that Paragon has been experiencing growth and maturing as an organization, they are anxious for Paragon to return to their history of strong relationships and solid delivery.
why the optimism?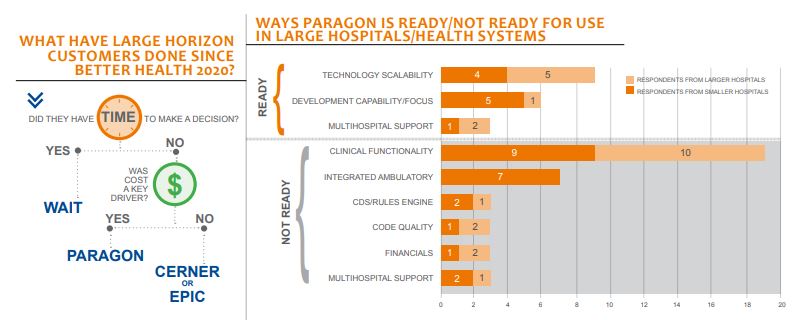 With increased demands for clinical functionality, stretched implementation, development, and support teams, and satisfaction scores dropping, why would customers be optimistic about the future? The answer is history. Paragon has essentially built their reputation and business by selling on their vision and keeping promises. Many of these customers have watched Paragon go from worst in KLAS to a perennial Best in KLAS winner in the community hospital space.
Paragon and MultiHospital Systems?
A few providers said they were running Paragon in a multihospital environment, and a few mentioned challenges in this area. This seems to indicate that multihospital support can be done but Paragon has not gone through the vetting process in large organizations that will be required before Paragon can be "rolled out to" instead of "figured out for" large systems.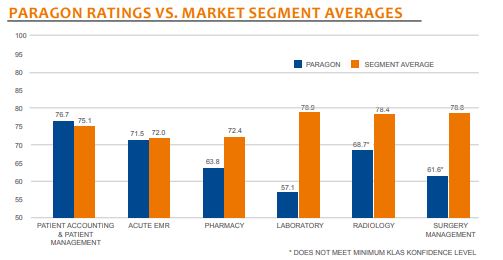 This material is copyrighted. Any organization gaining unauthorized access to this report will be liable to compensate KLAS for the full retail price. Please see the KLAS DATA USE POLICY for information regarding use of this report. © 2022 KLAS Research, LLC. All Rights Reserved. NOTE: Performance scores may change significantly when including newly interviewed provider organizations, especially when added to a smaller sample size like in emerging markets with a small number of live clients. The findings presented are not meant to be conclusive data for an entire client base.
​