2023 BEST IN KLAS
Preferences
End chart zoom
* A page refresh may be necessary to see the updated image
Accenture U.S. Provider Consulting 2013
An Analysis of Accenture's DNA
Current Time Inside Cache Tag Helper: 12/1/2023 10:20:38 PM and Model.reportId = 887
Over the past several years KLAS has had little to share with providers about Accenture. While their number of engagements is fewer than some other firms' in number, their projects tend to be large and in some cases unique due to the scope and type of work being performed. Accenture's approach is to be a meaningful all-around partner to a limited number of clients. For this research KLAS interviewed senior executives from most of Accenture's largest U.S. provider clients to obtain insights regarding their experience and the work performed.
HtmlReportContent Current Time Inside Cache Tag Helper: 12/1/2023 10:20:38 PM and Model.reportId= 887 and Model.HtmlReportContent_LastWriteTimeUtcInTicks=637497842348490886
Worth Knowing
Making a strong move in healthcare reform opportunities.
Receives high marks (90+) for transformation and new-age healthcare projects (BI, population health, ACO, and HIE). Many clients mentioned Accenture's work in these areas is helping them adapt to the changing requirements associated with healthcare reform. Transformation work includes clinical, revenue cycle, and business (several operational areas) process redesign work. Clients report these engagements improve care quality, reduce costs, and increase revenue.

One of two firms doing very largescale (over $100 million) consulting engagements in the healthcare industry, with Deloitte being the other. For a couple of Accenture's largest engagements, they provided over 100 consultants at the peak. Most work is for large (1,000+ beds) health systems and often includes multiple engagements and can span multiple years. Accenture is doing a wide range of services that include advisory, transformation, ICD-10, BI, population health, ACO, HIE, implementation, and IT outsourcing services.

Partial IT outsourcing not a strength.
Partial ITO is Accenture's lowestperforming area with scores lower than most other firms' KLAS tracks in this space. Frustrations involve offshore support's communication barrier and lack of understanding of the healthcare business. Client feedback with on-site management was mixed; however, multiple clients were pleased with the cost and value.

Implementation performance is mixed, with respondents split on satisfaction with engagements. Some respondents reported consultants were hit and miss. Most work is EMR (where Accenture scores four points below the industry average), but they also do revenue cycle and ERP work. All EMR and revenue cycle implementations measured by KLAS were Epic projects. Multiple clients, however, did praise Accenture for their methodology, strong project management, and ability to resolve issues
Q&A
Providers often chose Accenture based on either their own previous experience with Accenture or the experiences of their peers. Providers also mentioned Accenture's pool of consultants, broad expertise, experience in other industries, and physician leadership as being key drivers. One provider said, "I wanted the best with this project. . . . Accenture came back as the most qualified for our specific targeted area. Accenture has such a broad pool of consultants that they can bring to the table, and that was clearly an advantage for them" (emphasis added).
How is Accenture helping others prepare for healthcare reform?
Transfer of knowledge and streamlined processes were two major highlights. Energy around population health is growing, and multiple providers shared one client's sentiment who said, "Accenture is helping us create more customer loyalty and a better patient experience, and we think that will lead to the stickiness of our patient population. In the end, that is going to benefit us no matter where healthcare reform goes" (emphasis added).
Where does Accenture come up short? 
The projects where Accenture struggles the most are IT outsourcing, some implementation work, and some ICD-10 work. Areas that have been challenging for some include offshore support, contracting, missed SLAs or other performance expectations, underperforming consultants, lack of leadership, lack of on-the-ground physician support, and lack of planning tools.
Peer Advice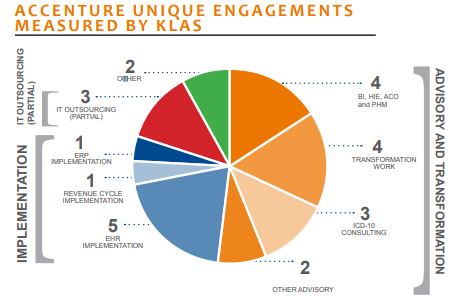 Successful Accenture projects deliver high value but require sufficient money and resources "There is pretty significant value in what Accenture provides, but organizations have to have enough resources available. . . . If they don't have the dollars available, they are really limited in their ability to fully implement the benefits of Accenture."

Beware of Accenture's desire to be all things to all people. "They are very deep, but they sometimes go too far wanting to be all things to all people. People have to be really careful, do their homework, and know what they are getting into when they hire Accenture, just like with any vendor."

Allow plenty of lead time and energy for the contracting experience. "The contracting experience was much more challenging than we anticipated. Our legal department had a hard time working with Accenture's legal department."
This material is copyrighted. Any organization gaining unauthorized access to this report will be liable to compensate KLAS for the full retail price. Please see the KLAS DATA USE POLICY for information regarding use of this report. © 2023 KLAS Research, LLC. All Rights Reserved. NOTE: Performance scores may change significantly when including newly interviewed provider organizations, especially when added to a smaller sample size like in emerging markets with a small number of live clients. The findings presented are not meant to be conclusive data for an entire client base.
​