2022 BEST IN KLAS
Preferences
End chart zoom
* A page refresh may be necessary to see the updated image
Cerner Patient Accounting & Practice Management 2016
Can My Organization Be Successful?
Current Time Inside Cache Tag Helper: 12/3/2022 6:21:54 AM and Model.reportId = 1115
More than one in three organizations looking to change their inpatient revenue cycle solution are leaning toward Cerner Patient Accounting. The desire to move to an integrated revenue cycle solution is strong, but so is apprehension since frustration among current Cerner customers is common. Feedback ranges from significant improvements in organizational outcomes that have "saved" organizations' financials to missed timelines, missed revenue targets, organizational embarrassment, or even replacement of the full Cerner suite. How likely is it that your organization will be successful?
HtmlReportContent Current Time Inside Cache Tag Helper: 12/3/2022 6:21:54 AM and Model.reportId= 1115 and Model.HtmlReportContent_LastWriteTimeUtcInTicks=637527182997575853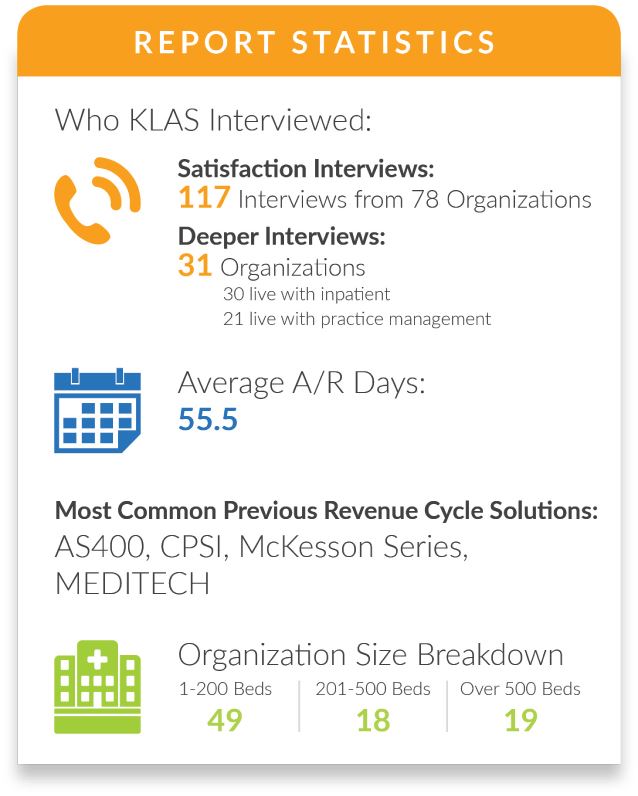 1. MOST SEE A PATH TO SUCCESS; 29% HAVE ARRIVED
A majority of Cerner revenue cycle customers today report that they are on the fence when it comes to achieving the organizational targets they hope for. Most feel optimistic that success is within their reach, but few have fully achieved their goals, and satisfaction with Cerner is not high as many customers feel that they, not Cerner, are responsible for the heavy lifting necessary. Of particular note, two of the four largest organizations interviewed state that they are not trending toward their goals.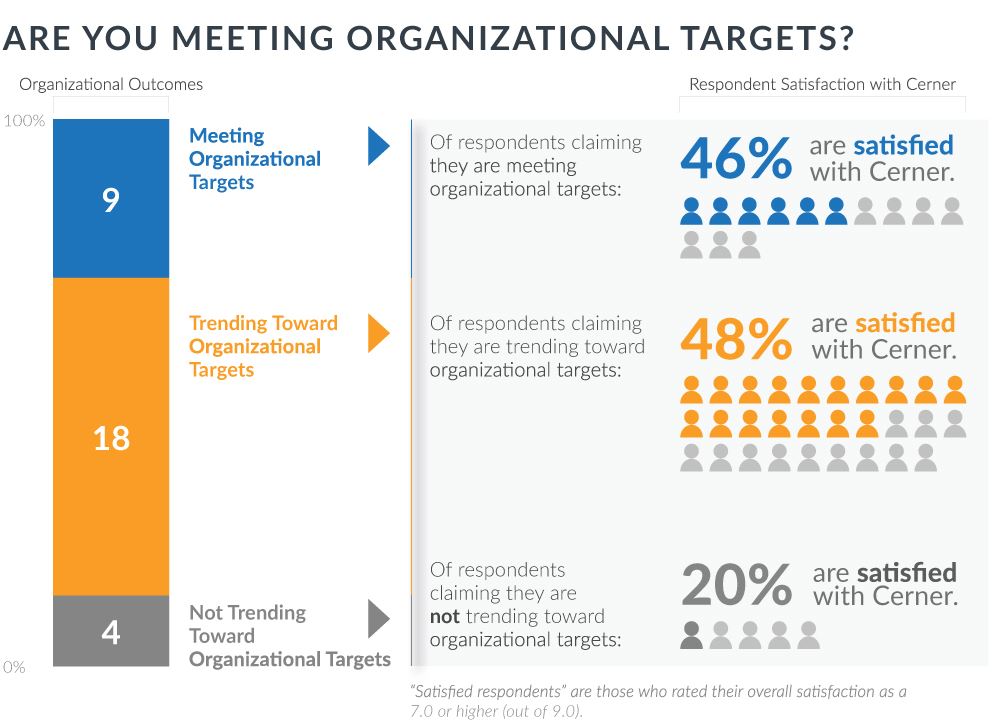 2. CERNER OFTEN IMPROVES OUTCOMES BUT HURTS EFFICIENCY
Customers are clear that Cerner's revenue cycle solutions are often a two-edged sword—system integration helps maintain or improve collections while product immaturities can hurt overall efficiency. The business office director at a larger hospital reported, "Our revenue has gotten better because we are on a single system. . . . However, the workflows don't work correctly, so we have to generate reports manually. It is great that the data is all in a single system, but the workflows are broken."
3. SUCCESS WITH CERNER LIKELY BUT NOT RISK FREE
Most customers express optimism that Cerner is improving, but they are quick to add that success heavily depends on the readiness of the organization adopting Cerner. One VP of revenue cycle reported, "Based on the maturity of Cerner's system, I think that organizations would need to ensure that they are adequately resourced to be successful as they work to optimize the system. Although the system is considered to be more intuitive for new users, it takes us more time and clicks to work on claims, look up information, and things like that."
While the story is different in larger organizations than smaller, optimism among customers of the same size is similar. Larger organizations require better reporting and streamlined processes (both weaknesses for Cerner) but often have knowledgeable resources that can make implementations more successful.
Customers who have gone all in with both the inpatient and ambulatory revenue cycle solutions report higher optimism for success. It should be noted that Practice Management customers report greater product and support immaturities than Patient Accounting customers.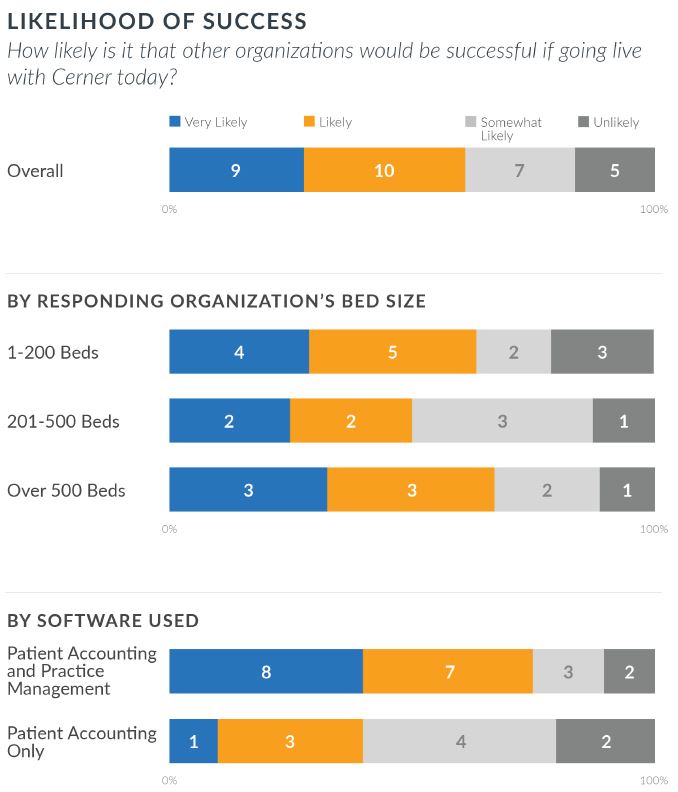 4. SKILLED RESOURCES AND A STRONG IMPLEMENTATION—THE KEYS TO SUCCESS
Current customers overwhelmingly state that the key to organizational success with Cerner depends on the knowledge and experience of the resources helping organizations convert. Cerner often does not provide knowledgeable enough resources to successfully guide implementations, and successful customers repeatedly report hiring skilled outside resources to lead them through the build. Unsuccessful customers can often trace their frustrations to poor implementation decisions and/or training. One business office director for a larger hospital reported, "There were several things that were not set up correctly in the beginning. We really struggled at the time of our go-live and for several months afterward. We asked for things, but the implementation team said we couldn't do those things or that the functionality was not there. Once we brought in our own consultant, however, he was able to fix things and get us what we needed."
Writer
Alex McIntosh
Designer
Natalie Jamison
This material is copyrighted. Any organization gaining unauthorized access to this report will be liable to compensate KLAS for the full retail price. Please see the KLAS DATA USE POLICY for information regarding use of this report. © 2022 KLAS Research, LLC. All Rights Reserved. NOTE: Performance scores may change significantly when including newly interviewed provider organizations, especially when added to a smaller sample size like in emerging markets with a small number of live clients. The findings presented are not meant to be conclusive data for an entire client base.
​