2023 BEST IN KLAS
Preferences
Related Series
---
Community Hospital CIS Market Share 2012
Community Hospitals Accelerating CIS Adoption
End chart zoom
* A page refresh may be necessary to see the updated image
Community Hospital CIS Market Share 2013
Moving Forward without Leaders
Current Time Inside Cache Tag Helper: 12/6/2023 10:38:12 AM and Model.reportId = 874
Slot machines in Las Vegas are required to pay out at least 75% of the money that goes into them: an average loss of one in four quarters. For community hospitals live less than four years that KLAS has recently surveyed (n = 381), only 73% of customers reported that they would buy the same HIS again: a success rate of only three out of four. While no community hospital would want to consider the purchase of a new HIS as a gamble, the reality is that with limited resources and significant customer needs, no vendor today can point to a track record of consistent success in delivery. What can providers do to lower the risk around their current investment? What are the different strengths and weakness of current market players? What solutions did community hospitals invest in during 2012?
HtmlReportContent Current Time Inside Cache Tag Helper: 12/6/2023 10:38:12 AM and Model.reportId= 874 and Model.HtmlReportContent_LastWriteTimeUtcInTicks=637497858750360186
Worth Knowing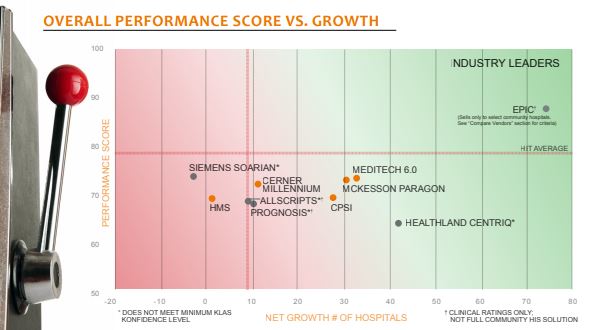 Is there a leader? No vendor demonstrates a combination of high customer satisfaction and strong sales momentum. Epic comes the closest but sells only to select community hospitals. Standalone hospitals wanting Epic must be hosted by a larger health system. Most Epic wins come from larger health systems converting their community hospitals. Community hospitals are ready for a vendor who is able to consistently move community hospitals to a high level of adoption and performance.
Meditech MAGIC on Top? MEDITECH MAGIC (a legacy product) currently scores higher than any other go-forward community HIS—highlighting how satisfaction must improve in this market. Traditionally stable vendors McKesson Paragon and MEDITECH (with 6.0) have both seen significant service challenges and some codequality concerns with their go-forward solutions. Siemens and Cerner continue to struggle with the delivery of their financial, not their clinical, products
Low Vendor Loyalty to Upgrade Despite some new wins, Healthland and McKesson are upgrading fewer than half of their legacy customers to their new platforms. Siemens is experiencing an overall market share loss with only 14% of INVISION hospitals moving to Soarian in 2012.
Bottom Line on Vendors
Allscripts: Nine hospitals from three organizations contracted with Allscripts in 2012. While Allscripts boasts strong CPOE and other clinical functionalities, potential customers often see Allscripts Sunrise as too complex for their needs and not fully integrated.
Cerner: With a net gain of 11 hospitals in 2012 versus 37 in 2011, Cerner has seen their forward progress in the community market slow. As detailed in the 2013 Cerner CommunityWorks report, hosting flexibility, patient accounting, and cost management are key areas of needed improvement for Cerner. Cerner lost more community hospital customers in 2012 on a currently marketed product than any other vendor.
CPSI: CPSI saw a net gain of 27 hospitals, with providers continuing to invest in CPSI mainly due to a lower price tag. While customers feel that CPSI offers a good price point, older technology and inattentive service have one out of three customers reporting that they would not buy CPSI again.
Epic: Epic remains the most consistent when it comes to helping community hospitals be successful with their EMR. The catch? Most of Epic's 2012 community hospital wins are to larger health systems and Epic sells only to select community hospitals. Typically, standalone hospitals that want Epic must find a larger health system running Epic to host them. In a significant shift, Epic has announced that they will begin to host select hospitals directly. Smaller hospitals hosted through the Community Connect model rate the system high, reporting good functionality but also unneeded complexity.
Healthland: While customers are optimistic that Centriq is improving with newer versions, Healthland rates last in the market when it comes to service. Providers continue to see potential in Centriq; the product gained more market share in 2012 than any other product except Epic. Classic customers report uncertainty and anxiety around their future.
HMS: With only five 2012 wins and four hospital losses, HMS had a sputtering sales year. Fewer than half of recently live customers would buy HMS again—citing older technology, a lack of strong implementation support, and weak ease of use.
McKesson Paragon: McKesson Paragon boasted one of the market's lowest replacement rates, with only one hospital replacement in 2012. However, as evidenced by falling customer satisfaction ratings, McKesson has failed to scale their implementation and support services to adequately support increased clinical adoption and customer base growth. Clients report an increase in the number of code-quality concerns.
Prognosis: Focused on very small hospitals; newer to the market. Stretched support and immature functionality pull down customer satisfaction.
Siemens: Given Siemens' past prominence in the patient accounting market, it might seem counterintuitive that Soarian Financials, not Soarian Clinicals, is holding Siemens back the most in the community market. Soarian Clinicals remains solid. Some potential customers pass up Siemens due to the lack of a full and integrated portfolio. Overall market share loss in 2012
Writer
Taylor Davis
This material is copyrighted. Any organization gaining unauthorized access to this report will be liable to compensate KLAS for the full retail price. Please see the KLAS DATA USE POLICY for information regarding use of this report. © 2023 KLAS Research, LLC. All Rights Reserved. NOTE: Performance scores may change significantly when including newly interviewed provider organizations, especially when added to a smaller sample size like in emerging markets with a small number of live clients. The findings presented are not meant to be conclusive data for an entire client base.
​