2023 BEST IN KLAS
Preferences
Related Series
---
Global (Non-US) EMR Market Share 2022
Global (Non-US) EMR Market Share 2021
Global (non-US) EMR Market Share 2020
Global (Non-US) EMR Market Share 2019
Global (Non-US) EMR Market Share 2018
Global EMR Market Share 2017
Global Market Share 2016
Global EMR Market Share
Related Segments
End chart zoom
* A page refresh may be necessary to see the updated image
Global EMR Market Share 2014
Vendor Momentum Outside the United States
Current Time Inside Cache Tag Helper: 3/22/2023 4:54:24 PM and Model.reportId = 909
Healthcare organizations around the world are making EMR purchasing decisions at an increasing rate—KLAS validated 61 new EMR contracts, which accounted for nearly 200 hospitals, in 2012 and 2013. With this much global activity, which vendors have the greatest momentum? Which regions have seen the most growth? And which vendors have the largest market share?
HtmlReportContent Current Time Inside Cache Tag Helper: 3/22/2023 4:54:24 PM and Model.reportId= 909 and Model.HtmlReportContent_LastWriteTimeUtcInTicks=637498831205445414
WORTH KNOWING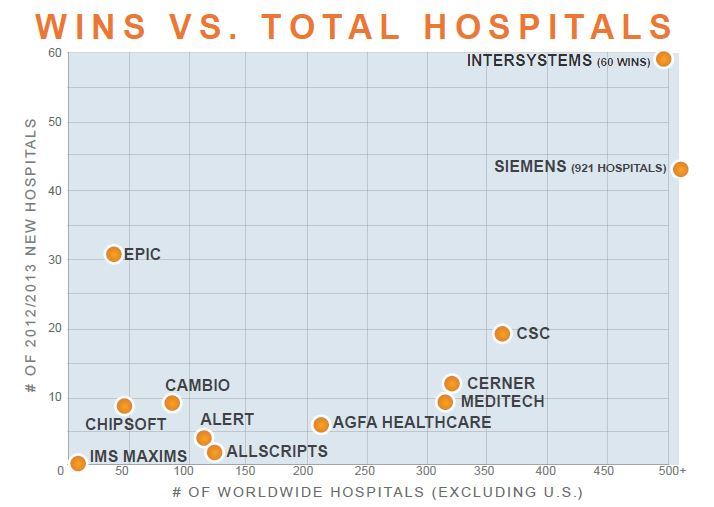 INTERSYSTEMS-THE CLEAR LEADER:
InterSystems added the most validated hospitals in 2012/2013 and did so across four regions, growing their already-large overall market share. Epic also saw significant growth, adding 31 new hospitals across three regions and increasing their global relevance. Cerner remained consistent by adding 12 hospitals in four regions. Siemens added 43 hospitals and CSC added 19, but both of these vendors' validated wins were all in one region, Europe.
SIEMENS HAS LARGEST MARKET SHARE; INTERSYSTEMS GAINING GROUND:
Siemens continues to have the largest global market share of any vendor, and they are experiencing steady growth, primarily in Europe. InterSystems has half as many global customers as Siemens but seems to be making the largest strides, expanding their global footprint in multiple regions simultaneously. Agfa HealthCare's reported total numbers would place them in the company of Siemens and InterSystems, but it is unclear how many of their customers are acute care hospitals.
INCREASING NUMBER OF GROUP PURCHASING DECISIONS BENEFITING INTERSYSTEMS/EPIC:
An increasing number of group contracts have emerged in recent years, as integration and price negotiation across countries, regions, and facilities have become more important. InterSystems (in Scotland) and Epic (in Denmark) won large numbers of new hospitals due to group purchases.
EUROPEAN REGION LEADS THE WAY IN NEW EMR CONTRACTS:
Europe had the most new EMR contracts outside of the United States due to countrywide purchasing decisions in Scandinavia and the termination of the National Programme in the UK. Many UK trusts will be making purchasing decisions by the end of 2014, with implementations to be completed by 2016. Nordic countries are currently in the EMR-evaluation process; Denmark recently made a decision for two of its states.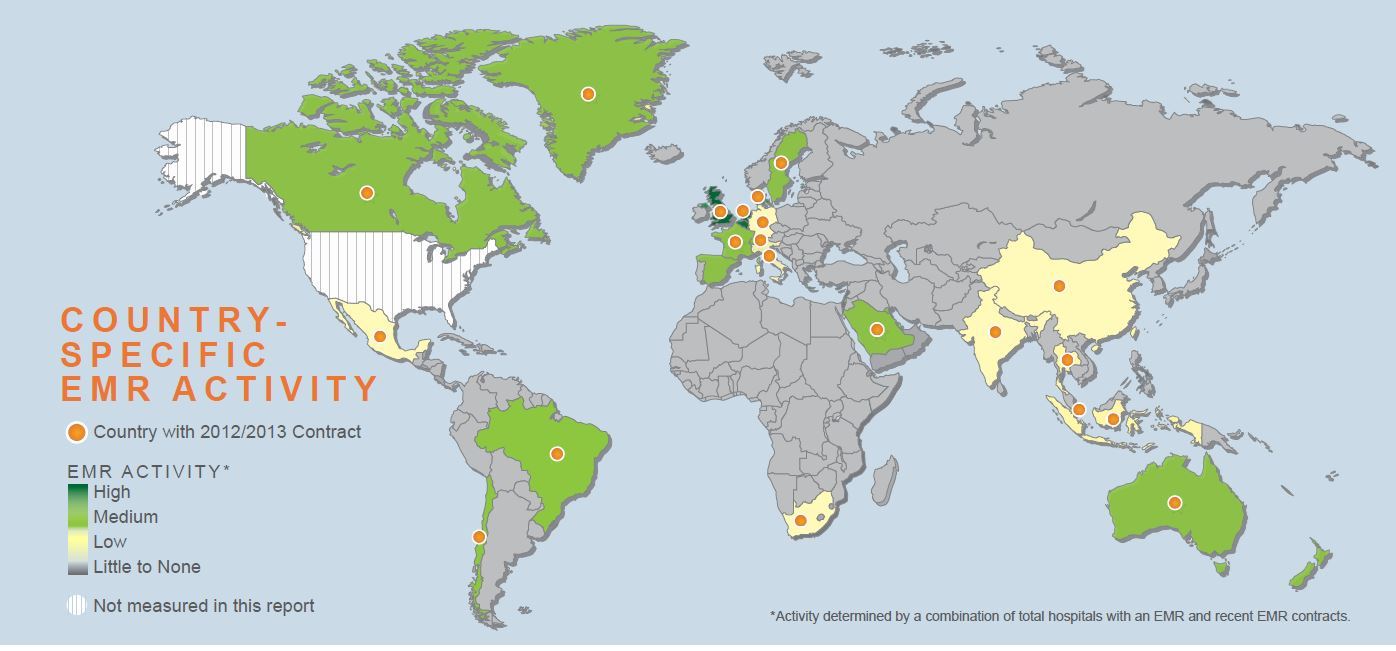 POSITIVE MOMENTUM* VENDORS 
CAMBIO
Cambio has a strong presence in Sweden and the UK. Despite having comparatively fewer hospitals than other vendors, they showed 12% growth in 2012/2013 due largely to winning a national contract in Greenland that currently includes five hospitals.
CERNER
Cerner has at least one hospital in every region of the world using their Millennium solution, which has been translated into French, German, Spanish, Portuguese, and some Arabic. They remained one of the most established global vendors by selling new contracts in four different regions in 2012/2013.
CSC
CSC saw European growth through acquisitions that resulted in 5% growth in 2012/2013. All of their new validated wins came in the UK and were due mostly to renewed contracts from the now defunct NPfIT.
EPIC
Epic saw a large increase to their relatively small customer base outside of the United States. They nearly quintupled their number of non-U.S. hospitals, jumping from 8 hospitals to 39 hospitals through wins in the Netherlands, the Nordic countries, and the UK.
INTERSYSTEMS
InterSystems experienced the most validated wins and did so across four regions, adding 14% growth to an already-large customer base of 439 hospitals. Their Internet-based TrakCare solution is found in every region of the world except Northern America.
MEDITECH
MEDITECH had the majority of their recent wins come in the UK, where three trusts signed contracts to upgrade to 6.0. Hospitals in South Africa, Australia, and Singapore also opted for 6.0.
SIEMENS
Siemens is in the most countries, with more live customers than any other vendor. KLAS was able to validate 43 new wins for 2012/2013. It was difficult to determine the total number of new contracts because Siemens' multiple product lines are offered through both Siemens and SAP.
FLAT MOMENTUM* VENDORS
ALERT
ALERT has a large customer base in the Spanish and Portuguese markets, with customers in Brazil, Portugal, Chile, and other countries. KLAS was able to validate wins only in the UK. This limited growth leaves providers questioning ALERT's long-term viability.
ALLSCRIPTS
Allscripts has most of its sites in Northern America but experienced a large win in Australia in 2010. Also, they achieved recent success in two UK trusts. However, their international growth in 2012/2013 was relatively sluggish.
CHIPSOFT
ChipSoftis a regional vendor with over 60% market share in the Netherlands. ChipSoft won eight validated contracts in 2012/2013, but all of their customers are still in either the Netherlands or Belgium.
IMS MAXIMS
IMS MAXIMS is an Ireland-based EMR vendor with no acute care hospital growth in 2012/2013. They have recently announced plans to make their product an open-source solution in the UK.
UNCLEAR MOMENTUM* VENDORS
AGFA HEALTHCARE
Agfa HealthCare has reported expansion by acquisition in South America, and this expansion could potentially add to their existing EMR customer base. KLAS has been able to validate six recent wins for a total of 210 customers using the ORBIS EMR product. However, at the time of this report, Agfa was unable to provide clear information as to their total number of acute care hospitals. 
*Momentum combines elements of total market share, 2012/2013 wins, and overall percentage growth. For more information see "About This Report" 
This material is copyrighted. Any organization gaining unauthorized access to this report will be liable to compensate KLAS for the full retail price. Please see the KLAS DATA USE POLICY for information regarding use of this report. © 2023 KLAS Research, LLC. All Rights Reserved. NOTE: Performance scores may change significantly when including newly interviewed provider organizations, especially when added to a smaller sample size like in emerging markets with a small number of live clients. The findings presented are not meant to be conclusive data for an entire client base.
Related Segments
​