2023 BEST IN KLAS
Preferences
End chart zoom
* A page refresh may be necessary to see the updated image
HIT Interoperability Update
Key Findings From KLAS' 2014 Reports
Current Time Inside Cache Tag Helper: 12/6/2023 10:34:30 AM and Model.reportId = 1065
Though a "one patient, one record" utopia is unlikely in the near future, providers have invested significant efforts into sharing patient information. Spurred on by government initiatives like meaningful use, U.S. providers have turned to EMR and HIE vendors to facilitate this data sharing. Here are some of the top interoperability highlights from KLAS' 2014 reports.
HtmlReportContent Current Time Inside Cache Tag Helper: 12/6/2023 10:34:30 AM and Model.reportId= 1065 and Model.HtmlReportContent_LastWriteTimeUtcInTicks=637499765146137866
1. FOUR EMR VENDORS CONTRIBUTE MOST TO CUSTOMERS' INTEROPERABILITY SUCCESS
athenahealth, Cerner, Epic, and MEDITECH customers highlight significant vendor contributions to their overall interoperability success, while noting that the vendors offer varying options to meet their complexity needs. athenahealth and MEDITECH customers feel successful but focus on less complex connections, like basic interfaces. Cerner and Epic customers are often trying more sophisticated connections, such as HIE access across multiple organizations and EMRs. Epic's customers note better overall success. In reality, many providers still have a lot of groundwork to do on their own to achieve an advanced level of interoperability.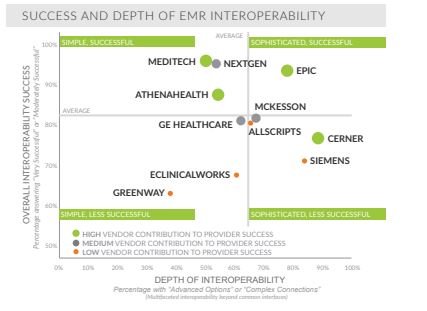 2. ATHENAHEALTH: THE MOST COOPERATIVE EMR VENDOR
Over 60% of athenahealth clients say their EMR vendor cooperates well with other vendors, the highest percentage for any vendor. athenahealth's hosted environment allows them to leverage custom interfaces across all customers, giving providers cheaper and easier access to patient information from disparate systems. Other vendors' customers note that while they don't feel their vendors are trying to stonewall them, there are resource shortages and some conflicts of interest due to competing products.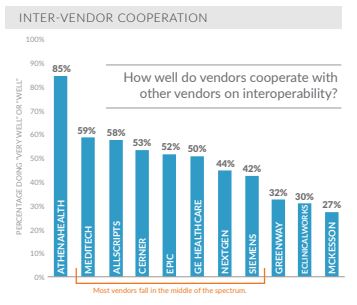 3. HIEs IMPROVE PATIENT CARE MOST
Providers say that of all the technology being used to facilitate the sharing of patient data, HIEs have improved care delivery the most. HIEs are also the most common target for future investment around interoperability. Epic, McKesson, and Siemens have the most customers leveraging their HIE solutions, and Allscripts dbMotion is most considered for enhancing future efforts.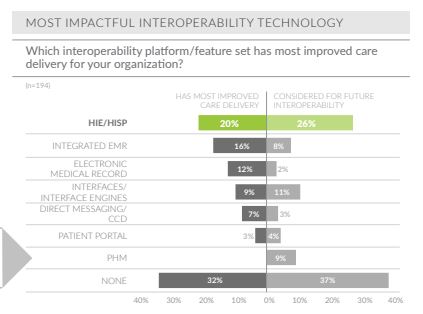 4. NO UNTETHERED HIE VENDOR
As the HIE market has continued to evolve and redefine itself, most vendors have begun to lag in performance in the last couple years, especially Medicity, Optum, and RelayHealth. The bright spots are Epic, ICA, and InterSystems; however, Epic's solution is tethered to their EMR, and it remains to be seen how ICA and InterSystems will hold up beyond the honeymoon phase.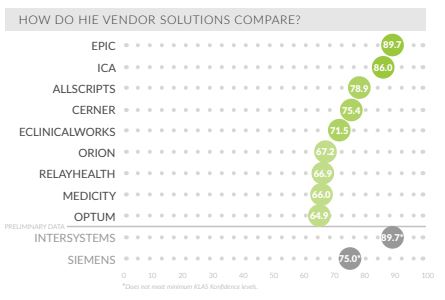 5. PROVIDERS ARE SPLIT ON DIFFICULTY OF EPIC-TONON-EPIC SHARING
Epic customers say interoperability with non-Epic systems is market ready, but the ease of attaining results depends on which side of the interface providers are on. Epic often acts as a buffer for their own customers, distancing them from the complexity of the interfacing. Non-Epic customers (like HIE organizations, HISPs, and providers using other EMRs) connecting into Epic deal with more firsthand complexity and customization. Some feel Epic is inflexible and leaves them to carry more of the load. These interfacing difficulties are not unique to Epic but are instead indicative of more widespread industry challenges.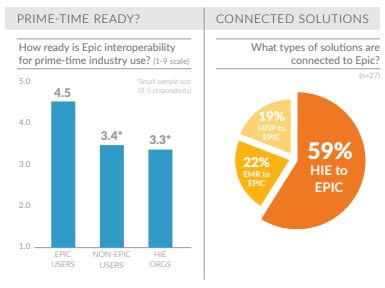 This material is copyrighted. Any organization gaining unauthorized access to this report will be liable to compensate KLAS for the full retail price. Please see the KLAS DATA USE POLICY for information regarding use of this report. © 2023 KLAS Research, LLC. All Rights Reserved. NOTE: Performance scores may change significantly when including newly interviewed provider organizations, especially when added to a smaller sample size like in emerging markets with a small number of live clients. The findings presented are not meant to be conclusive data for an entire client base.
​