2023 BEST IN KLAS
Preferences
Related Segments
End chart zoom
* A page refresh may be necessary to see the updated image
Human Capital Management 2014
Just Efficient Is Not Sufficient
Current Time Inside Cache Tag Helper: 11/30/2023 4:59:27 AM and Model.reportId = 928
Human capital management (HCM) is all about employing and managing a workforce and is the number-one cost for healthcare providers. This report differentiates vendors based on the products they offer, how well they deliver efficiency, & more.
HtmlReportContent Current Time Inside Cache Tag Helper: 11/30/2023 4:59:27 AM and Model.reportId= 928 and Model.HtmlReportContent_LastWriteTimeUtcInTicks=637499599374710851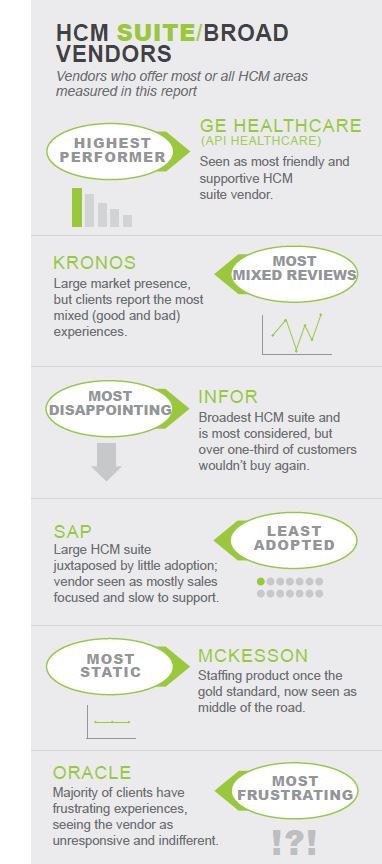 HCM SUITE/BROAD VENDORS
GE (API HC):
Beyond Efficient | Stands above rest and seen as exception to the rule for performance and impact; behind only in TM. Traction accelerating.
KRONOS:
Efficient | Large healthcare presence, but mixed reviews for overall impact and much lower client satisfaction than GE (API HC). Cost savings largely attributed tointegration. Optimism for future vision.
MCKESSON:
Efficient | Healthy efficiency perception for staffing automation, but broader HCM picture overshadowed by concerns about development, integration, and long-term viability.
SAP:
Idle | Strongest TM presence among suite vendors but minimal penetration in HR/payroll, T&A, and SS. Below-average impact on efficiency and little client confidence in delivery and direction.
INFOR:
Idle | Infor's HCM suite seen as broadest, but Infor's relationship struggles and eagerness to sell contribute to minimal efficiency gains and below-average confidence in future vision.
ORACLE*:
Idle | Most adverse client reviews of all vendors in this report; only vendor to receive negative efficiency ratings from clients. Large ERP presence but not used for SS or T&A.
HCM NICHE/FOCUSED VENDORS
STAFF SCHEDULING AND/OR TIME & ATTENDANCE
AVANTAS:
Beyond Efficient | Strong efficiency and cost-reduction impact. Market adoption growing as high client satisfaction compels more large facilities to adopt Avantas.
OPENTEMPO:
Efficient | Early reviews highlight strong efficiency and notable optimism for ongoing vendor development and progress. Advanced clinical scheduling capabilities a differentiator, but no mainstream traction yet.
ONSHIFT:
Efficient | Most clients see OnShift as cost effective and satisfactory for their needs. Very niche player, but overall seen as efficient and best option in the longtermcare space.
CERNER:
Efficient | Cerner seen as large vendor with small but important HCM play.Client satisfaction has dropped since Clairvia acquisition, but clients continue to seevalue and efficiency.
JBDEV*:
Efficient | Seen as efficient but mostly stationary. Rarely considered in large rfacilities. No real change anticipated.
TALENT MANAGEMENT
HALOGEN:
Beyond Efficient | Close and ongoing attention to support and customer-centered product development give Halogen an edge in TM. Impact on managing staffon par with other players, but stronger future outlook.
HEALTHCARESOURCE:
Efficient | Largest market share in TM. Affordability and long-term consistency in product quality appreciated by clients, but slowed delivery of new technology yields drop in satisfaction.
HEALTHSTREAM:
Idle | Learning platform often seen and used in back grounddespite notable market presence. Efficiency benefits seen as average, but most clients unfamiliar with vendor's future plans/vision.
ELSEVIER:
Idle | Narrow, clinically focused learning system fills niche among caregivers for content and training needs, but impact seen as below average due to minimal HCM role and footprint.
This material is copyrighted. Any organization gaining unauthorized access to this report will be liable to compensate KLAS for the full retail price. Please see the KLAS DATA USE POLICY for information regarding use of this report. © 2023 KLAS Research, LLC. All Rights Reserved. NOTE: Performance scores may change significantly when including newly interviewed provider organizations, especially when added to a smaller sample size like in emerging markets with a small number of live clients. The findings presented are not meant to be conclusive data for an entire client base.
Related Segments
​