2023 BEST IN KLAS
Preferences
End chart zoom
* A page refresh may be necessary to see the updated image
Image Archive 2013
Finding Out What Is In Store For VNA
Current Time Inside Cache Tag Helper: 1/27/2023 6:36:51 PM and Model.reportId = 806
Image-storage needs are evolving from consolidating separate archives to supporting multiple formats, vendors, and platforms. Providers expect to see a positive ROI, scalability, and consistent development. Where can providers turn? Can their existing PACS vendor meet their needs? Or must they choose an archive-only solution? KLAS spoke with 150 providers to find out.
HtmlReportContent Current Time Inside Cache Tag Helper: 1/27/2023 6:36:51 PM and Model.reportId= 806 and Model.HtmlReportContent_LastWriteTimeUtcInTicks=637497828873678225
Worth Knowing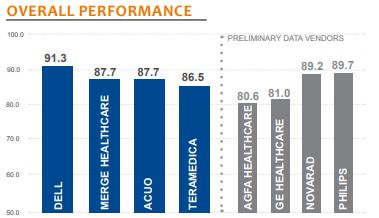 Can PACS Companies Deliver a VNA?
Merge is the only PACS vendor with the interfacing experience and variety on par with TeraMedica or Acuo. Eighty-one percent of Merge customers said they consider Merge to be a true VNA, which was a higher percentage than any other fully rated vendor. In early trending, GE and Agfa work with a variety of PACS and CPACS vendors but were typically sending images from fewer clinical departments. Philips and NovaRad clients see their archives as PACS enterprise archives rather than VNAs, and the number of third-party interfaces validated was small.
No Strings Attached
Dell earns the top performance satisfaction ratings in the study, but customers are using Dell little outside of radiology and cardiology. Archive-only solution TeraMedica is storing the widest variety of images (including native formats) from varying vendors and clinical departments but struggles with the business relationship. Acuo works with a wide variety of vendors, but is not validated to be storing as many clinical departments as TeraMedica, and the majority of Acuo users are storing images in DICOM.
TeraMedica and Merge Have Proven the Highest Levels of Scalability
TeraMedica and Merge customers reported having the largest archives of the fully rated vendors. TeraMedica had a couple of customers storing over a petabyte, and most respondents said that they are confident their needs will be met in the future. Merge's largest reported archive was 500TB. GE and Agfa are also scaling well.
Who Delivers Needed Functionality and New Technology?
The four fully rated vendors in the study, Acuo, Dell, Merge, and TeraMedica, have the most customer adoption and the strongest reputations for functionality and ongoing development. Agfa and GE offer limited functionality and have been slower to deliver. In order to offer clients the functionality they need, Philips has partnered with Acuo and NovaRad has partnered with Dell, even though both Philips and NovaRad offer their own products.
Bottom Lines on Vendors
RANKED VENDORS
Acuo— VNA pioneer. Meeting or exceeding ROI expectations for majority of customers; high level of customer evangelism. Top support and responsiveness and most proactive. Storing cardiology about average and a couple storing oncology and pathology as well. Proven to receive images from 23 different systems. Clients want improved UI, analytics tools, and bidirectional integration.
Dell— Top rated in product quality and delivery of new technology. Highest percent said met or exceeded ROI expectations due to affordability. Number of cardiology studies sent to archive is slightly above the average. Need improvement with first-line phone support being able to quickly escalate and solve problems.
Merge Healthcare— Seen as VNA by the largest proportion of clients, but still sold primarily to Merge PACS customers. Storing radiology and cardiology studies from a variety of vendors. Storing highest percentage of cardiology studies. Highest rated for workflow. Eighty-one percent said met or exceeded ROI expectations. Below average for service and support—inconsistent experience due to personnel who need better training.
TeraMedica— Storing images from widest variety of departments and highest percentage (38%) of oncology studies stored in archive. Validated to work with 12 PACS and 6 cardiology vendors. Weak with image enabling EMR/viewer. Expectations not met for 18%. Proven ability to scale over a petabyte and one of the highest rated for scalability.
PRELIMINARY DATA VENDORS
Agfa HealthCare— All users identify Agfa archive as a true VNA. All clients using in radiology; 67% in cardiology. Rarely invited to non-Agfa PACS VNA deals. First to deliver integrated viewer, but still room to improve.
GE Healthcare— Reputation for large deployments, reliability, and scalability. One of only two vendors validated to scale above a petabyte—median of reported storage 220TB. Primarily used in radiology, a little in cardiology. Lags in delivering new technology and ease of use. Lowest score for workflow and image enabling EMR/viewer.
NovaRad— Now partnering with Dell for VNA offering. NovaRad clients storing radiology, cardiology, and oncology, the vast majority from NovaRad PACS. Meeting or exceeding ROI expectations for all six interviewed providers.
Philips— Partnered with Acuo for clients who require more than iVault can offer. Seen as PACS enterprise archive by majority of customers. Storing typically radiology and cardiology. Functionality and workflow rated above average. Service and support meeting needs. Delivery of VNA functionality lags.
ON-THE-RADAR VENDORS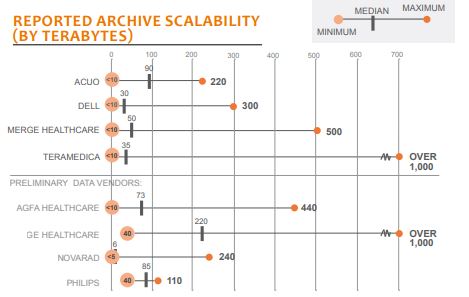 Bridgehead— Recently announced a couple of wins in the U.S. and UK.
Carestream— Interest in Carestream's VUE Archive limited to their PACS client base.
Cerner— CareAware MultiMedia (CAMM) is the archive for Cerner PACS. Few leveraging outside of radiology.
CoActiv— Handful of customers finding value and benefit by extending use of the PACS with EXAM-CLOUD.
Fuji— Announced partnership with TeraMedica in the U.S. at HIMSS 2013. Partners with Acuo in the UK and currently winning deals there.
Iron Mountain— Partnering with DeJarnette for cloud-based VNA.
Mach 7— Several live on the Keystone Suite Archive with success. Several others in varying phases of implementation.
McKesson— One of the last PACS vendors to deliver a VNA. McKesson PACS customers will get Enterprise Image Repository archive as part of v.11.9 PACS release.
Sectra— Has adoption with large radiology and women's imaging archives in other parts of the world, but Open Archive has received little attention yet in U.S.
Siemens— Partnership with Dell has led to several wins for Siemens' cloud-based Image Sharing & Archiving (ISA) solution.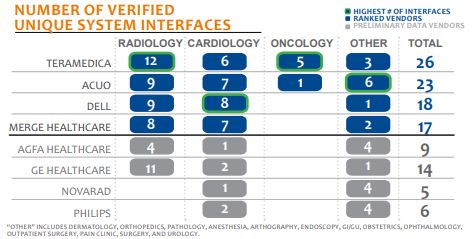 This material is copyrighted. Any organization gaining unauthorized access to this report will be liable to compensate KLAS for the full retail price. Please see the KLAS DATA USE POLICY for information regarding use of this report. © 2023 KLAS Research, LLC. All Rights Reserved. NOTE: Performance scores may change significantly when including newly interviewed provider organizations, especially when added to a smaller sample size like in emerging markets with a small number of live clients. The findings presented are not meant to be conclusive data for an entire client base.
​