2023 BEST IN KLAS
Preferences
End chart zoom
* A page refresh may be necessary to see the updated image
InterSystems Global 2014
An Early Look at TrakCare around the World
Current Time Inside Cache Tag Helper: 12/1/2023 4:20:24 PM and Model.reportId = 910
InterSystems TrakCare was highlighted as the fastest-growing EMR solution outside the United States in the recently published Global EMR Market Share report from KLAS. Offering a number of modules for a lower price, the product is an attractive solution for providers. Why are so many providers selecting TrakCare? How does the product perform, and are customers getting their money's worth? KLAS spoke to TrakCare customers worldwide to find out. This data provides an early look at the product in three global regions.
HtmlReportContent Current Time Inside Cache Tag Helper: 12/1/2023 4:20:24 PM and Model.reportId= 910 and Model.HtmlReportContent_LastWriteTimeUtcInTicks=637498902854275776
WORTH KNOWING
PRICE OUTWEIGHS FUNCTIONALITY:
Many healthcare organizations have selected TrakCare because providers say it integrates a suite of products across the hospital with little downtime and offers an adequate solution for the money. While the price is lower than other systems', providers feel they are missing some functionality, which reinforces the adage "You get what you pay for." Feedback shows that there are issues around lacking documentation, clinical forms, and patient administration. When asked how TrakCare is exceeding their expectations, nearly half of the respondents stated that the product was simply meeting expectations. This reinforces that they are willing to work around the functionality gaps in exchange for a lower price.
FULL DEPLOYMENT MAKES A DIFFERENCE:
Overall customer feedback suggests that going with a completely integrated suite provides a better experience with TrakCare. Early data shows that providers in the Middle East have opted for a full deployment of TrakCare modules across almost all sites, and scores are higher around integration. Middle East customers have also been using the system for nearly five years. In contrast, TrakCare scores are considerably lower in Europe, particularly in Scotland, where the implementation is only a few years old and there is less ancillary-module deployment. While the EPR, PAS, and Emergency modules currently have the deepest adoption in the country, providers in Scotland are optimistic about added functionality as more modules are deployed.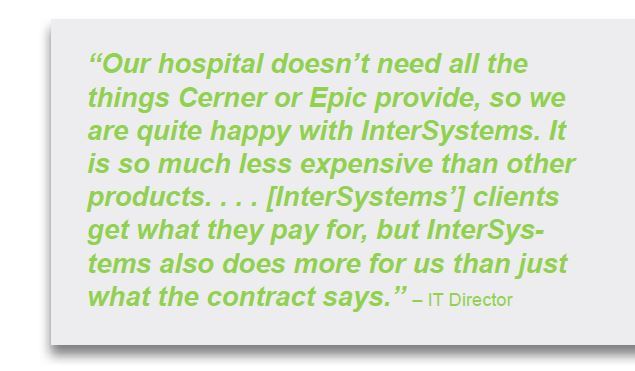 BOTTOM LINE ON REGIONS
ASIA/PACIFIC
Validated performance in Australia, New Zealand, and China. High overall ratings in this region, especially around system speed. 60% of sites using EPR, and all using PAS. All respondents plan to add or keep existing TrakCare products. Country-specific functionality around documentation and financials seen as weak, and proactive support lacking.
EUROPE
Largest customer base of all regions, with majority of validated TrakCare customers in Scotland from multitrust procurement. Substantially lower customer satisfaction scores in this region due to narrow deployment of TrakCare modules and resource constraints with support. Outside of EPR/PAS, only TrakCare Emergency is widely deployed in this region.
MIDDLE EAST
Validated performance in Kuwait, Oman, Saudi Arabia, and the UAE. Most customers have full deployment of all TrakCare modules, and performance scores in this region are strongest. Customers highlighted good communication and executive interaction from InterSystems.
SOUTH AMERICA
Relatively large customer base in Chile and Brazil. InterSystems did not provide customer contacts, and despite best efforts, KLAS was unable to get feedback from enough providers to report findings in this region.
AFRICA AND NORTH AMERICA
There are not enough customer sites in Africa to provide validated scores, and to date, InterSystems has elected to not sell TrakCare in North America.
This material is copyrighted. Any organization gaining unauthorized access to this report will be liable to compensate KLAS for the full retail price. Please see the KLAS DATA USE POLICY for information regarding use of this report. © 2023 KLAS Research, LLC. All Rights Reserved. NOTE: Performance scores may change significantly when including newly interviewed provider organizations, especially when added to a smaller sample size like in emerging markets with a small number of live clients. The findings presented are not meant to be conclusive data for an entire client base.
​