2023 BEST IN KLAS
Preferences
End chart zoom
* A page refresh may be necessary to see the updated image
MRI 2013
Sorting Through the Noise
Current Time Inside Cache Tag Helper: 4/1/2023 1:42:49 AM and Model.reportId = 821
MRI continues to be a very competitive area. The overall performance scores are virtually tied at the top, so what differentiates these systems? Providers are shifting focus to advanced applications such as cardiac MRI and patient-comfort features. Quiet scanning and rooms designed for a better patient experience have shown to dramatically improve overall patient satisfaction. New system designs like the Hitachi's Oval bring a unique bore shape for their first wide-bore 1.5T offering. With so many choices and so few dollars, providers are asking which vendors they should buy from and which features are worth the investment. KLAS has spoken with 192 providers to answer these questions.
HtmlReportContent Current Time Inside Cache Tag Helper: 4/1/2023 1:42:49 AM and Model.reportId= 821 and Model.HtmlReportContent_LastWriteTimeUtcInTicks=637497994339301052
OVERALL PERFORMANCE

ADVANCED FEATURES PURCHASED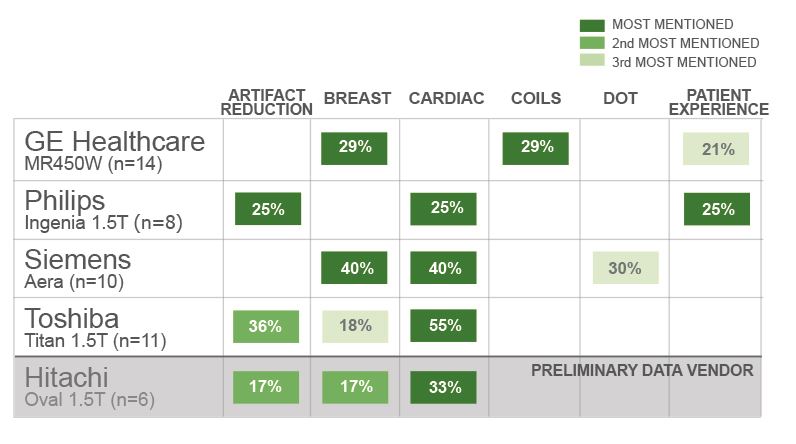 WORTH KNOWING
PHILIPS DELIVERS ON DSTREAM COIL EXPECTATIONS
Ingenia customers report that the dStream coils are a win. Bringing the digitization to the coil has improved ease of use and image quality, and combined with a lessexpensive upgrade process to higher-channel coils, users feel the coils are worth the cost. Only one provider reported challenges with the dStream coils. Many non-Philips customers, 48%, have not yet heard enough about the new system to form an opinion. The majority of those non-Philips users that have heard more about the dStream coils are interested in what they are hearing.
SIEMENS LEADS IN CARDIAC MR
With a still relatively small number of actual users, cardiac MRI is the most mentioned advanced feature that providers currently use or want to add in the future. Siemens customers are using cardiac MRI at a higher frequency than are users of other vendors' MRIs in this report. Though Toshiba has the highest number of cardiac MRI users in this study at six, the users report underutilization and some subpar results.
SOUNDING OFF--GE'S SILET SCAN IS MAKING NOISE (OR NOT)
Several providers said they are interested in GE's Silent Scan, and some have already have ordered it. The technology debuted at RSNA 2012 and was originally limited to T1 and PD-weighted scans, but it is now being expanded to other scans. While providers will debate the cost versus benefit, they predict it will only get better. Toshiba customers also talk about quiet technology; they feel that the Pianissimo gradients do a great job at keeping scans quiet. Siemens has recently received approval for their noise reduction software, the Quiet Suite.
PHILIPS' PERFORMANCE DROPS WHILE HITACHI COMES ON STRONG
Philips led last year's study but has fallen as they continue to install more units. Philips has not been able to maintain their high levels of support and communication. Hitachi is off to a slow sales start, but they are roaring onto the wide-bore stage with incredibly high satisfaction and praise for the oval bore. Maintaining these high levels will be critical as Hitachi tries to earn a bigger share of the hospital market.
FEATURES POTENTIAL BUYERS ARE MOST INTERESTED IN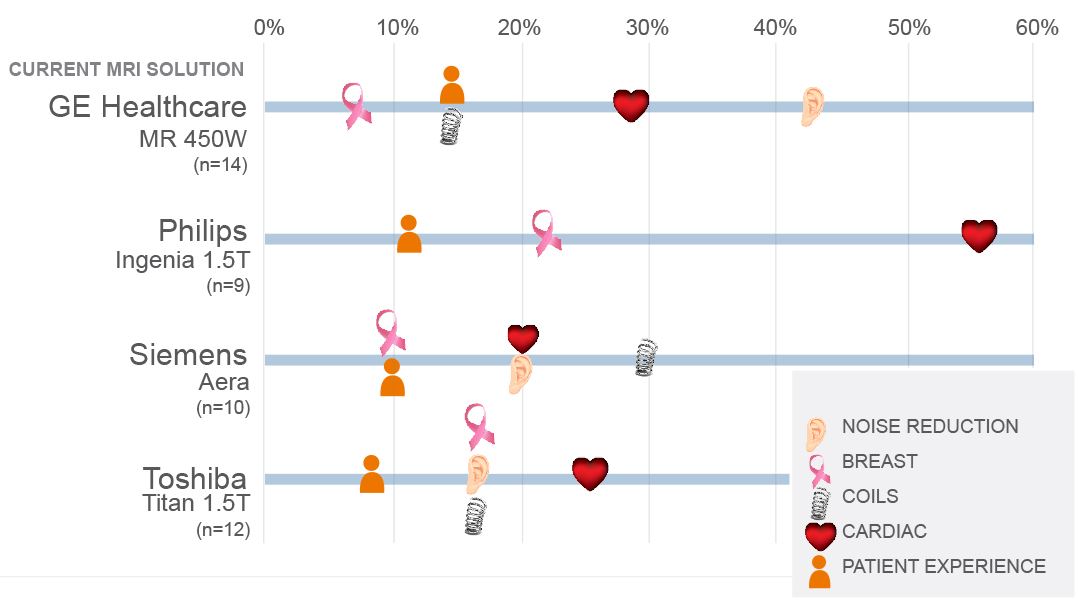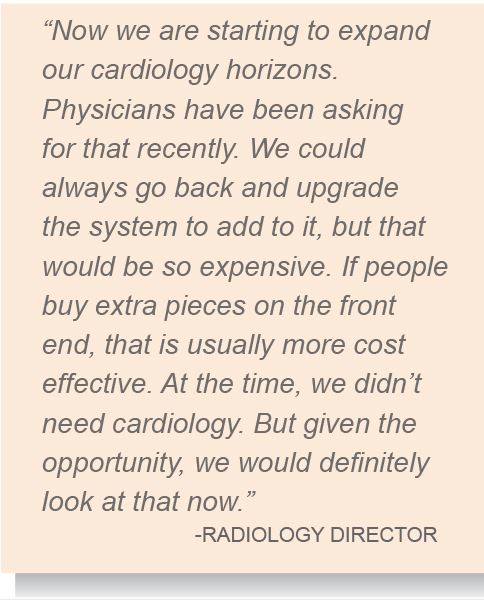 BOTTOM LINE ON VENDORS
RANKED VENDORS
GE HEALTHCARE
More communicative sales and contracting. Room to improve nickel-and-diming as they price more aggressively. Silent MR is resonating with GE and non-GE users. Praised for the IntelliTouch patient locator. Multiple reports of issues with the detachable table, though not debilitating.
PHILIPS
Strong praise for the dStream coils. Users excited about the achieved results as well as the future ability to not add channels to the system. Highest-priced scanner in the report, and providers report it is worth the cost. High levels of support and communication had by initial Ingenia customers have not been maintained. One customer cites support has changed to a message and callback approach.
SIEMENS
The MRI technology leader. Improved training and account management— Siemens' representatives more invested in providers' success. Aera users leading the way in cardiac MR. Siemens' Dot engines great for lesser-used protocols but can be restrictive when the providers get more specialized protocols.
TOSHIBA
Providers want the Titan to be easier to use. M-Power user interface has brought some improvements but still requires too many clicks and too much tech interaction. Support and account management are traditional Toshiba strengths but are now the weakest in the group. Strong implementations and great training. Pianissimo gradients provide quiet scanning across the board.
PRILIMINARY DATA VENDOR
HITACHI
KLAS has validated six unique organizations, some with multiple units, who have implemented Hitachi's new Oval scanner. The oval bore provides more patient comfort and fit. Reliable system. Learning curve can be a bit more than other vendors' MRI systems. Hitachi providing great implementations with knowledgeable applications and support personnel.
PRICING
Philips is the highest-priced scanner on average. Providers mention that the Philips Ingenia scanners come fully loaded for the price, and it is the highest-regarded MRI in this report for getting providers their money's worth from the purchase. The Siemens Aera, known as a high-tech, higher-cost scanner, is a close second to Philips. Toshiba customers report the lowest average purchased price. GE's average purchase price is just above the price of the Toshiba Titan. GE has shown an ability to aggressively price their scanners. The average price of GE's scanners is driven down by one particularly aggressive price on a scaled-back 450w that is part of a series of GE equipment purchases. Also, GE's highest-reported purchase is lower than any other vendor's highest price.
SCANNER COSTS, BY VENDOR
This material is copyrighted. Any organization gaining unauthorized access to this report will be liable to compensate KLAS for the full retail price. Please see the KLAS DATA USE POLICY for information regarding use of this report. © 2023 KLAS Research, LLC. All Rights Reserved. NOTE: Performance scores may change significantly when including newly interviewed provider organizations, especially when added to a smaller sample size like in emerging markets with a small number of live clients. The findings presented are not meant to be conclusive data for an entire client base.
​