2023 BEST IN KLAS
Preferences
End chart zoom
* A page refresh may be necessary to see the updated image
MRI 2012
Broadening Your Field of View
Current Time Inside Cache Tag Helper: 6/4/2023 5:13:56 AM and Model.reportId = 781
Wide bore scanners are now available from every vendor. Images are getting better and scanners are faster, but providers are asking for more features, including better patient comfort, better coils, and improved value. With the bar being raised, which vendors are poised to exceed provider demands?
HtmlReportContent Current Time Inside Cache Tag Helper: 6/4/2023 5:13:56 AM and Model.reportId= 781 and Model.HtmlReportContent_LastWriteTimeUtcInTicks=637497104446603554
Key Findings

Philips Setting the Bar High with Ingenia: Though late to the wide bore party with the Ingenia, Philips did it right. Downtime issues with the Achieva line had some providers skeptical, but those who have the Ingenia 1.5T MR see a big difference in image quality. Digital coils offer a better upgrade path and better images with less noise. Another aspect of the high performance is the highly effective hands-on training, but can that scale as the customer base grows?
Who Is Best Prepared for an Increase in Body Imaging? Philips and Siemens customers like the easy-to-use body coils, which make body scanning faster and yield better image quality. However, a few Siemens customers mention some field-of-view issues with the shorter bore. GE customers report the image quality is excellent and competes with the images from a 3T scanner. Hitachi customers anticipate the new Oval with integrated coils will help.
Philips and GE Are Leaders in Breast Imaging. Philips and GE earn aboveaverage marks when doing breast MRI. Philips' breast imaging package is new but initial feedback is positive. GE has the most customers doing breast imaging on their scanners, and providers like the image quality.
Patient Comfort in Focus: Hitachi customers like the feet-first imaging; they do more feet-first imaging than clients of any other vendor. Toshiba customers routinely mention how quiet the scanner is. GE, Philips, and Siemens customers report quicker scans are key to patient satisfaction. Siemens' optional lighting and ambiance in the room help patients relax.
Toshiba Struggles with Speed and Workflow: Toshiba's slower scanning speeds create issues with patient comfort and image quality, especially with larger patients on breath-hold scans.
What are the strengths and weaknesses of vendors' coils?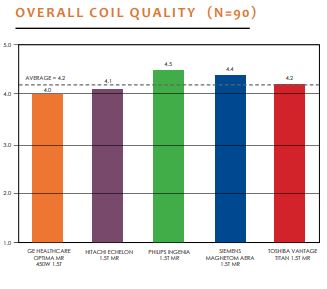 Clients of all vendors identified coils as the area where they would like more development. All vendors have integrated coils, which providers applaud as beneficial. Hitachi's Echelon is the exception, though their new Oval scanner has added this technology.
GE's GEM coils are their first generation of integrated coils. Clients who have upgraded like most of what they have but feel extremity coils need more development. The flex coils cause some pain because they are fragile and time consuming to set up.
Toshiba customers like the Atlas coils, and a couple of customers say the new flex coils are more comfortable and easier to use but the head coil causes discomfort for patients: "We can fit larger patients into the Toshiba Vantage Titan. However, this unit causes more claustrophobia for brain patients because of the coil over the patients' faces. On brain scans, the coil is actually closer and encloses the patients more."
Siemens' Tim coils help with workflow by simplifying the process and are lighter and less cumbersome. A few providers want better sizes and a better variety of coils. The knee coil should be improved, and a couple of customers report trouble with the breast coil: "We find that on the breast imaging, we have to do a lot of manual adjustments on center frequency. We bought a Sentinel breast coil with it, and it seems like our coil doesn't dock into the table very well. It wants to vibrate loose because of the frequencies we are running."
Philips' Ingenia scanner has digital coils that are not channel specific, making it easier for clients to upgrade to coils with more channels when they are ready without much hassle or extra expense. A few Philips customers mention that the extremity coils are prone to breaking. Though pleased with the progress, customers urge Philips to keep going: "The coils are okay, but it is one of those areas where we could always use more coil options. Philips can't take their foot off the gas here."
Bottom Line on Vendors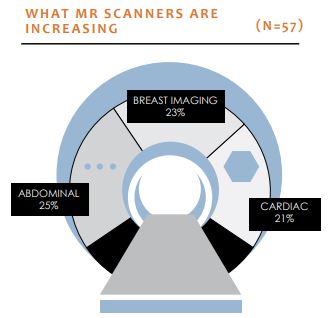 GE Healthcare: Solid, reliable, easy-to-use scanner. A few experiencing downtime say it is minimal. Great field engineers. Competes with Philips and Siemens for top scanning speed. Almost tied with Philips for top performer in breast imaging. GE coils need some development, especially extremity coils. Short bore and quick scan times are wins for patients.
Hitachi: Echelon is a value standard-bore scanner. Hitachi will work with customers on pricing. Customers say feet-first imaging helps patients feel comfortable. New Hitachi Echelon Oval offers technology missing with previous Echelon offerings, like integrated coils and wider bore. Oasis high-field open scanner selling well and performing well in the niche open magnet market.
Philips: Ingenia 1.5T MR image quality comparable to a 3T magnet. Praise for fat saturation, body imaging, breast imaging, and cardiac imaging. Improved on the Achieva line—less downtime. Speed of scan and better coils help with patient comfort. Digital coils also offer better upgrade path. Contracting needs improvement, but training and service exceeding expectations.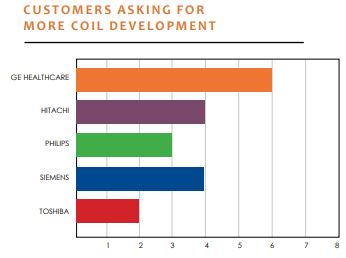 Siemens: Aera 1.5T leader in high-end technology. Highest number of clients on a system over 32 channels. Coil system and removable table help with workflow, but customers asking what is next. Room to improve training and account management. Ambiance and lighting help patients have better experience.
Toshiba: Slow scan speed can cause patient discomfort and less success with body imaging on breath-hold scans. Too many steps to set up a scan. No removable table. Fat saturation requires manual shimming or clients must reshim, causing lost time. Patients love quietness of scanner. Overall reliable, but a few isolated incidents have caused a lot of downtime for a few customers.
This material is copyrighted. Any organization gaining unauthorized access to this report will be liable to compensate KLAS for the full retail price. Please see the KLAS DATA USE POLICY for information regarding use of this report. © 2023 KLAS Research, LLC. All Rights Reserved. NOTE: Performance scores may change significantly when including newly interviewed provider organizations, especially when added to a smaller sample size like in emerging markets with a small number of live clients. The findings presented are not meant to be conclusive data for an entire client base.
​