2023 BEST IN KLAS
Preferences
Related Series
---
Patient Portals 2015
Patient Portals 2012
Related Segments
End chart zoom
* A page refresh may be necessary to see the updated image
Patient Portals 2013
On Track For Meaningful Use?
Current Time Inside Cache Tag Helper: 3/22/2023 4:19:20 PM and Model.reportId = 844
Meaningful use has pushed patient portals from nice-to-have technology to must-have technology. Based on experience, some providers are confident in their portal's ability to satisfy the basic meaningful use (MU) Stage 2 criteria, but others are still waiting for a portal to meet their needs. A new and important next step is patient engagement, but which portals are best equipped to tackle this new paradigm? Is there an advantage to looking outside a provider's core EMR offering? KLAS spoke with over 200 providers to get some answers.
HtmlReportContent Current Time Inside Cache Tag Helper: 3/22/2023 4:19:20 PM and Model.reportId= 844 and Model.HtmlReportContent_LastWriteTimeUtcInTicks=637497211651833111
Worth Knowing
EMR-Agnostic Products Losing Ground—EMR-agnostic products MEDSEEK and Intuit are losing ground to EMR-specific offerings. MEDSEEK is notably missing from this report, as KLAS could not validate enough customers using the product. Customers mentioned leaving MEDSEEK due to unmet product expectations, high costs, or an enterprise EMR strategy. A quarter of Intuit's customers reported plans to leave—three times higher than the market average.
athenahealth Is the Top-Performing Patient Portal—Providers gave athenahealth top marks in every MU category. Customers appreciate the ease of uploading patient information and the portal's flexible platform for educational content and patient messaging (via email, phone, or text). This has positioned athenahealth as the leader for patient engagement.
Patient Engagement: Key Area for Improvement—Portals aren't well equipped to handle the more engaging aspects of MU Stage 2. Only athenahealth and Intuit rated above average for sending reminders for preventive/ follow-up care and for providing patient-specific educational content. Epic rated well for patient-specific educational content.
EMR Interoperability: Top Consideration and Concern—Of participants, 84% reported EMR integration as their main portal selection criterion. Yet integration with other systems/devices was the top-requested development focus. Only 11% were pulling information from multiple EMRs into their portal. All vendors, excluding Allscripts and Greenway, had one to three customers incorporating data from multiple EMR vendors into their portal.
Other Portal Strategies Abound—Many providers are still determining which portal solution will best meet their needs. KLAS is aware of many additional EMR, HIE, and best-of-breed portal solutions, but most are new to the market and didn't have enough live customers to be included in this study.
Bottom Line on Vendors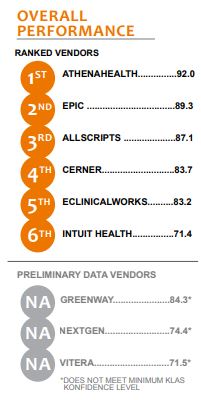 RANKED VENDORS
Allscripts (Jardogs)—Tightly integrated with Allscripts Enterprise, but no providers were tying inpatient or third-party ambulatory EMR information into the portal. Highly regarded for providing clinical summaries and for provider messaging. Responsive team supports easy-to-implement product. Customers would like an improved patient-registration process. Lowest rated for supporting patient-specific education content.
Athenahealth—Top overall performer. Easy-to-use product; highly responsive support. Highest rated for all Stage 2 criteria. Flexible in messaging options and for education. Many letting patients pay bills, refill prescriptions, fill out forms, and self-schedule. Little non-athenahealth data being incorporated.
Cerner—Highly rated for providing clinical summaries, which are automatically generated within PowerChart. Good, secure messaging. Lowest rated for sending patient reminders—customers unable to send appointment reminders or broadcast messages. Lagging in adoption of functionality like bill pay and prescription refills. Little non-Cerner data being incorporated.
eClinicalWorks—Tied for highest-rated clinical summaries—data flows seamlessly from eClinicalWorks' solutions to portal. Patients can view and download but not transmit data at this time. Educational content must be manually uploaded. Secure messaging works well but it is difficult to target specific populations with appointment reminders. Customers would like more customizability.
Epic—Highly rated product and support. Average ratings for clinical summaries, but highly flexible platform for third-party education content. Secure messaging rated highly. Patient reminders or broadcast messaging for health maintenance have room to improve. Little non-Epic data being incorporated. Customers would like more capabilities for patient-entered data.
Intuit Health (MedFusion)—EMR agnostic, but most customers reported pulling data from a single EMR source. Lowest-performing vendor due to reliability and support challenges. Lowest score for patient access of clinical summaries due to inability for patients to transmit information. Good adoption of functionality like prescription refills, bill pay, and online form completion. Twenty-five percent said not part of long-term plans. Providers unclear how recent divestiture announcement will affect them.
PRELIMINARY DATA VENDORS
Greenway—Portal powered by Intuit. New portal coming out in future. Some reliability issues, but good product support. Secure messaging works well. Patient reminders and education content relatively untested.
NextGen—Highly rated for secure messaging. Majority letting patients refill prescriptions and fill out forms. Customers want more flexibility around patient reminders. CCDs can be uploaded but are reportedly difficult to format. Education content generic and not patient specific.
Vitera—Slightly below average for MU Stage 2 categories. Good portal to push clinical summaries and education content to, though customers would like better ease of use, faster development, and more patient-specific tools. Deep adoption of additional functionality (i.e., bill pay, prescription refills, patient-entered data and forms, and self-scheduling).
OTHER VENDORS
MEDSEEK—Notably missing from report. Some customers who left MEDSEEK cited unmet product expectations and high costs. Others left in favor of an enterprise EMR strategy.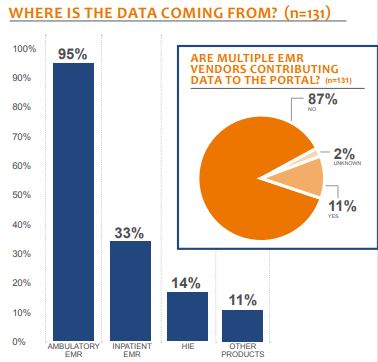 What Information Is Coming into the Portals?
Ambulatory EMR information is far and away the most common information being pulled into any patient portal, with nearly all providers incorporating it. Inpatient EMR data was the next most common source of information, with a third of customers incorporating it. However, outside of Epic's and Cerner's portals, very little inpatient information is passing across. Thirteen percent of customers reported pulling in HIE information. This information was generally coming from the HIE offerings of the portal vendors (i.e., Cerner, eClinicalWorks, Epic, and NextGen), though athenahealth, eClinicalWorks, NextGen, and Vitera all had at least one instance of third-party HIE connectivity (usually with Medicity).
Writer
Jonathan Christensen
This material is copyrighted. Any organization gaining unauthorized access to this report will be liable to compensate KLAS for the full retail price. Please see the KLAS DATA USE POLICY for information regarding use of this report. © 2023 KLAS Research, LLC. All Rights Reserved. NOTE: Performance scores may change significantly when including newly interviewed provider organizations, especially when added to a smaller sample size like in emerging markets with a small number of live clients. The findings presented are not meant to be conclusive data for an entire client base.
Related Segments
​