2023 BEST IN KLAS
Preferences
Related Segments
End chart zoom
* A page refresh may be necessary to see the updated image
Population Health
Which Vendor Pioneers are Driving Outcomes?
Current Time Inside Cache Tag Helper: 12/8/2023 5:22:49 AM and Model.reportId = 1061
A surge of population health management (PHM) vendors claims to meet common needs such as data aggregation, risk stratification, care management, and patient engagement. Yet with shifting market pressure and so many vendors entering the market, not all vendors have proven to deliver. Who are providers looking at to meet their needs and how are the vendors delivering? This report is a compilation of KLAS population health findings in 2014.
HtmlReportContent Current Time Inside Cache Tag Helper: 12/8/2023 5:22:49 AM and Model.reportId= 1061 and Model.HtmlReportContent_LastWriteTimeUtcInTicks=637499762378516088
1. PHYTEL EMERGES AS AN EARLY LEADER
Phytel climbed to the top of the vendor hill in KLAS' 2014 population health management performance report. Thanks to quick implementations, deep user deployment, and high provider satisfaction in all performance areas, Phytel has proven themselves able to meet many of their customers' population health needs. 
How are other vendors performing? See the Population Health Performance 2014 report to find out.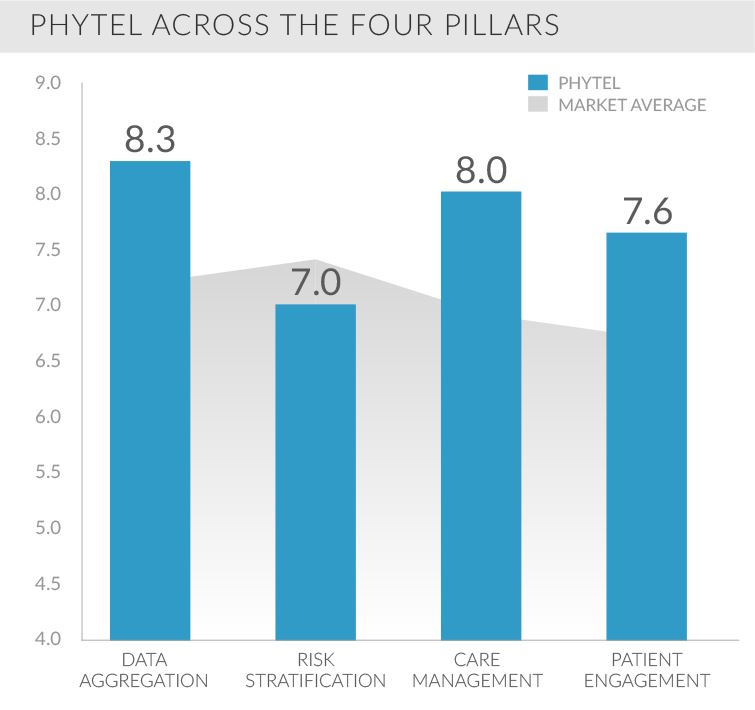 2. TANGIBLE BENEFITS SEEN; COST SAVINGS YET TO COME
Of all the tangible benefits seen, cost savings—the primary incentive for taking on risk in accountable care arrangements—was the least achieved. While only 20% of surveyed providers reported cost savings, 70% reported some sort of tangible benefits including improved outcomes, better care, and improved prevention. Vendors with the highest percentage of respondents reporting such tangible benefits overall were Phytel, Wellcentive, and Explorys. 
To find out why, see the Population Health Performance 2014 report.
3. ONE-STOP SHOP STILL A FANTASY
Though many providers want one comprehensive vendor solution that meets all of their PHM needs, that reality has not yet been realized. Few providers agree that a one-stop solution exists, and many providers are currently using multiple vendors to meet their needs. 
To find out which vendors are being utilized most heavily, and for what functions, see the Population Health 2014 Perception report.
4. EMR CONSIDERATION DOES NOT YET EQUAL ADOPTION
EMR vendors are highly considered among providers for their future population health needs. However, best-of-breed vendors are more highly adopted since EMR vendors are still developing, implementing, and getting their products live in the PHM space. Some providers who want a one-stop shop hope that their EMR vendor will provide the PHM functionality they wish for. 
For an in-depth look at who is top of mind for providers and why, see the Population Health 2014 Perception report.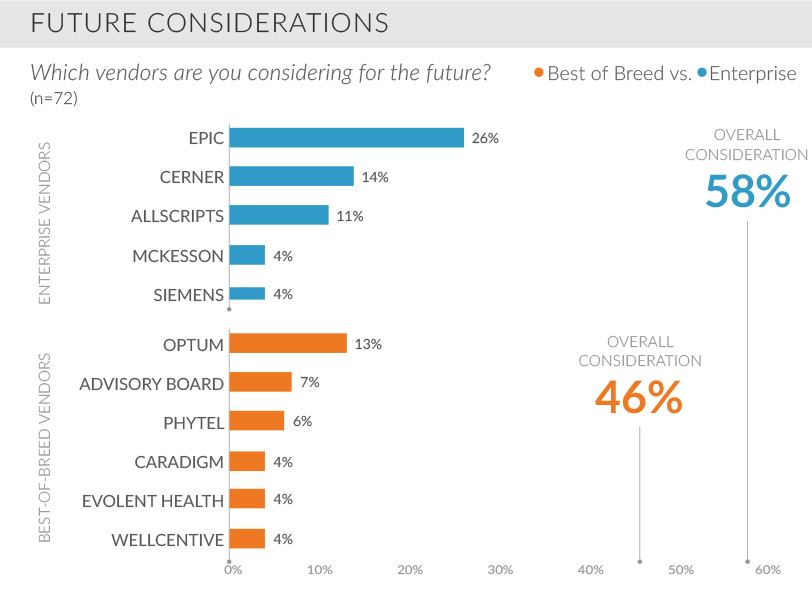 This material is copyrighted. Any organization gaining unauthorized access to this report will be liable to compensate KLAS for the full retail price. Please see the KLAS DATA USE POLICY for information regarding use of this report. © 2023 KLAS Research, LLC. All Rights Reserved. NOTE: Performance scores may change significantly when including newly interviewed provider organizations, especially when added to a smaller sample size like in emerging markets with a small number of live clients. The findings presented are not meant to be conclusive data for an entire client base.
Related Segments
​