2023 BEST IN KLAS
Preferences
Related Segments
End chart zoom
* A page refresh may be necessary to see the updated image
Population Health Vendor Overview 2021
Matching Vendor Capabilities to PHM Needs
Current Time Inside Cache Tag Helper: 12/1/2023 3:51:16 PM and Model.reportId = 1928
Provider organizations looking to advance their value-based care strategies often look to population health management (PHM) technology to give them the confidence to move forward with value-based care. This report seeks to provide transparency into the major PHM technology offerings available today—the types of organizations that typically use the systems, what the customer experience is like, which solutions are seeing the most market energy, and the breadth of their PHM capabilities. PHM insights that go beyond this study's general overview can be found
here
.
HtmlReportContent Current Time Inside Cache Tag Helper: 12/1/2023 3:51:16 PM and Model.reportId= 1928 and Model.HtmlReportContent_LastWriteTimeUtcInTicks=637949858793164328
Who Are the Most Well-Rounded Leaders in PHM Today?
Of the 15 vendors measured in this report, Arcadia, Epic, and Innovaccer stand out in terms of customer experience, market energy, and breadth of PHM capabilities. Their customers include some of the country's largest healthcare organizations and some of the organizations most aggressively pursuing value-based care practices. Many customers are confident these vendors will continue to develop their technology to meet customer needs and address current weaknesses.
WHO DELIVERS THE X FACTOR IN CUSTOMER SUCCESS?
Innovaccer's Collaborative Development Drives Deep Partnership with Customers
Customers' success with PHM often hinges on ongoing optimization from their technology vendors. Some vendors do this well, while others take a more hands-off approach, providing the technology but not much guidance. Innovaccer, Azara Healthcare, Cedar Gate Technologies (Enli), and HealthEC create true partnerships with customers and are considered supportive and involved. Innovaccer is highlighted for building and delivering new technology that meets client needs, such as custom-built dashboards and risk models. Azara Healthcare customers report the vendor has excellent customer service and is easy to work with. Cedar Gate Technologies (Enli) and HealthEC are both described as proactive, which drives high customer satisfaction. Cerner and Allscripts take a more distanced approach, leaving the nuts-and-bolts work to their customers.
WHO IS SEEING THE MOST MARKET ENERGY?
Arcadia & Innovaccer Generate Energy with Highly Customizable Platforms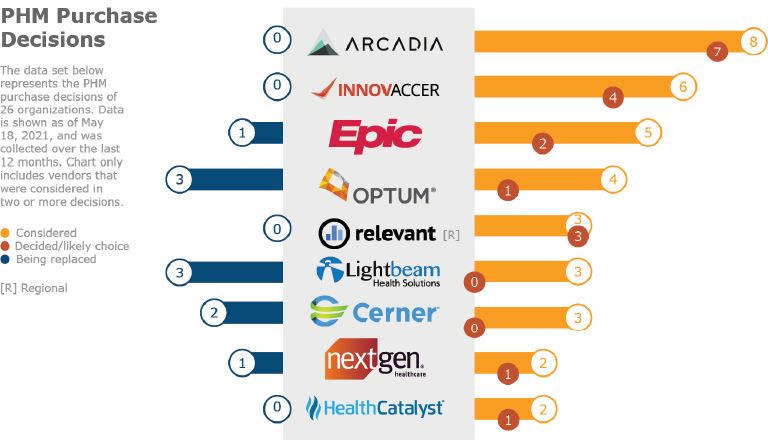 Arcadia and Innovaccer are the most considered and most chosen PHM platforms, with organizations citing the platforms' flexible customization, broad functionality, and focus on data. Arcadia's functionality and timely data integration are seen as strengths. Organizations that choose or consider Innovaccer highlight the platform's customizability, workflows, and risk algorithms and feel confident in Innovaccer's ability to provide good relationships and support. Epic is also frequently considered, thanks to the native integration between their PHM solutions and EMR. Epic customers would like more customized functionality to meet the varied needs of value-based reimbursement contracts in their region.
What Developments Are on the Horizon?
KLAS asked vendors to describe their future road maps for PHM development. The most commonly reported areas of focus are listed below. (Specifics about individual vendors' development plans can be found in the full report.)
Advanced analytics (e.g., predictive analytics, forward-looking cost models)
Artificial intelligence and machine learning (including proactive risk notifications, prioritized care management workflows, and cost-utilization tracking)
Expanded payer/provider collaboration
WHO DRIVES BROAD ADOPTION ACROSS PHM PILLARS?
Cerner & Epic Outpace Other EMR Vendors Due to Stronger Focus on Clinician Engagement; HealthEC Offers Broadest Capabilities among Ambulatory Vendors
Unsurprisingly, the broad technology platforms of enterprise vendors, particularly Cerner and Epic, offer functionality and see adoption across several of the six pillars of population health management (click here for a list of the functionalities in each pillar). It should be noted that some Cerner and Epic customers build proprietary functionality into their solutions that is not generally available to all users. Third-party vendors tend to offer more robust functionality in niche areas. Arcadia's and Health Catalyst's non-EMR solutions offer some of the most comprehensive functionality across the PHM pillars.
---
About This Report
Data for this report comes from three sources: (1) KLAS performance data, (2) KLAS Decision Insights data, and (3) vendor-reported information.
KLAS Performance Data
Each year, KLAS interviews thousands of healthcare professionals about the IT products and services their organizations use. These interviews are conducted using a standard quantitative evaluation, and the scores and commentary collected are shared in reports like this one and online in real time so that other healthcare professionals can benefit from their peers' experiences.
The data in this report was collected over the last 12 months; the number of unique responding organizations for each vendor is given in the table below.
What Does Limited Data Mean?
Some products are used in only a small number of facilities, some vendors are resistant to providing client lists, and some respondents choose not to answer particular questions. Thus a vendor's sample size may vary from question to question and may not reach KLAS' required threshold of 15 unique respondents. When a vendor's sample size for a particular question is less than 15, the score for that question is marked with an asterisk (*) or otherwise designated as "limited data." If the sample size is less than 6, no score is shown. Note that when a vendor has a low number of reporting sites, the possibility exists for KLAS scores to change significantly as new surveys are collected.
Overall scores are measured on a 100-point scale and represent the weighted average of several yes/no questions as well as other questions scored on a 9-point scale.
KLAS Decision Insights Data
All references in this report to organizations' purchasing decisions and motivations come from KLAS' Decision Insights data. Since 2017, KLAS has been gathering information as to which vendors are being replaced, considered, and purchased and what factors drive these decisions. KLAS Decision Insights data does not represent a comprehensive census or win/loss market share study. Rather, it is intended to help provider organizations understand which vendors have market energy and why.
Vendor-Reported Information
KLAS gave each vendor measured in this report the chance to answer several questions related to their population health management offering. Vendors' full responses to these questions are included in the full report. This information has not been independently verified by KLAS. Azara Healthcare, Cedar Gate Technologies (Enli), HealthEC, i2i Population Health, and Lightbeam did not share responses to KLAS' questions about their offerings.
Product Designations Used in This Report
Regional [R]: Product for which the majority of data comes from organizations located in the same, small geographical area. Relevant Healthcare is marked as regional because most of their customers are located in the western US.
Designer
Madison Moniz
Project Manager
Natalie Jamison
This material is copyrighted. Any organization gaining unauthorized access to this report will be liable to compensate KLAS for the full retail price. Please see the KLAS DATA USE POLICY for information regarding use of this report. © 2023 KLAS Research, LLC. All Rights Reserved. NOTE: Performance scores may change significantly when including newly interviewed provider organizations, especially when added to a smaller sample size like in emerging markets with a small number of live clients. The findings presented are not meant to be conclusive data for an entire client base.
Related Segments
​