2022 BEST IN KLAS
Preferences
End chart zoom
* A page refresh may be necessary to see the updated image
Weathering Change
Merge Healthcare Imaging Suite 2014
Current Time Inside Cache Tag Helper: 10/2/2022 7:17:19 PM and Model.reportId = 894
A CEO change, a new chairman of the board, and the company's temporary exploration of strategic options, including a potential sale of the company, have given Merge customers a reason to pause. But Merge has weathered these changing conditions well. With increasing energy around partnering with a strategic imaging vendor, providers want to know how good of a partner Merge is. How do key clients see their future with Merge? How confident are customers in Merge's executives, current technology, and road map? How well does the Merge imaging suite integrate with hospital EMRs? KLAS spoke with 147 Merge customers to gather insight on how Merge is performing. In addition, 31 key clients were interviewed to answer these questions.
HtmlReportContent Current Time Inside Cache Tag Helper: 10/2/2022 7:17:19 PM and Model.reportId= 894 and Model.HtmlReportContent_LastWriteTimeUtcInTicks=637498719003961616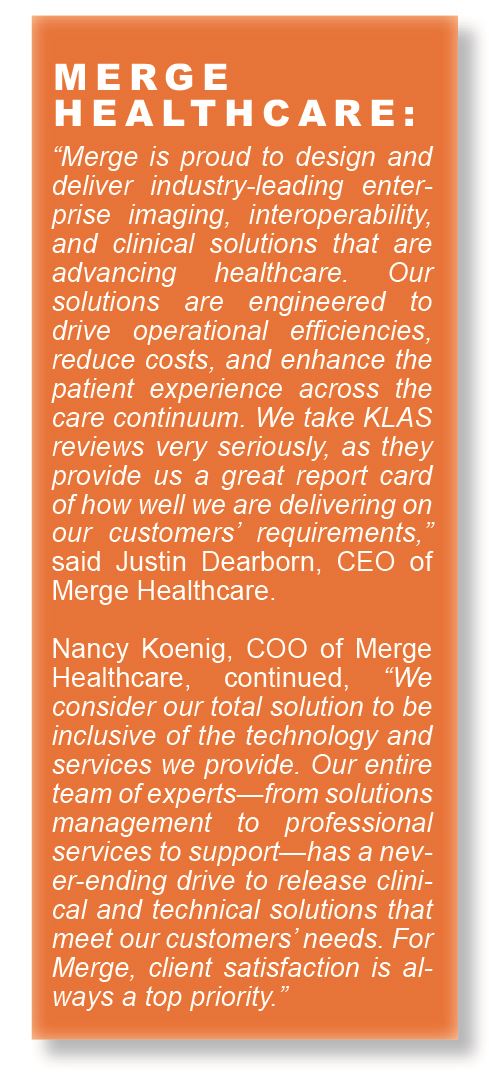 WORTH KNOWING
MERGE CUSTOMERS BUYING IN
Merge customers have bought into the enterprise imaging strategy that Merge has articulated, for bringing all images into a common archive and image enabling the EMR. They appreciate Merge's focus and transparency around strengths and weaknesses as Merge works toward this goal.
MERGE FOOTPRINT EXPANDING
A majority of Merge's key customers are planning to expand their use of Merge's imaging suite. In addition, customers are planning to stay with Merge at a rate above the market average. Cardiology is seeing a lot of energy, and many providers are planning expansions in the near future that will include new modules and sites. Merge customers also plan to add VNAs and image exchange.
INTEGRATION WITH CERNER READY FOR PAYOFF
Merge CVIS and Merge Hemo customers who have Cerner's EMR rate their integration lower than sites with other EMRs. The announced partnership between the two vendors, focused on integration, is still very early. However, customers are optimistic and praise Merge for their efforts to move the integration forward.
CHANGES AT THE TOP
In late 2012, Merge explored strategic options, including a potential sale of the company. Then in 2013, both the CEO and the chairman of the board changed. Customer reactions have been mixed. One group of customers feels that the recent executive changes are positive and will help Merge continue in a good direction. These customers feel that the former chairman of the board, Michael Ferro, was at times distracted from imaging and that his creative side could prevent him from meeting customer needs. They appreciate the stability of the executive team and that two established and already ingrained executives were promoted from within—Justin Dearborn is the new CEO, and Nancy Koenig was promoted to COO. The strength of the product leadership team is also appreciated. These customers specifically mention the key role that Nancy has played in Merge's recent success, and they feel that she will continue as a steady hand at the wheel.The reaction from another group of customers has been more trepidatious, though not negative. This group does not think the changes will hinder Merge's current progress, but they are apprehensive about the amount of change and feel things need to settle down so the company can continue to move forward. These customers are supportive of the direction Merge is going in. They want to see the company and its leadership continue in that direction. These concerned customers are heavily invested in Merge's current vision. They point out that if changes continue to happen, Merge's progress could be negatively impacted.
CUSTOMERS ARE BULLISH ABOUT MERGE
When KLAS interviewed 31 key Merge customers, there was a common theme: Merge isn't perfect, but they are heading in the right direction. Merge has the bases covered with their PACS, CVIS, and archive. They have also recently added image exchange and an enterprise viewer. Merge has a broad customer base, with some clients having only one piece of the suite. While a few customers plan to move away, a larger number are expanding their use of Merge's systems. Forty-three percent of the key Merge customers KLAS interviewed are looking to add Merge's image-exchange system, and others plan to add or expand their use of Merge Cardiology (30%) and Merge Hemo (23%). While customers didn't often mention plans to add Merge's PACS, 23% of the key customers plan to add the Merge VNA. One director of imaging shared his plans to expand: "Our next project is to go live with Merge's VNA. Then we will do image exchange, and cardiology will likely follow…The fact that we already had Merge's PACS was another benefit. We still feel like they have a strong overall offering for a full imaging strategy."
EMR INTEGRATION
Integration between the CVIS and hospital EMRs has been a challenge for providers. Integration at Cerner EMR sites presents the most challenges for Merge customers. Epic sites also reported some challenges, though fewer than Cerner sites. Cerner EMR customers were optimistic when they learned that Merge and Cerner had partnered to improve access to cardiology images and integrate Merge's hemodynamics system into their EMR. With only a handful of sites live with the newly integrated solutions, the results are mixed. Some sites mention improvement, but the process has bumps. Merge customers have reported better success at Epic sites, where integration has typically been a struggle without a true partnership. Merge customers remain optimistic about EMR integration, and some feel the Cerner partnership has filled an imaging gap. As Merge rolls out v.10 to more Cerner EMR sites, their customers will look for them to deliver bidirectional integration. A cardiology IS director said it this way: "We are one of the early adopters of the new cardio alignment between Merge Healthcare and Cerner. Going into it, we all expected it would be difficult because we were sort of an experiment for both vendors. While things have not been easy, things went more smoothly than expected. I felt Merge Healthcare was really invested. Things did take longer than planned. I feel that some of the things we need will be resolved when we are able to go to v.10."
This material is copyrighted. Any organization gaining unauthorized access to this report will be liable to compensate KLAS for the full retail price. Please see the KLAS DATA USE POLICY for information regarding use of this report. © 2022 KLAS Research, LLC. All Rights Reserved. NOTE: Performance scores may change significantly when including newly interviewed provider organizations, especially when added to a smaller sample size like in emerging markets with a small number of live clients. The findings presented are not meant to be conclusive data for an entire client base.
​