2023 BEST IN KLAS
Preferences
End chart zoom
* A page refresh may be necessary to see the updated image
Anesthesia Cabinets
Is My Automation Vendor Ready?
Current Time Inside Cache Tag Helper: 12/1/2023 2:08:03 AM and Model.reportId = 784
A KLAS Brief distills the most important trends and data from an emerging market into an easily digested two-page report. KLAS Brief purchasers also receive access to a corresponding webinar detailing findings and a Q&A session with the brief's author.
HtmlReportContent Current Time Inside Cache Tag Helper: 12/1/2023 2:08:03 AM and Model.reportId= 784 and Model.HtmlReportContent_LastWriteTimeUtcInTicks=637497005666026420
Key Findings

Which Product Works Best? CareFusion has the highest product performance scores of any vendor and clinicians report top-tier functionality. CareFusion respondents also rated their cabinet the most intuitive product, making it a very solid addition to CareFusion's overall portfolio.
Few Would Not Buy Again. While most customers have been satisfied with their experience, a few would not buy their cabinets again for various reasons. CareFusion had the fewest with 11% saying they wouldn't buy again due most often to slow responsiveness to service requests. Of Omnicell's customers, 15% would not purchase again, mostly because of less-intuitive aspects of the product; 18% of McKesson's customers would not buy again for unmet product expectations.
And What About AmerisourceBergen? ABTG's MedSelect Anesthesia has been on the market since 2009, and yet it is noticeably missing from this report. AmerisourceBergen claims to have one customer. However, KLAS has not yet validated this claim.
Advice from Peers: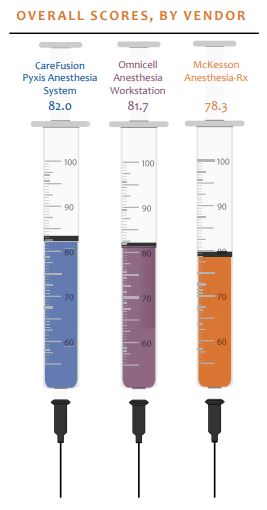 How to plan:
Anesthesia cabinets require proper foresight and planning as they take up space in the OR. Plan on purchasing at least one for each OR to realize the optimum benefit.
Critical to Success:
Training and clinician buy-in can make or break a cabinet implementation in the OR. One pharmacy director noted, "I would tell others to be very careful about putting the workstations in place. For the machines to be effective, there has to be significant buy-in from anesthesia AND from nursing."
Benefits You Can Expect:
Inventory management, medication accessibility, charge tracking, and drug diversion were the biggest benefits according to the respondents. However, having an anesthesia cabinet in the OR does not prevent improper wasting of controlled substances.
Q&A
Q: Is there a benefit for surgery going with anesthesia cabinets in the OR?
A: Medication accessibility and availability are chief concerns for OR directors when it comes to medication management, and respondents think that anesthesia cabinets in the OR can make an impact in many hospitals. When asked, 50% of facilities that have already implemented anesthesia cabinets noted that having an organized and controlled medication inventory is the main ORspecific benefit to implementing a cabinet.
Other primary benefits were improved charge capture, increased security and reduced drug diversion, and easy access to needed medications, with 36% of facilities mentioning each of these.
Q: Is there any reason to buy outside my regular medication cabinet vendor?
A: Only one facility out of the 68 (1%) with which KLAS spoke employed different vendors for their anesthesia and regular medication cabinets. The narrow difference in satisfaction scores among those providing feedback indicates there is not a compelling reason to bring in more than one vendor. If an organization is looking to buy outside their current automation vendor, CareFusion should be considered if functionality and an intuitive product are the driving factors in the decision process and Omnicell if upper-level service and support are main concerns.
Q: How do these cabinets compare to my vendor's other offerings?
A: AmerisourceBergen is notably missing in this report. Compared to Omnicell's other offerings, Anesthesia Workstation is an area of relative weakness due to a less intuitive GUI and drug/charge tracking processes, but it helps to fill out an otherwise strong product portfolio. CareFusion's and McKesson's anesthesia cabinet offerings work to enhance their overall automation portfolios.
Q: What can I expect when I go live?
A: Implementation and training are critical pieces of the anesthesia cabinet puzzle. When anesthesiologists are involved in the decision making process and properly trained, they take to the redesigned workflow much more easily. One pharmacy director said, "I haven't heard any complaints from the anesthesiologists. . . . It is because they had a lot of input in how the cabinets were set up."
Due to some inefficient designs and a steeper learning curve, Omnicell's newest customers have struggled to get up to speed. While some McKesson customers reported issues with a lack of hands-on training or a failure to answer their staff's questions, generally, they rated their experience with McKesson highly. CareFusion's newest customers tended to be quite satisfied with the reliability and functionality of the cabinet, and some even mentioned the quick adoption of the new technology by anesthesiologists.
Q: The bottom line on vendors:
CareFusion: Highest overall rating due to intuitive product. Highest clinician functionality ratings. Above average go lives. Strongest in large healthcare organizations (>500 beds). Good value with some extra costs reported. Reactive support isn't generally an issue due to a reliable offering. Recently expanded portfolio includes medication and anesthesia cabinets, packager and carousel since the PHACTS acquisition.
Omnicell: Top-tier service and support. Good value with few unexpected costs. Customers live over two years extremely satisfied. Newly live customers and large hospital organizations struggle with less intuitive workflow, steeper learning curve, and training. Drug charging/tracking process mentioned as especially difficult. Medication and anesthesia cabinets, packager, and carousel round out a well-liked automation portfolio.
McKesson: Only on the market for three years. Still coming up to speed with all functionality. Recently provided expiration date tracking a positive for customers, but McKesson still rolling it out to customers. No major reliability concerns. Implementations bumpy due to a lack of consistent, high-quality training. Relatively untested in large healthcare organizations. A good addition to a comprehensive pharmacy automation portfolio (i.e., medication and anesthesia cabinets, carousel, packager, and robot).
This material is copyrighted. Any organization gaining unauthorized access to this report will be liable to compensate KLAS for the full retail price. Please see the KLAS DATA USE POLICY for information regarding use of this report. © 2023 KLAS Research, LLC. All Rights Reserved. NOTE: Performance scores may change significantly when including newly interviewed provider organizations, especially when added to a smaller sample size like in emerging markets with a small number of live clients. The findings presented are not meant to be conclusive data for an entire client base.
​