2023 BEST IN KLAS
Preferences
End chart zoom
* A page refresh may be necessary to see the updated image
Cerner CommunityWorks 2013
Newer Kid on the Block
Current Time Inside Cache Tag Helper: 12/9/2023 11:12:40 AM and Model.reportId = 867
While relatively new to the market, Cerner CommunityWorks is quickly gaining traction, especially in critical access and somewhat larger organizations. Its unique model of a hosted solution in conjunction with requisite Application Management Services (AMS) offers a fully integrated solution supporting physician and hospital, clinical and revenue cycle environments. Although provider interest is high, many questions remain. Via detailed conversations with CommunityWorks users, this report deciphers the successes, struggles, and unique aspects associated with this offering.
HtmlReportContent Current Time Inside Cache Tag Helper: 12/9/2023 11:12:40 AM and Model.reportId= 867 and Model.HtmlReportContent_LastWriteTimeUtcInTicks=637497181020286919
WORTH KNOWING
Clinical functionality top reason providers choose CommunityWorks—Half of customers report an extremely high degree of CPOE usage. Most have already attested for meaningful use (MU) Stage 1, with nearly 80% indicating that Cerner has been very helpful in assisting with the process. Based on their experiences with Cerner, 70% of respondents feel they are aligned or very aligned to achieve MU Stage 2 requirements.
Revenue cycle the weakest link in CommunityWorks—The Revenue Cycle Suite received the lowest satisfaction score within the CommunityWorks offering. Sixty percent of clients indicate that the Revenue Cycle Suite is more challenging than their previous vendor's solution. Customers mention lack of reporting, weak analytical functionality, and poor workflow as their top struggles.
Hosting is a standout success; shared domain improves affordability but creates limitations—CommunityWorks is hosted in a shared environment, which helps with affordability but also limits the degree with which clients can customize the solution. Cerner has earned a Best in KLAS award for application hosting every year since 2009. Nearly all clients recognize Cerner as having extremely reliable hosting and delivering high system availability. Several like the reduced upgrade and maintenance burdens that hosting provides.
Ongoing costs often higher than original expectations—While Cerner has created a feature-rich solution at an affordable price point for many community hospitals, 59% indicate that the ongoing costs have exceeded original expectations. Many clients report Cerner did not set proper expectations beyond the initial investment. Some customers did not anticipate additional costs, including supplementary technology and consulting services necessary for MU or other initiatives.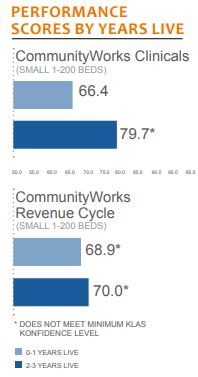 Why do providers choose CommunityWorks?

Driven by MU, CommunityWorks clients selected the system mainly based on the following factors:

Functionality Combined With Affordability: The robust clinical functionality of the Millennium suite presented in the hosted CommunityWorks model offers an affordable price point for community hospitals. One said, "CommunityWorks allowed us to get what we needed at a price we could afford. Without the CommunityWorks model, we couldn't afford Cerner."

Integration: Near the top of the wish list for many providers is a fully integrated solution. "Cerner is truly a single patient record with a single database. Having one patient chart and one user interface was one of our top three selection criteria."

Hosting: In conjunction with cost, the CommunityWorks hosted model was a primary reason providers selected Cerner. One said, "Cerner offered the most integrated system for our clinic and hospital. We wanted to do the remote hosting so that much of the IT work and maintenance would be done in Kansas City instead of on-site."
How does Cerner Clinicals compare to other clinical solutions?

Most providers (55%) in this study came from a paper system to CommunityWorks. A preponderance of customers with a previous EMR believe the CommunityWorks experience is better. CommunityWorks' single, seamless database provides a common patient record that allows clients a view into every aspect of patient care. One provider said, "We went from CPSI to Cerner and in just pure functionality, we advanced in years. CPSI could not even begin to do what we can now do with CommunityWorks. It has been a really positive move for us." However, to achieve a more intuitive workflow, some clients are looking for Cerner to address ease of use, reporting, and specific departmental functionality limitations such as for cardiology and anesthesia.
How does Cerner Revenue Cycle compare to other patient accounting solutions?

Compared with their previous solution, a majority of clients report the Cerner revenue cycle experience to be more difficult or neutral at best. The number-one frustration in conjunction with the CommunityWorks Revenue Cycle Suite is the lack of essential reporting capabilities. Organizations struggle to get meaningful data out of their system that allows them to support decision making processes. Some customers even lament that revenue cycle reports considered standard to the healthcare industry are missing in this system.
This material is copyrighted. Any organization gaining unauthorized access to this report will be liable to compensate KLAS for the full retail price. Please see the KLAS DATA USE POLICY for information regarding use of this report. © 2023 KLAS Research, LLC. All Rights Reserved. NOTE: Performance scores may change significantly when including newly interviewed provider organizations, especially when added to a smaller sample size like in emerging markets with a small number of live clients. The findings presented are not meant to be conclusive data for an entire client base.
​