2023 BEST IN KLAS
Preferences
End chart zoom
* A page refresh may be necessary to see the updated image
HIE Consulting
Leveraging Third-Party Expertise for HIE Success
Current Time Inside Cache Tag Helper: 6/9/2023 3:42:45 PM and Model.reportId = 775
A KLAS Brief distills the most important trends and data from an emerging market into an easily digested two-page report. KLAS Brief purchasers also receive access to a corresponding webinar detailing findings and a Q&A session with the brief's author.
HtmlReportContent Current Time Inside Cache Tag Helper: 6/9/2023 3:42:45 PM and Model.reportId= 775 and Model.HtmlReportContent_LastWriteTimeUtcInTicks=637497000149574668
Key Findings

Who Are the Early Leaders? Having a proven reputation for broad-based healthcare experience has particularly helped Impact Advisors and CSC take the early lead in HIE consulting. Impact Advisors had the most verified engagements (6) of any firm and scored highly among providers, second only to CSC, who had the highest score. However, CSC's score is based on only three client evaluations.
How Are Providers Selecting a Firm? In a market where there is no clear front-runner, firms that providers know and trust are winning. Over half of everyone KLAS spoke with chose their vendors based on a prior relationship, often not even considering anyone else. Recommendations from an HIE vendor or a peer and healthcare and regulatory expertise were also determining factors.
Who Can Host My HIE? Providers identified CSC as the only firm providing HIE hosting services, with two of CSC's three clients engaging them for hosting. However, other agnostic hosting firms, like Xerox, may also become an option.
Are There Any Alignments? To gain an advantage, some firms have begun to align with HIE vendors. KLAS verified a partnership between Orchestrate and Medicity, and a number of other relationships appear to be emerging.
What Else Should I Know? KLAS found more providers engaging third-party consultants in public HIEs than in private HIEs—a surprising find given that providers are pursuing private HIEs at a faster rate than public HIEs. This may be due to the complexity of navigating government regulations and bringing together all the public HIE stakeholders involved.
Who Specializes in What?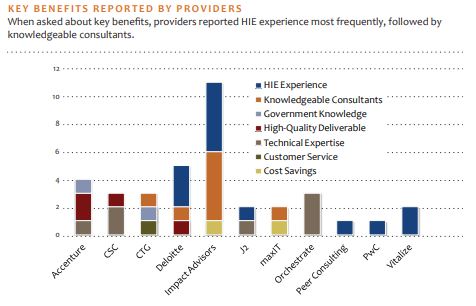 Systems Integrators CSC, Accenture, Xerox, Harris Corp. These are full-service firms offering advisory, technical, and managed services; usually with more complex HIEs.
Advisory Deloitte, Impact, Peer, PwC. These firms specialize in strategy and assessment services. They have strong healthcare knowledge and experience and can be found in complex HIE engagements.
Staff Augmentation Vitalize, maxIT, CTG. These three firms offer large talent pools and are usually found in less complex engagements. They are typically less expensive than a systems integrator firm and offer a mixture of technical and advisory services.
Technical Orchestrate, J2. These firms focus on integration. They work with organizations of all sizes and projects of varying difficulty—both simple and complex.
The Bottom Line on Vendors
Accenture A well-known systems integrator that works with some of the largest organizations in the country. Was engaged for advisory and technical services, including assessments and strategy as well as interface, security, and portal work.
CSC An early leader in HIE hosting and managed services. The only firm KLAS verified providing strategy, technical, and hosting services including help desk and network management.
CTG A large staff augmentation firm capable of advisory and technical services. Had a few small to mid-size public HIE engagements where they provided assessments and HIE strategy, as well as system build, security, and portal work.
Deloitte A prominent advisory and implementation firm, working with some of the largest providers in healthcare. Provided HIE assessments, strategy, and vendor selection services for large public and private HIEs.
Impact Advisors Has won Best in KLAS three of last four years for advisory work. Impact Advisors is the only firm KLAS was able to fully rate in this report. HIE work included vendor selection, HIE assessments, HIE strategy, and some technical portal work within both the public and private space.
Harris A systems integrator firm. KLAS validated one public HIE engagement.
J2 Providers raved about J2's HIE expertise and experience, particularly their knowledge of industry technologies. J2's technical work was with a large public HIE and consisted of system design and builds, interfacing, and portal development.
maxIT Predominantly known as a large staff augmentation firm with an extensive talent pool. Has been expanding their service offerings to include advisory work. Provided HIE strategy work for a public HIE.
Orchestrate Technical services firm that won Best in KLAS for their interfacing work. The only vendor providers mentioned as having a certified partnership with an HIE vendor (Medicity). Provided a mixture of technical and advisory services solely in the private HIE space.
Peer Consulting An advisory firm that provided HIE strategy for a large, complex public HIE. Knowledge of the local HIE landscape, HIE experience, and healthcare aptitude were highlighted strengths.
PwC Well-known advisory firm. Provided an assessment for a large, complex private HIE. Their depth of knowledge and local resources that were familiar with the healthcare landscape contributed to an HIE's decision to choose them over three other firms.
Vitalize Recently purchased by SAIC, Vitalize is primarily known as a large staff augmentation firm with a deep talent pool. However, they have been expanding their service offerings to include advisory. They provided HIE assessments and policy creation for public HIEs. Clients said that their consultants' experience and knowledge of multiple HIE vendors were invaluable.
Xerox KLAS validated three public HIE engagements for Xerox. Xerox acquired ACS, a longtime healthcare firm for managed services, consulting, and implementation work. They may also be an option for HIE hosting.

This material is copyrighted. Any organization gaining unauthorized access to this report will be liable to compensate KLAS for the full retail price. Please see the KLAS DATA USE POLICY for information regarding use of this report. © 2023 KLAS Research, LLC. All Rights Reserved. NOTE: Performance scores may change significantly when including newly interviewed provider organizations, especially when added to a smaller sample size like in emerging markets with a small number of live clients. The findings presented are not meant to be conclusive data for an entire client base.
​