2023 BEST IN KLAS
Preferences
End chart zoom
* A page refresh may be necessary to see the updated image
Hybrid OR 2013
Who is setting the pace for innovation?
Current Time Inside Cache Tag Helper: 9/21/2023 3:15:25 AM and Model.reportId = 842
Despite a large price tag, hybrid OR has been steadily growing over the past couple of years. However, implementing and executing an effective, efficient hybrid OR is not a simple task. Which vendors offer the training and implementation know-how to set providers up for success? Which vendors have customers utilizing the hybrid OR to its fullest potential? And what lessons are providers in the trenches learning? KLAS spoke with 122 providers to find out.
HtmlReportContent Current Time Inside Cache Tag Helper: 9/21/2023 3:15:25 AM and Model.reportId= 842 and Model.HtmlReportContent_LastWriteTimeUtcInTicks=637497833849719438
Worth Knowing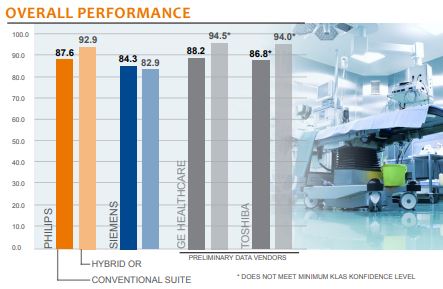 Siemens customers lead the market in doing complex procedures– Siemens is at the bleeding edge of hybrid OR technology, and their customers are doing more complex procedure types (outside traditional CV and IR) than the competition. In fact, over 60% are doing TAVI and TAVR. Philips had the most customers doing EP procedures (a total of four), but not nearly as many doing TAVI and TAVR. In early trending, GE customers are doing more nontraditional procedures than Toshiba customers are. Only one Toshiba customer mentioned doing any procedures outside traditional CV and IR.
Good implementations and training are crucial to a positive overall experience– Philips hybrid OR customers reported that well-planned implementations and thorough training set them up for success. However, Philips customers using conventional CV/IR rooms were not as happy with their training or implementations, which diminished their overall experience. In early trending, GE and Toshiba hybrid OR customers were also very pleased with their implementation and training, much more so than those using conventional CV/IR units. In contrast, Siemens customers of both Siemens' hybrid OR and conventional units said that the training they received was not sufficient and getting additional training was difficult.
Siemens zeego has a steep learning curve– Providers said that the complexity of the zeego makes it difficult to learn. Users must be highly trained to fully utilize all of the benefits of the Siemens technology, and challenges with training can hinder that. In contrast, Philips FD20 customers reported that the Philips hybrid OR room is very easy to use.
Do providers perceive an improvement in outcomes with Hybrid OR?– Nine out of 16 Siemens customers said that patient outcomes were significantly improved. Reasons for the improvement included better imaging, faster treatment, and less recovery time. Six out of 19 Philips customers saw significant improvement and attributed that to reduced dose and infection rates. Most GE customers reported seeing a significant improvement in outcome, while Toshiba customers have not seen a difference, though that is based on a small sample.
Bottom Line on Vendors

RANKED VENDORS
Philips— Highest-ranked hybrid OR vendor. Hybrid OR clients extremely happy, and overall performance higher than with traditional CV/IR customers. Hybrid OR customers received more focused attention during implementation and training, followed by excellent account management. Only 32% saw significant improvement in patient outcomes, the lowest of any vendor. Much lower than average. Early signs that Philips FlexMove customers are happy. Third-party lighting quality is lacking; integration a challenge.
Siemens— Hybrid OR market leader in tenure, market share, and technology. Users recognize the potential of the zeego. But poor training and implementations, exacerbated by the difficulty of the zeego, drive down overall satisfaction. Hybrid OR overall performance score lowest by a full 10 points. Providers praised phone support and field service—scores are average for those areas.
PRELIMINARY DATA VENDORS
GE Healthcare— Based on a small sample, training and implementations much better with hybrid OR customers than with conventional CV/IR customers. Though available for 1.5 years, only validated one live customer using the new dedicated hybrid OR, Discovery IGS 730, at time of research. Five out of six said patient outcomes significantly improved. Clients want to add more procedure types but they don't know what specifically.
Toshiba— In early trending, hybrid OR performs extremely well. Overall performance eight points higher than their conventional offering, with huge differences in contracting and implementations. Three out of six reported no change in patient outcomes. Users doing fewest procedures per week and not much outside of traditional CV and IR procedures.
Peer Advice: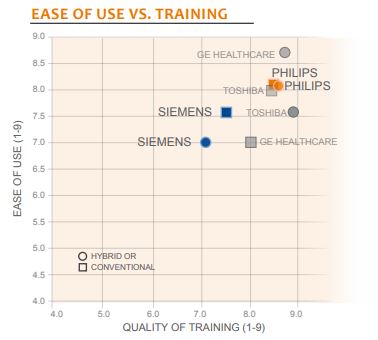 Best Practices & Lessons Learned
Scrutinize the Room Design
"Room size is critical; providers need to make sure the equipment list is comprehensive for the types of procedures performed in the room. Coordination of work with other vendors prior to and during implementation is very key." -Invasive Cardiology Director
"Providers can't rip the equipment out once they get it installed. Therefore providers really need to do their homework to get it right the first time. Doing site visits is worth the time it takes." -Cardiology Manager
"Our room design is a problem. We are limited in where we can place the six-foot monitor. Also, the lights in the room were not set up properly, so the lighting over the table is not always adequate. We should have done more careful planning. That is the key to success." -Vascular Services Manager
Consider the Needs of All Stakeholders
"The thing that we learned quickly is that everybody that is going to be in the OR room should be involved in the structure of the room. We had surgeons, anesthesiologists, cath lab people, and cardiologists here with all of the vendors, and we talked about every single aspect of the room. We have a pretty small room compared to some hybrid ORs so in order to meet everyone's needs, we had to be very careful about how we put everything in the room." -OR Director"
The challenge was taking a fixed system that is not made to have anesthesia involved and trying to figure out how to involve anesthesia when we needed it. We set up on paper the different scenarios in the case where somebody needs to be opened up. Then we had some practice runs with everybody to make sure that what we had planned on paper would work." -OR Director
This material is copyrighted. Any organization gaining unauthorized access to this report will be liable to compensate KLAS for the full retail price. Please see the KLAS DATA USE POLICY for information regarding use of this report. © 2023 KLAS Research, LLC. All Rights Reserved. NOTE: Performance scores may change significantly when including newly interviewed provider organizations, especially when added to a smaller sample size like in emerging markets with a small number of live clients. The findings presented are not meant to be conclusive data for an entire client base.
​