2022 BEST IN KLAS
Preferences
Related Segments
Related Products
Related Vendors
End chart zoom
* A page refresh may be necessary to see the updated image
ICD-10 Perception
Can Technology Relieve Readiness Issues?
Current Time Inside Cache Tag Helper: 5/24/2022 3:00:10 PM and Model.reportId = 753
The national switch from ICD-9 to ICD-10 rivals the complexity of a heart transplant, with every healthcare organization in the country soberly asking itself if it will survive the surgery. With the deadline being pushed back to 2014, how have providers' strategies shifted? Is there a shortcut to ICD-10 preparedness? How well are vendors stepping up to help?
HtmlReportContent Current Time Inside Cache Tag Helper: 5/24/2022 3:00:10 PM and Model.reportId= 753 and Model.HtmlReportContent_LastWriteTimeUtcInTicks=637497126493831278
Key Findings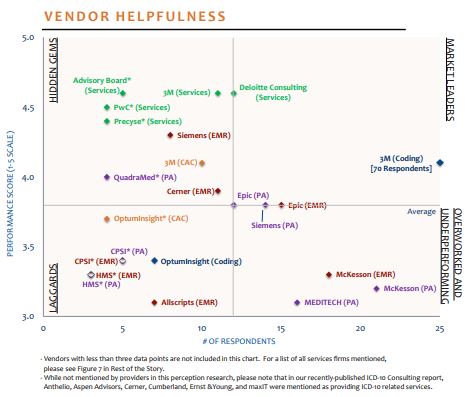 No Shortcut: Everyone wants one, but providers report that ICD-10 readiness involves intense, comprehensive preparation of staff and technology. Many providers have shown confidence in their HIS vendors' technology preparedness; EMR vendors Siemens, Cerner, and Epic rate highest in their ICD-10 preparedness, whereas Allscripts and MEDITECH rate lowest.
Big Bets: A majority of the market is betting on 3M and computer-assisted coding (CAC) technology to get them through ICD-10. Despite having the highest encoder and CAC market share, 3M has shown little difficulty in helping all customers prepare for ICD-10. Though adoption is still limited, some organizations using CAC technology report that it is beginning to live up to its hype.
Clinician Readiness, Training, and Coders: Clinician readiness is providers' top concern, specifically relating to documentation. Training of physicians and coders was another major concern along with retention of coders. 3M and OptumInsight receive high marks on their training ability, and eight additional firms are being used for training.
Q&A
Q: Who are the leaders in ICD-10 Preparation?
A: 3M has leveraged their majority ownership of the coding market to become the clear leader in ICD10 preparation. Their customers report high satisfaction with their proactive engagement and training ability. Providers rated 3M higher than OptumInsight in ICD-10 preparation.
For acute EMR and patient accounting vendors, Siemens, followed by Cerner and Epic, stood out as being well prepared and proactive in their communication with clients. Deloitte was the most referenced services firm that providers are turning to for ICD-10 preparation, although their customer base tends to be large organizations.
Q: What firms are not currently meeting expectations?
A: Many organizations mentioned a lack of communication and action from MEDITECH and Allscripts. McKesson received an equal number of positive and negative reviews of their communication. Additionally, given the central role that OptumInsight is positioned to play in the ICD-10 transition, it is noteworthy that several of their customers were not overly enthused by OptumInsight's communication and ICD-10 guidance. Most customers, however, are not ready to pass judgment on their vendor as time still remains for any vendor to improve their ICD-10 preparation and approach.
Q: How important is technology?
A: Technology preparedness is less of a concern this year (mentioned by only 14% of providers versus 28% in 2011) as providers have greater confidence in the technology capability of their HIS and coding vendors. However, it is still a major consideration in providers' readiness strategies.
Many providers are considering a number of coding technologies to assist them with the ICD-10 transition. A very high percentage of over 200 bed providers are considering CAC technology, as many are anticipating staff shortages and decreased coder productivity. One provider said, "We expect that our best coders will be at only 60% proficiency compared to where they are now."
Bottom Line on Vendors
3M: Highest market share and rated most helpful for ICD-10 preparation as an encoder and CAC vendor. Seen as ICD-10 leader in guidance, partnership, and technology.
Advisory Board: Works well with small organizations; mostly does ICD-10 roadmap/gap analysis work. Offers analytics solutions including Crimson.
Allscripts: One client said Allscripts is already accepting ICD-10 codes. Some clients feel Allscripts is behind, but most-recent data indicates Allscripts is now offering assessments and guidance.
Cerner: EMR customers happy with strong partnership and proactive guidance. International ICD-10 experience is helping with domestic customers.
CPSI: Mixed reviews from clients on readiness guidance. Some say communication and follow-up are outstanding while others feel CPSI is lacking focus on ICD-10 readiness preparations.
Deloitte: Used most often for ICD-10 roadmap/gap analysis work. Serves primarily larger health systems. Strong methodology and knowledge. Most projects larger in scope and cost.
Epic: Proactive in engaging large customer base regarding ICD-10. Clients trust Epic's technology capabilities, reputation, and guidance.
HMS: At least one client mentioned HMS has been proactive in both updating their software for ICD-10 and explaining new fields to clients.
McKesson: Clients confident in McKesson's technology readiness but report lack of communication, especially Horizon clients. McKesson is considered to be more helpful with the preparation by Paragon customers than with Horizon customers.
MEDITECH: Low marks for communication about ICD-10, and some clients complain of low physician adoption. Some question MEDITECH's ICD-10 readiness.
Nuance: Acquired QuadraMed encoder and CAC as well as J.A. Thomas for CDI with goal to provide full HIM suite. Both acquired vendors receive limited but positive feedback for ICD-10 helpfulness.
OptumInsight: Growing coding and CAC player. Very positive feedback from clients on CAC. Some clients would like better communication and partnership.
Precyse: for Precyse University, a comprehensive training offering. Offers outsourced transcription, outsourced coding, CAC, and fully outsourced HIM.
PwC: Mostly used for roadmap/gap analysis. Lots of payer experience and ICD-10 work. Brings extensive industry knowledge and strong processes to the table.
QuadraMed: High ratings from patient accounting customers confident in QuadraMed coding technology and knowledge.
Siemens: Positive feedback from customers for proactive approach and reporting tools. Clients are confident Siemens' technology will be ICD-10 ready. Also providing ICD-10 consulting services.
This material is copyrighted. Any organization gaining unauthorized access to this report will be liable to compensate KLAS for the full retail price. Please see the KLAS DATA USE POLICY for information regarding use of this report. © 2022 KLAS Research, LLC. All Rights Reserved. NOTE: Performance scores may change significantly when including newly interviewed provider organizations, especially when added to a smaller sample size like in emerging markets with a small number of live clients. The findings presented are not meant to be conclusive data for an entire client base.
Related Segments
Related Products
Related Vendors
​