2023 BEST IN KLAS
Preferences
Related Segments
Related Articles
End chart zoom
* A page refresh may be necessary to see the updated image
Middle East & North Africa (MENA)
A 2020 Regional Telehealth Guidebook
Current Time Inside Cache Tag Helper: 9/26/2023 4:48:00 PM and Model.reportId = 1783
Due to the ongoing COVID-19 pandemic, demand for telehealth services and solutions has skyrocketed. This guidebook—a collaboration between KLAS and the MENA Telehealth conference (an MWAN Events initiative)—is intended to help healthcare organizations in the Middle East and North Africa (MENA) understand some of the prominent telehealth options in their region amid a rapidly evolving information technology landscape.
Readers should note that (1) this resource is not an exhaustive list of all telehealth vendors or solutions available and (2)
the solution descriptions herein have been supplied by the vendors themselves and have not been validated by KLAS or MENA Telehealth.
HtmlReportContent Current Time Inside Cache Tag Helper: 9/26/2023 4:48:00 PM and Model.reportId= 1783 and Model.HtmlReportContent_LastWriteTimeUtcInTicks=637922081213806945
KLAS Telehealth Research Road Map
In response to the sharp increase in demand for telehealth services and solutions, KLAS will be releasing several telehealth resources (both US and globally focused) in 2020 and 2021, including a series of telehealth guidebooks that will provide healthcare organizations in specific regions around the world with an index of the prominent telehealth services and solutions available in their area. This MENA guidebook is the first in that series.

A tentative outline of all of KLAS' upcoming and recently published telehealth research is offered below:
About MWAN Events
Over the last few years, the MENA region has witnessed rapid growth in the adoption of telehealth services. Since 2018, MWAN Events—a prominent digital health events and consultancy company that actively operates in the Middle East and sub-Saharan Africa—has launched several initiatives, including MENA Telehealth, the first region-specific telehealth conference, to highlight and address challenges pertaining to establishing regulatory frameworks and business models for telehealth. The goal of the conference is to establish a platform through which healthcare stakeholders can exchange telehealth experiences and best practices. MWAN Events has also co-organized one of the leading events in digital health, namely the GCC eHealth Workforce Development Conference (eHWDC).

With the onset of the COVID-19 pandemic, the telehealth industry has been thrown into the limelight, and the technology has rapidly been taken up in the fight to help health professionals and patients reduce the risk of exposure. Health service providers and governments around the world are pushing for greater telehealth use to enable safer patient consultations and access to patient data. In response, the MENA Telehealth team has rapidly organised a series of webinars to help regulators, businesses, healthcare providers, and doctors understand the basic practicalities and regulations relevant to quickly developing and adopting telehealth skills and systems that will support them through this difficult time.

Objectives of the MENA Telehealth Conference:
Establish a partnership platform between healthcare regulators and health funding authorities on the one hand and international experts and service providers on the other.
Share international best practices for telehealth regulations and policies.
Explore emerging telehealth models, entrepreneurship, and breaking technologies.
Highlight the socioeconomic impact of telehealth implementations on healthcare.
Provide telehealth education for healthcare professionals.
For more information, please contact:

Svetlana Efimova: Svetlana@mwanevents.com
Website: www.menatelehealth.com
Note: The solution descriptions on the following pages have been supplied by the vendors themselves and have not been validated by KLAS or MENA Telehealth.
Vendor-Provided Overview 
The pandemic has showed that Abu Dhabi Telemedicine Centre (ADTC) is in a prime position to handle the rising interest in telemedicine long after COVID-19 has subsided.

The importance of the ADTC team's effective and proactive dynamics became ever more critical during the pandemic, as it was a key factor in the centre's operational efficiency, supported by the advanced remote care technologies available.

The ADTC team dealt with an enormous spike in calls from patients who did not want to visit clinics or hospitals in person, or who suspected they might have COVID-19. Additionally, the centre managed appointment bookings for the various testing and screening centres set up by their fellow Mubadala Healthcare providers. ADTC also played a key role in the new Remote Care Program launched by Mubadala Healthcare in coordination with the Department of Health-Abu Dhabi, which included telemonitoring services for COVID-19 patients who were recovering from mild symptoms and isolating at home.

ADTC drew strength from the resources and expertise within the Mubadala Healthcare portfolio, with cross-asset collaborations implemented where needed most, such as in deploying additional nurses and physicians from across the network to help field calls. This collaboration enabled ADTC to recruit and train new staff, while continuing with its service delivery at the needed capacity.

During the pandemic the team at ADTC showcased their eagerness to adapt and learn new skills to support their care delivery. For instance, nurses honed their existing skills by providing much-needed emotional support as they were often patients' only contact with the outside world. Other staff members learned new skills to help with data-capturing and dashboard control, and worked closely with external partners.

As a result of all this hard work, flexibility, and collaboration, ADTC eventually managed to offer same-day consultations, despite having at least doubled the number of telemedicine calls compared to the period prior to the pandemic.

Amid all this, ADTC has recently successfully renewed its JAWDA data certification, undergoing an audit and earning its highest score ever of 98.7%.
Vendor Contact
+971 02 419 4849
Vendor-Provided Overview 
Etisalat Digital's telehealth platform has enabled hospitals and healthcare providers to continue to serve their patients during the challenging times of COVID-19. Healthcare providers can use our platform as an essential business-continuity tool during the current crisis. Our cloud-based platform provides an end-to-end solution that integrates several technologies, such as digital payments, smart messaging, and video/audio/chat over IP, enabling comprehensive workflows from patient registration, appointment booking, payment collection, and remote medical consultation. Building on our robust cloud infrastructure and uptime tier-3 gold-certified data centers, the telehealth platform complies with local data privacy regulations within UAE and HIPAA guidelines. Highly secured VOIP components and local hosting of video turn servers allow us to comply with Telecom Regulatory Authority (TRA) requirements.

For hospitals, our enterprise-grade telehealth platform is a perfect fit, not just during COVID-19 but as a long-term strategy to include telemedicine as a standard service that complements other in-hospital services. Our vision in telehealth is to not be a mere provider of a software platform but rather a technology partner to the hospital sector. We understand that hospitals may have nuanced requirements for workflows and thus we can customize our platform to suit individual needs. Furthermore, our mobile application and web portal both can be white labelled with each hospital's own branding, allowing them to maintain their marketing presence. The entire platform can be integrated with the hospital's electronic medical record (EMR) system so that patient information is not siloed in different systems and doctors do not have to juggle between different windows.

While COVID-19 has posed challenges to larger hospitals, smaller medical practices are facing significant hardships as well. For individual practices and clinics (small to large), we have launched a cloud-based EMR and practice management system that comes integrated with telehealth features and capabilities. For clinics currently using Etisalat's telecom services, subscribing to the EMR and telehealth platform is easier, with a minor increment in their monthly billing.
Vendor Contact
Prateek Sardana
Sr. Manager
psardana@etisalat.ae
+971 50 754 6401
Vendor-Provided Overview 
Background: In 2016, the Saudi Ministry of Health selected GE Digital to co-develop Mawid, a nationwide electronic service that enables patients to book, cancel, or reschedule appointments at PHCs. Mawid is the Kingdom's second most downloaded government app and one of its most highly rated, with more than 12 million patients registered on the platform. Formally launched in 2018, the app has facilitated more than 50 million appointments, connecting patients with Ministry healthcare providers in every community.

COVID-19 Response: As the COVID-19 virus began to spread, officials at the Saudi Ministry of Health felt that given the application's adoption and utilization rate, it would provide the geographic and population-wide reach necessary for rapid triage and self-assessment. The Mawid self-assessment went live on March 18, just two weeks after the first COVID case was recorded in the Kingdom. Citizens and residents in the Kingdom can use a series of questions based on criteria from the Saudi Center for Disease Prevention and Control to determine the likelihood they have contracted the virus. After users complete the self-assessment, they are given guidance based on whether they have been determined to face a low, medium, or high risk of being infected.

This endeavor has been incredibly successful, quickly identifying more than 46,500 positive cases. The Mawid triage questionnaire has been taken nearly 1.48 million times by 825,000 individuals. It has reduced the assessment burden on emergency departments across the Kingdom and the national COVID-19 call center. It also helps authorities identify the pace and geographic spread of the disease as well as potential hotspots, and it serves as an important source of data to guide testing.
Vendor Contact
Majed Nasser 
Sales Manager
majed.nasser@ge.com
+966 54 027 5012

Waleed Masoom
Mawid Program Manager
waleed.Masoom@ge.com
+966 56 466 7325
Vendor-Provided Overview 
Homepital Telehealth is a service comprised of artificial intelligence (AI) and a virtual healthcare platform and could be used as a standalone or integrated system to provide healthcare options to patients at home and to facilitate the provision of health services to healthcare providers. Homepital features an AI-based symptom checker, audio/video calling, secure messaging, geo-location for COVID-19 (hotspot detection), integration with health, lab reports upload for review, and in-app diagnostic plans.

Homepital Telehealth uses an intelligent algorithm system derived from over 22,000 symptoms and 400 conditions from over 1.8 million patient journeys and offers over 90% accuracy of matching it with probable conditions. The system matched 226 COVID-19 probable cases out of over 3,000 checks performed. The smart analytics help in detection of trends, new or associated symptoms, and demographics, which may help in controlling the epidemic in future. Of the 226 COVID-19 positive cases, 121 patients reported breathing-related symptoms compared with 49 patients who showed moderate pain, 14 manifesting coughs as a main symptom, and 35 with fever. The development pipeline is bringing new and exciting features, like automated, AI-based reading of radiology (x-ray, CT scans, MRI scans), AI-based investigations, non-invasive patient monitoring, etc.

Homepital provides the following as part of its response preparedness for government and regulatory authorities, not only for the current crisis but also for usual healthcare needs:
AI-based triage
COVID-19 early triage (remote)
COVID-19 hotspot finder
COVID-19 data analytics
Send email notification to crisis center
Book appointment for COVID-19 patients for virtual consultation after triage
Geo-locate potential patients
ePrescription
eInvestigations
eMR
eMessages
Appointments for follow-up and other routine conditions
Route prescription and central lab diagnostic kits
Analytics
General data-protection regulation, MHRA, and CE
Vendor Contact
Rashed Assouma 
rashed@hompital.co
+9714 552 0807
+971 55 458 3025
Dubai Internet City, Dubai UAE
Vendor-Provided Overview 
Telehealth Potable Clinic provided by Kaizen Medical Technology is the most comprehensive portable telehealth clinic in the industry, combining the award-winning Horus Scope Digital Diagnostic Set with vital-sign readings in an all-wireless setup. Vital signs—including blood pressure, pulse oximeter, thermometer, and digital stethoscope readings—are sent via Bluetooth connection to a portable control unit that combines the data with medical diagnostic images and sends a combined information pack via Wi-Fi technology to your EMR station or cloud telehealth portal.

During COVID-19, our solution is helping healthcare providers make efficient healthcare diagnoses while minimizing risk to frontline healthcare workers, as examinations are captured in high-quality digital format and transmitted via an all-wireless setup for both local and telemedicine use cases.
Vendor Contact
Faisal AlKhateeb 
Regional Manager
faisal@kaizen-me.com
KSA: +966 50 431 3671
UK: +44 744 489 8268
Vendor-Provided Overview 
Telehealth Virtual Clinic by Kaizen Medical Technology provides healthcare providers with the most convenient platform to offer advanced virtual healthcare services using standard technology like WebRTC. This HIPAA-compliant, browser-based, real-time voice and video workflow solution needs no apps or software to be downloaded or installed by doctors, nurses, or patients. All services are accessible through standard web browsers that are pre-installed on all mobile devices, tablets, and PCs. Virtual clinic operators and nurses can answer and transfer calls to available specialists while having full control over the virtual clinic workflow with advanced features like instant messaging, screen sharing, file transfer, local and/or far-end audio/video call recording, and reporting. The system can be deployed completely on-premises or as a cloud service, giving healthcare providers more flexible deployment options.

With the COVID-19 outbreak impacting access to healthcare services, many patients are opting to stay away from hospitals or are not able to go to healthcare facilities. Our virtual clinic solution helps our partners maintain their hospital's familiar workflow in a completely virtual setup. Now, patients can walk in the virtual clinic and be attended by a clinic nurse and prepared via virtual waiting area to be examined by a specialist, all from their own location and using their own devices. The solution uses built-in web browsers, so no software installation, troubleshooting, or training/onboarding of patients is needed. We expect that patients will continue to leverage such easy access of quality healthcare services after the COVID-19 crisis.
Vendor Contact
Faisal AlKhateeb 
Regional Manager
faisal@kaizen-me.com
KSA: +966 50 431 3671
UK: +44 744 489 8268
Vendor-Provided Overview 
We have onboarded 20 hospitals across India, Dubai, and Oman. These include multi-specialty and super-specialty hospitals and clinics. Some of the users have moved from competitive products to our platform. Almost 100% of these users are first-time users of telemedicine to see their doctors. 95% of the consultations are paid out of pocket, with the rest having a co-pay with insurance (Dubai). To meet the data-residency laws, we have now set up a server in Dubai, making us compliant to service customers in the market. With this, we have a global instance in AWS Sydney, we use AWS in Mumbai for our Indian customers, and we use Alibaba in Dubai for our UAE customers.

We continue to keep user satisfaction at the core of the business, with over a 4.7 rating on Google Business, 4.7 rating on Facebook, and 4.8 on Google Play (out of 5.0). These ratings come directly from patients who have used the platform to consult with doctors.

We carried forward a successful trial for a COVID-19 field clinic in Abu Dhabi. The platform was customized to create an inpatient rounding application so that duty doctors can do their daily rounds and attend patient calls remotely, eliminating the risk of infection and saving the cost of PPE that would be needed for an in-person visit. This platform has now been rehashed to an inpatient rounding app for regular hospital use and also for use in infectious medicine.

In our ongoing efforts toward data security and privacy, the platform is now HIPAA/GDPR compliant and ISO 27001 certified. We have also been approved by UAE TRA.
Vendor Contact
Nitin Mohandas 
Director – Partnerships
nitin@connect2mydoctor.com
+971 55 657 4659
Dubai, UAE
Vendor-Provided Overview 
The ohumDoc telehealth platform provides the functionality of online real-time health data exchange to treat patients remotely. It enables monitoring of patients outside of conventional clinical settings, which increases access to care and decreases healthcare delivery costs, using a combination of video, audio, and externally acquired medical images. Providers can easily access patients from any remote location. The ohumDoc Telehealth platform is comprehensive, intuitive, and world-class. It can enhance your stellar reputation and deliver immense benefits to your patients. Ohum is implementing solutions in 20+ hospitals and 200+ clinics in the Middle East region.
The telehealth platform fundamentally changes the paradigm of healthcare delivery:
From provider-centric (doctor, hospital) to patient-centric
From doctor-specific to specialty-based clinical workflows
From documentation post-encounter to real-timepoint-of-care documentation
From face-to-face interactions to telemedicine
From silo-based care data to comprehensive health management data
From institute-based care delivery to home-based care delivery
From episode-based care to programmatic care
Five Reasons You Should Join
You will be set up to work in telehealth services and self-deployed in under 15 minutes.
You can generate a prescription electronically, with near zero typing, in under 60 seconds.
Our patient app features appointments, reminders, e-prescriptions, payments and a lifelong patient medical record.
Full electronic medical record (EMR).
COVID-19 ready solution.
Platform allows labs, pharmacies, and imaging centers to electronically process and report on all orders.
Vendor Contact
Abhijeet Dumbre 
Vice President
info@ohumhealthcare.com
B.C. 1304498 1st Floor,
Building: AFZ B1, Ajman Free Zone,
Ajman, United Arab Emirates
Vendor-Provided Overview 
In April 2020, Okadoc, the leading instant doctor appointment booking platform, announced the launch of its telemedicine solution across the UAE. Okadoc fast-tracked the release in response to the growing need for patients to access specialist and general healthcare during the COVID-19 pandemic. The telemedicine solution will give patients peace of mind, easy access to doctors, and the ability to make payments online for any consultations received.

Okadoc is the region's largest telemedicine platform, with 130 healthcare providers already signed on to provide instant access to their doctors. Patients are able to set up virtual consultations with over 550 doctors across the country from the safety of their home. Okadoc's platform connects patients with doctors who are already practicing in clinics and hospitals. Patients can book an appointment with their own doctor or a doctor of their choice within minutes. Users can have a video consultation and chat electronically, transfer and receive documents, such as prescriptions or medical records, and pay for their consultations based on their insurance coverage.

Available in both English and Arabic, the telemedicine platform is accessible at www.okadoc.com as well the iPhone and Android app stores. Okadoc also provides clients with a white-label solution through widgets that can be embedded into their websites and mobile applications and can be deployed in a matter of a hours, enabling healthcare providers to offer the same Okadoc experience through their own platforms.

It's important to note that Okadoc is the only regional solution directly integrated into a provider's hospital information system. This is key as it allows patients to book and confirm an appointment with their doctor of choice at the hospital immediately online, at any time of the day or night.
Vendor Contact
Fodhil Benturquia 
CEO & Founder
fb@okadoc.com
+971 04 566 8210
Vendor-Provided Overview 
Philips' tele-ICU program (eICU) has been used by healthcare networks and medical institutes for over 20 years, with over six million patients monitored. Philips is the only FDA 510K class II cleared centralized tele-ICU platform on the market today. It has been widely adopted across the industry, and more than 1 in 8 adult ICU patients in the US is monitored by the Philips tele-ICU solution. Philips holds over 90% of the US market share for installed/implemented centralized tele-ICU vendor solutions. In 2017 alone, Philips invested over 2 billion USD in research and development to innovate healthcare technology.

The literature is clear: the involvement of intensivists in the care of critically ill patients results in lower mortality; however, a shortage of intensivists exists and is projected to exist for the foreseeable future. At a global level, many medical institutes have intensivists, but not all have enough to assure a single standard of care for all ICU patients around the clock. The infrastructure and transformative nature of the Philips tele-ICU program permit medical institutes to better leverage their very limited population of intensivists across all monitored facilities, particularly at night. With physician shortages projected to worsen, this enabling technology can help deliver the highest level of medical care anywhere in the globe, supporting opportunities for medical institutes to create a financial model for delivering intensivist-led tele-care beyond current borders and enabling a global service-delivery network. With the Philips tele-ICU program in place, the tele-ICU hub team (intensivists supported by critical care nurses) can cover all ICU patients for a designated medical consortium—awake, alert, and fully informed for any necessary decision making.
Vendor Contact
U.A.E Dubai Philips Healthcare 
Ground floor, Choiuri Group Building
Dubai Knowledge Village,
Al-Safouh 2, P.O.Box 7785
Dubai, UAE
met.ccc@philips.com
UAE: 800 444 7017
KSA (STC users): 800 844 1009
KSA (Others): 800 850 0468
Vendor-Provided Overview 
TruDoc 24x7, the UAE's leading 24x7 population health management provider for the past eight years, combines next-generation telemedicine and telemonitoring to provide immediate access to highly trained healthcare professionals via voice and video calls for healthy, acute, and chronic condition management. TruDoc 24x7 provides services to over 4.1 million subscribed members in the MENA region.

Members can connect through TruDoc 24x7's bidirectional, integrated mobile application, a one-stop shop to access our services. With TruDoc 24x7, you can have 24x7 access to quality care from anywhere in the world—whether at your home, at your office, on a business trip, or on vacation—through this bidirectional, integrated, interactive mobile application. All members connect with our 24x7 call centre manned by full-time, highly trained and licensed doctors, psychologists, nurses, case coordinators, and wellness experts, who give evidence-based medical/wellness/mental health advice based on international and DHA guidelines. We speak your language, whether it is English, Arabic, Hindi, or Urdu. TruDoc 24x7 is working with UAE government departments and all major international and local insurance companies in alignment with brokers and third-party administrators and has direct association with many MNC/SME corporate clients.

Due to the COVID-19 pandemic, we have:
Enhanced our mobile application to include a COVID-19 symptom checker and a confidential psychology appointment system to support all our members during these difficult and uncertain times.
Provided additional factual information based on updated DHA guidelines on prevention and management of outbreaks of respiratory illness (including severe acute respiratory infections).
Provided preventive measures and patient education specific to COVID-19, maintaining hygiene, hand hygiene, cough etiquette, cleaning and disinfection, close contact history, and social distancing plus webinars from our medical experts to keep corporate clients updated and informed.
Provided medical treatment (prescriptions & delivery where available and/or referral as needed). If COVID-19 is suspected, patients are referred.
Followed up with patients as per clinical guidelines.
We live every day to protect and support our members and to give reliable, ethical, and quality care, ensuring that we continue "Doing the Right Thing" for our members, community, and country.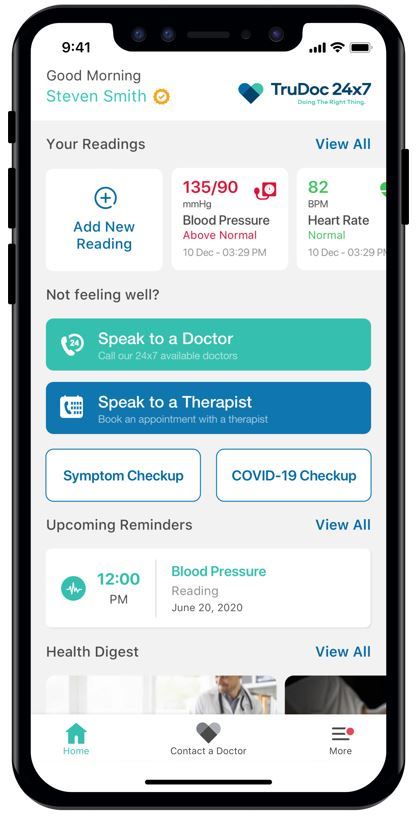 Enhanced Mobile Application with Covid-19 Symptom Checker + Ability to speak with a licensed psychotherapist to assist and support members specifically during the Covid-19 pandemic
Vendor Contact
Stephen P Smith MBE MISM 
Business Development & Innovation Executive
Office 701, Building 1, Business Bay
Dubai, United Arab Emirates
spaul@trudoc24x7.com
+971 55 7474 955
Vendor-Provided Overview 
Derwaza | The Digital Gateway first emerged in MENA as a strategic response solution to the COVID pandemic in Kuwait. Designed by clinicians with input from the local community, Derwaza has proven to be one of the most practical solutions for social distancing and mitigating the spread of COVID-19 in Kuwait. Due to unprecedented demand and the need for quick deployment, Derwaza was first rolled out in Kuwait's Amiri Hospital and the Primary Healthcare centres in the Capital Governorate, within a span of two months.

Derwaza provides a seamless experience for both patients and providers. It enables caregivers and patients to enter their healthcare organization's system from a link or website (using any mobile device), securely access patient data, and perform a wide range of patient-centric activities.

Key characteristics of Derwaza includes:
Enhanced user experience with all patient-centric information on dashboard
Direct integration with the health organization's HIMS
Realtime chat capable of evolving into a chatbot or symptom checker powered by artificial intelligence
Telehealth
Authentication by national databases
Single sign-on with roles and user-access controls
Analytics and data sharing
Ability to book appointments and view past/upcoming appointments online
Payment gateway for deposit amounts and outstanding bills
Status tracking and results viewing of lab and radiology investigations
Viewing patient visit and discharge summaries online
Medication prescription and refill
Requesting consumables for home health devices
Available in English and Arabic
The telehealth module of Derwaza, built on an open architecture, utilizes the capabilities of any industry-standard tool to enable a comprehensive virtual solution for patient care where caregivers can triage, provide diagnostic consultations, conduct check-ups and follow-ups for chronic conditions, and follow the same actions they would with an in-person visit, which also includes documentation and e-prescriptions.
Vendor Contact
Adnan AlRayes 
Program Manager
4th Floor, Dasman Diabetes Institute
Sharq, Kuwait
adnan@virtushealthit.com
info@virtushealthit.com
o: +965 2220 6509 ext. 355
m: +965 96007763
Vendor-Provided Overview 
VSee Clinic is a powerful virtual care and remote patient monitoring system designed to allow providers to achieve better patient care with greater efficiency. It offers
Simple, no-download, one-click video call experience
Medical device streaming, far-end PTZ camera control for remote physical exams
Integration with home care and nurse kits
Customizable front-desk triage and care coordination workflows, such as mobile check-ins, digital quarantine room, Uber-style load balancing across thousands of providers, COVID-19 urgent care, e-ICU, on-call specialist consults, chronic care management, and more.
VSee is the parent company of This American Doc medical group—a marketplace for telemedicine physician staffing. VSee is also the only system trusted by NASA for astronauts on the International Space Station to video call Earth. It is used by 3,000+ other clients, including Walgreens, GE, Shell, McKesson, and Optum.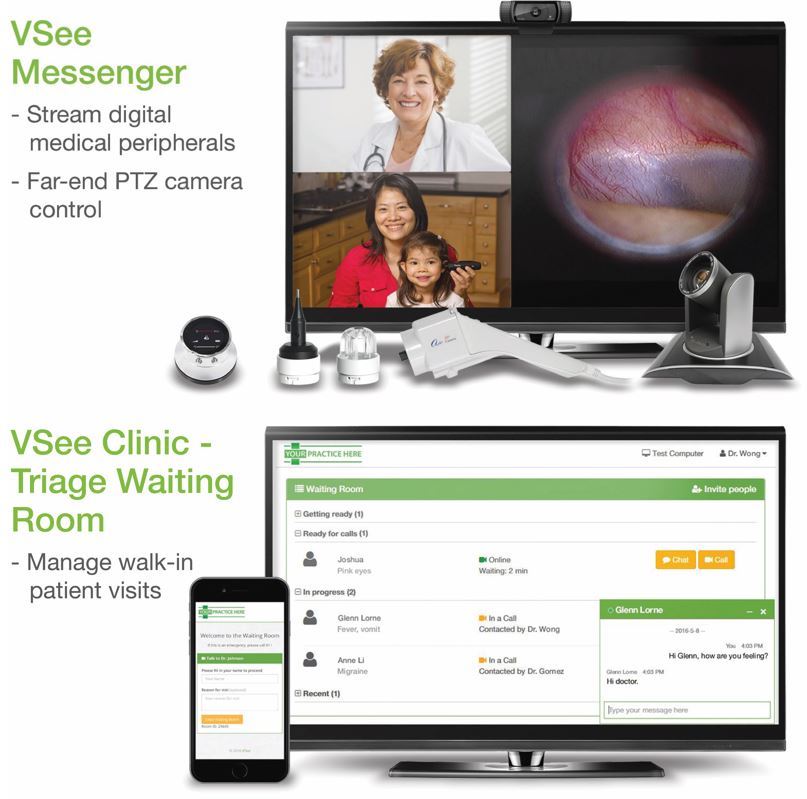 Vendor Contact
sales@vsee.com
+1 (650) 390-6970
Writer
Elizabeth Pew
Designer
Jess Wallace-Simpson
This material is copyrighted. Any organization gaining unauthorized access to this report will be liable to compensate KLAS for the full retail price. Please see the KLAS DATA USE POLICY for information regarding use of this report. © 2023 KLAS Research, LLC. All Rights Reserved. NOTE: Performance scores may change significantly when including newly interviewed provider organizations, especially when added to a smaller sample size like in emerging markets with a small number of live clients. The findings presented are not meant to be conclusive data for an entire client base.
Related Segments
Related Articles
​