2023 BEST IN KLAS
Preferences
End chart zoom
* A page refresh may be necessary to see the updated image
Patient Accounting
Is Revenue Cycle The Next Big Investment?
Current Time Inside Cache Tag Helper: 12/6/2023 11:00:20 AM and Model.reportId = 823
Provider interest in patient accounting is picking up steam as evidenced by the 190% increase in providers looking at patient accounting data this past year. Many providers that have been in a holding pattern until the ICD-10 transition are now ramping up their search efforts for a go-forward system. In 2011, over half said they were planning to replace their patient accounting system within five years, citing the age of legacy systems as a key factor. Now that the foundational elements of meaningful use are in place, many are shifting their focus to optimizing the revenue cycle and preparing for an accountable care billing environment. KLAS anticipates that patient accounting will become an even greater focus in the coming year.
HtmlReportContent Current Time Inside Cache Tag Helper: 12/6/2023 11:00:20 AM and Model.reportId= 823 and Model.HtmlReportContent_LastWriteTimeUtcInTicks=637497153430569707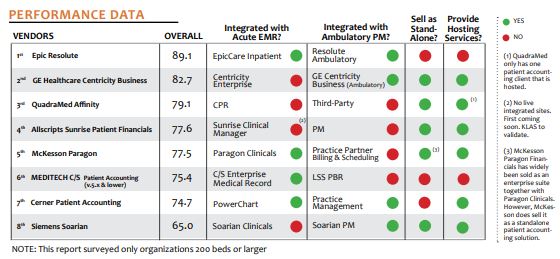 Key Findings
Epic and Siemens have seen the most new patient accounting go lives&nbps;over the past three years. Most of Epic's growth is driven by their clinical success and integration benefits, while Siemens is gaining traction among their legacy base as well as with others looking for a standalone solution.
Integration continues to be a major factor in buying decisions.&nbps;Epic and Cerner are the only vendors whose inpatient billing systems are integrated with both their inpatient EMR and ambulatory billing systems. However, very few larger (over 200 beds) Cerner clients have implemented their practice management product that integrates with Cerner's inpatient billing solution. McKesson Paragon and MEDITECH have integrated inpatient billing and EMR systems. Siemens Soarian and GE have practice management systems that integrate with their inpatient billing system, although Siemens' solution is not yet widely deployed. Allscripts has a new patient accounting product being implemented. KLAS will validate the level of integration when the first site comes live.
Soarian is regarded as the only standalone, next-generation patient accounting option in the market,&nbps;built specifically for today's revenue cycle operations. Providers are optimistic that next-generation technology will deliver a significant improvement over older technology, but KLAS has yet to validate just how much more beneficial it really is. Soarian has more provider looks in Platinum KLAS than any other patient accounting solution but has the lowest score in this research due to not meeting expectations and implementations being rough for some. While few providers have purchased Paragon for patient accounting only, KLAS is aware of some considering this option. GE appears to be investing more in their technology and support, and providers' experiences have improved.
Is it safe for Cerner EMR customers to now migrate to Cerner Patient Accounting?&nbps;Many are watching to see if Cerner has turned the corner with patient accounting given Cerner's challenges to date. Despite having the second-lowest score in this research, Cerner has shown an upward trend in scoring over the past year and is experiencing an uptick in number of go lives and new contracts. Early reports of version 2012 are positive, and numerous clients feel renewed optimism in Cerner's direction. That said, several clients highlight functionality issues in areas such as denial management and insurance payment workflow as well as a lack of automation with certain rules and challenges with the report writer.
The Bottom Line on Vendors
Allscripts—Reliable, easy to use. Large ambulatory base but not integrated. Lack of clear vision for Allscripts' future is concerning for some; 24% of the sample in this study plan to leave. First site on next generation solution going live soon.
Cerner—Upward scoring trend despite having second-lowest score. Growth appears to be picking up, though product functionality still doesn't meet expectations. Reported improvement in version 2012 stability and user interface.
Epic—Top rated; most wins in 2012 due to integration, usability, and partnership. Providers want better alignment of inpatient/outpatient billing and also complain of the cost and lack of resources.
GE Centricity—Optimism and scores have increased due to v.5 enhanced functionality, ability to interface, cleaner code, and better service. From our research sample, KLAS has validated no new live clients in four years.
McKesson Paragon—Most Paragon clients have 200–300 beds; scalability is a question for some, but the few large clients report good usability, stability, and integration between clinicals and financials. Few have purchased for patient accounting only; KLAS is aware of some considering this option.
MEDITECH C/S v.5.x—Improvements in communication and benefits of integration are reported by clients. Functionality limitations and interface costs are complaints. Early feedback from v.6 clients has been positive. Clients like the stability, product enhancements, and additional workflow.
QuadraMed—Inexpensive and stable; loyal client base. Increased scores in past several months, overtaking Allscripts. Large client mix on the EMR side. Clients worry about go-forward focus and investment.
Siemens—Lowest overall score in this study. The only next-generation standalone solution. Clients live over four years rate them highest. Clients frustrated at lack of delivery on expectations and challenging implementations. Highest number of provider looks in Platinum KLAS.
Who Has Integrated Products?
To find out who has integrated products and how well their integration is working, please go to the Drill Deeper section.
Why Is Integration Becoming Such a Priority?
The relationship between clinicals (quality and outcomes) and financials (resources and billing) has never been more important, hence the pendulum swing to enterprise vendors. Integration continues to be a major factor in both clinical and patient accounting buying decisions. Fiscally, some providers go down this path because it minimizes the number of vendors they have to deal with, reduces the number of interfaces they have to maintain, makes it easier to share data and centralize scheduling and billing across the enterprise, and lays the groundwork for bundled payments and accountable care.
What Are My Standalone Patient Accounting Options?
The standalone patient accounting market continues to shrink as more providers move to enterprise vendors; however, Allscripts, GE, McKesson, QuadraMed, and Siemens all offer standalone inpatient billing systems. For a discussion on how they perform, please go to the Drill Deeper section.

This material is copyrighted. Any organization gaining unauthorized access to this report will be liable to compensate KLAS for the full retail price. Please see the KLAS DATA USE POLICY for information regarding use of this report. © 2023 KLAS Research, LLC. All Rights Reserved. NOTE: Performance scores may change significantly when including newly interviewed provider organizations, especially when added to a smaller sample size like in emerging markets with a small number of live clients. The findings presented are not meant to be conclusive data for an entire client base.
​