2022 BEST IN KLAS
Preferences
End chart zoom
* A page refresh may be necessary to see the updated image
Quality Management 2013
The Ripple Effect
Current Time Inside Cache Tag Helper: 12/3/2022 5:51:06 AM and Model.reportId = 856
When it comes to quality, healthcare providers want much more than just an initial splash from regulatory reporting functions—they look to feel the ripple effect of better outcomes along with operational and financial improvements that can be facilitated with excellent vendor quality-management tools.
HtmlReportContent Current Time Inside Cache Tag Helper: 12/3/2022 5:51:06 AM and Model.reportId= 856 and Model.HtmlReportContent_LastWriteTimeUtcInTicks=637497208813555926
WORTH KNOWING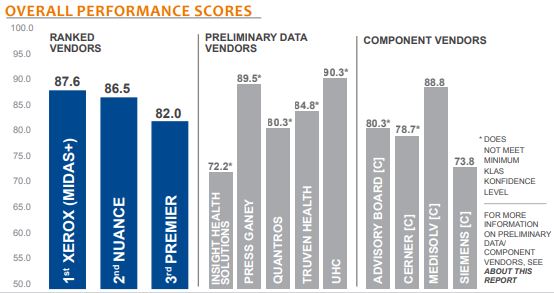 Reporting Is Core, but Providers Use More
Regulatory Reporting: Most used by providers in this report (81%). Primary focus of Nuance, Medisolv, Quantros, and Siemens but Xerox shows highest performance. Insight Health Solutions struggles most.
Performance Improvement: Second most used (56%). Medisolv receives the highest marks; other strong performers include Xerox, Premier, and Nuance.
External Benchmarking: Used by 51% of providers. Premier, Truven, and UHC focus heavily in this area; top performers are UHC, Xerox, and Premier.
Safety/Risk Management: Not as widely adopted (32% of sample); Insight Health Solutions and Xerox are highest performers.
External Benchmarking = Key Factor in Vendor Impact on Quality
Of total respondents, 56% said their vendors did "very well" at helping their organization focus on quality and improvement. Vendor tools most used for external benchmarking tended to drive opportunity identification and were seen as most impactful. UHC, Advisory Board, Premier, and Xerox had the highest percentage of clients in this area, with at least two-thirds each. Quantros and Siemens were least used for external benchmarking (Siemens not at all) and had the lowest percentage of clients noting true impact on quality.
Population Health: Only for Most Strategic Vendors
While quality-management vendors may have not designed their solutions for population health, almost a third of providers using them see these vendors as part of their population health strategy. Truven, Medisolv, and Premier had the highest percentage of customers indicating that their vendor was part of their population health strategy; Advisory Board, Quantros, Siemens, and Insight had the least.
Small, Midsize, and Large Hospitals Often Use Different Vendors
Though most vendors have some hospitals of various sizes, some trends are evident: Advisory Board, Nuance, Premier, Truven, UHC, and Xerox are often found at larger (501+ beds) hospitals; Nuance, Premier, and Xerox are common in midsize (201–500 beds) hospitals; and Insight Health Solutions, Medisolv, Press Ganey, and Quantros are typically used in smaller (up to 200 beds) hospitals.
Bottom Line on Vendors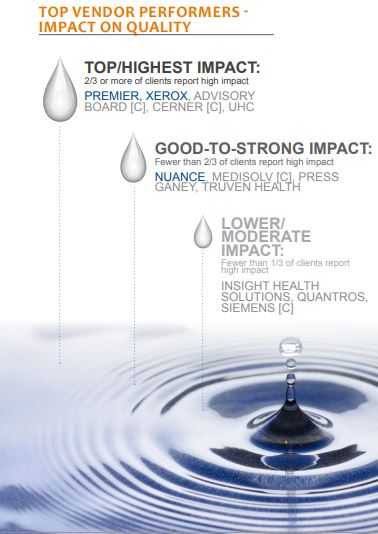 What Is Unique? Key Pain Point.
RANKED VENDORS
Xerox (Midas+)—Vendor to beat; static external benchmarking. Deepest suite of quality products, highest client satisfaction, and strong market share contribute to Midas+ top ranking. Forms responsive and solid relationships. Clients look for more drill down in external benchmarking.
Nuance——Great support; lacks in consulting services. High performing and cost effective for regulatory reporting. Penetration across multiple quality areas good but not as deep as other ranked vendors'. Distinguished by timely communication and responsive support, but not seen as innovative as other vendors; some clients concerned about vendor vision.
Premier—Good network, benchmarking; hard to learn. Broad client adoption of multiple quality products; external benchmarking distinctive and impactful. Used in more ways than most other vendors (e.g., network, services, training). Good reporting functions but lacking in current/real-time reporting. Some complaints on cost.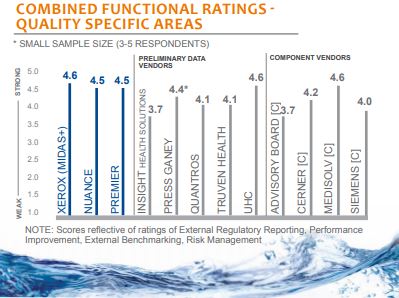 Advisory Board [C]—Physician engagement; high cost. Not the primary vendor for quality strategy, but strong in physician performance and dashboards. Used mostly by midsize to larger organizations. Seen as expensive, which contributes to some uncertainty on long-term plans.
Cerner[c]—Services approach; nickel-and-diming. Customer base made up of Cerner's core system clients. Lighthouse product seen as both services and software. Good overall experiences stem from vendor focus on performance improvement. Cumbersome reporting with older version, but optimism evident for new versions.
Insight Health Solutions—Suited for small hospitals; too basic. Mostly adopted in smaller organizations. Focused areas are quality and safety reporting. Seen as basic and inexpensive, but lacks needed functionality such as some prebuilt reports. Lower overall satisfaction; clients see limited impact.
MediSolv [c]—Ease of use; currently only MEDITECH sites. Strong regulatory reporting and support experience. Mostly smaller customers; MEDITECH only customers. Easy to use. Not seen as progressive with population health.
Press Ganey—Patient satisfaction and quality; smaller comparative database. Serves mostly smaller organizations. Clients pleased with quality tools and data views. Some struggles with delayed reporting; need for broader client network in external benchmarking.
Quantros—Safety/risk tools; not strategic. Efficient in regulatory reporting and safety, but not seen as strategic or innovative. Customers are mostly smaller hospitals.
Siemens [c]—Intelligent abstraction; missed expectations. Customer base made up of core Siemens system users. Strong tool for automatic abstraction, but product and support challenges overshadow efficiency gains. Several mentions of lacking submission service to CMS.
Truven—Population health focus; system response time. Highest percentage of clients who see vendor as part of population health strategy. Smooth contracting experiences. Commonly used for MU reporting, but also benchmarking and risk. Higher than average number of clients (30% in this sample) plan to leave.
UHC—Sweet spot with AMCs; limited appeal (mostly AMCs). High performer for academic medical centers. Strong clinical leadership and drill-down capability in external benchmarking seen as differentiators. Ease of use lower-rated area; some challenges with upgrades.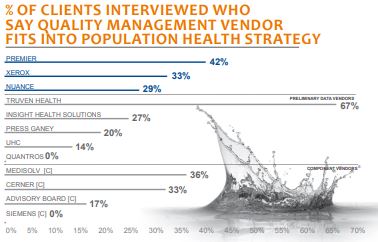 This material is copyrighted. Any organization gaining unauthorized access to this report will be liable to compensate KLAS for the full retail price. Please see the KLAS DATA USE POLICY for information regarding use of this report. © 2022 KLAS Research, LLC. All Rights Reserved. NOTE: Performance scores may change significantly when including newly interviewed provider organizations, especially when added to a smaller sample size like in emerging markets with a small number of live clients. The findings presented are not meant to be conclusive data for an entire client base.
​