2023 BEST IN KLAS
Preferences
Related Segments
End chart zoom
* A page refresh may be necessary to see the updated image
Ambulatory EMR (11-75 Physicians)
Can Any Vendor Set a High Standard?
Current Time Inside Cache Tag Helper: 12/3/2023 1:26:37 AM and Model.reportId = 933
The introduction of meaningful use has significantly impacted the EMR landscape as vendors strive to stay ahead of federal regulation. Many vendors find themselves struggling to deliver in this new model, yet a handful have risen to the challenge. This report hopes to educate providers on the current EMR performance landscape in the midsize practices.
HtmlReportContent Current Time Inside Cache Tag Helper: 12/3/2023 1:26:37 AM and Model.reportId= 933 and Model.HtmlReportContent_LastWriteTimeUtcInTicks=637498711270479234
OVERALL PERFORMANCE SCORE TREND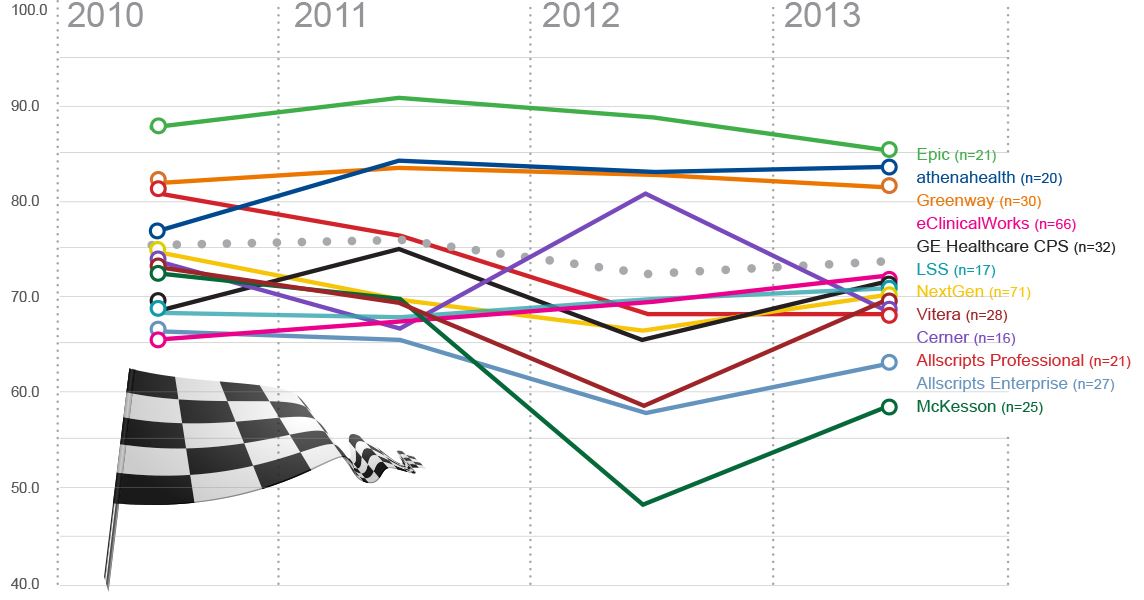 PERCENT OF ORGANIZATIONS STUCK
WORTH KNOWING
THREE STAND ALONE
Epic, athenahealth, and Greenway all perform at the top of this segment and have separated themselves from the rest of the field—each in their own way: Epic with consistent delivery in larger, hospital-based practices; athenahealth as a disruptive option with nimble deployment and more frequent updates; Greenway with great service to smaller, independent practices. While the delivery models for these three vendors are different, the end result is the same—highly satisfied providers.
MIRED IN EMR
Allscripts (both Enterprise and Professional), McKesson, and Vitera have the highest percent of unhappy customers who are planning to keep their EMR but would not buy it again. Many of these stuck customers have no funds to switch solutions. Providers most often cited challenged upgrades, poor support, and lack of vendor partnership as primary reasons for dissatisfaction.
DEFICITS: NOT JUST FOR FEDERAL BUDGETS
More than half the customers of four vendors report that their EMR is missing needed functionality. The most common items missing are reporting (in Allscripts Professional, Cerner, and McKesson Practice Partner), database structure (in McKesson), and portals and referrals (in Vitera).
CLINICIANS CALL FOR BETTER USABILITY
The majority of clinicians are less satisfied with their EMR solutions than their IT counterparts are. Only eClinicalWorks, GE Healthcare, and Greenway perform higher with clinicians. Providers noted comprehensive template design, intuitive workflows, and easy navigation as key strengths. Epic and athenahealth also score strongly with physicians.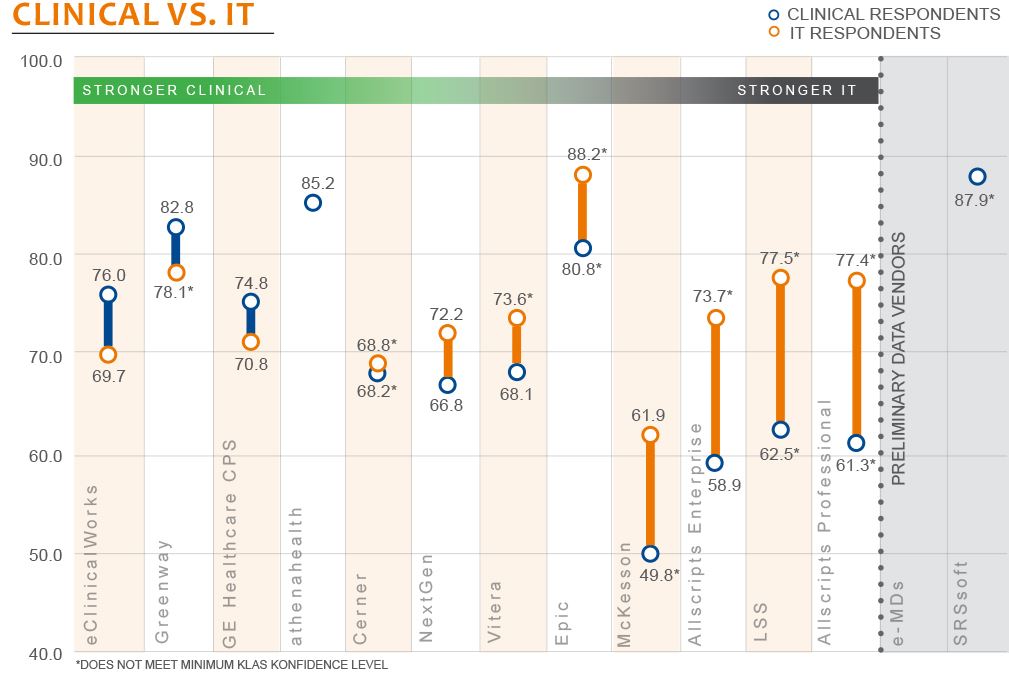 BOTTOM LINE ON VENDORS
EPIC (85.3)
Typically found in hospital-affiliated groups. Clients refer to ambulatory/inpatient integration as a key strength. Strongest relationships with IT. Clinicians voice frustration with usability and workflow. Currently has significant market momentum.
ATHENAHEALTH (83.5)
Clients positive about quick, solid development of young EMR, vendor relationship, and proactive outreach on physician usage and training. Currently has significant market momentum. Rapid growth impacting service levels for some.
GREENWAY (81.3)
Customers report strong usability via library of template-driven workflows. Customers also note strong executive leadership and commitment. Recent slips in implementations for newly live customers and drops in phone/web support impacting year-over-year performance scores.
ECLINICALWORKS (72.8)
Clinicians find the EMR intuitive and easy to use, while IT leadership looks for better system connectivity, better reporting, and technical customization. While some find a language barrier with service, customers report significantly improved support turnaround times. Providers find eClinicalWorks to be a good compromise between price and enterprise functionality.
GE HELATHCARE CPS (72.6)
Providers report improved product quality with recent version releases and increased confidence in CPS EMR. Concerns with service relationships and lack of vendor executive involvement.
LSS (72.5)
LSS customers identify weak vendor communication and lackluster EMR usability as key frustrations. Customers do not view LSS as innovative. Many are hopeful that LSS' new ambulatory solution will quell these concerns.
NEXTGEN (70.3)
Providers indicate NextGen has the functionality they need. Nearly half report feeling nickel-and-dimed, complaining of expensive interfaces, ongoing costs for coding and customizations, and high licensing costs. Newly live customers less satisfied with implementation.
VITERA (69.8)
Providers express increased confidence in Vitera's development. Key frustrations are repeated executive turnover and support. Newest version increasing satisfaction.
CERNER (68.5)
Hospitalemployed groups typically run PowerChart EMR in-house or hosted by Cerner; providers are positive about ambulatory inpatient integration and score Cerner eight points higher than independent practices.
ALLSCRIPTS PROFESSIONAL (68.5)
Newly live customers report significant lack of go-live support and inadequate training. Recent drops in service, weak relationships and increasing tendency to nickel-anddime drive customers to look at other EMR options.
ALLSCRIPTS ENTERPRISE (62.9)
Customers struggle with v.11.2, citing weak upgrade services and poor code. Providers positive about recent Allscripts efforts to reconnect. Guarded optimism remains; providers indicate time is running out for Allscripts to right the ship.
MCKESSON PRACTICE PARTNER (58.7)
Currently lowest satisfaction scores in segment. Clients cite poor support, challenging implementations, and lack of executive communication as causes of significant pain. Many looking to migrate to an alternative EMR solution.
This material is copyrighted. Any organization gaining unauthorized access to this report will be liable to compensate KLAS for the full retail price. Please see the KLAS DATA USE POLICY for information regarding use of this report. © 2023 KLAS Research, LLC. All Rights Reserved. NOTE: Performance scores may change significantly when including newly interviewed provider organizations, especially when added to a smaller sample size like in emerging markets with a small number of live clients. The findings presented are not meant to be conclusive data for an entire client base.
Related Segments
​