2023 BEST IN KLAS
Preferences
Related Segments
End chart zoom
* A page refresh may be necessary to see the updated image
Ambulatory EMR Impact on Patient Care 2014
Bases Loaded, but No Home Runs
Current Time Inside Cache Tag Helper: 9/23/2023 8:06:40 AM and Model.reportId = 899
Thanks to meaningful use, the bases are loaded with EMR-enabled providers waiting for promised benefits. But what is the real impact of EMRs on the quality of patient care? This report examines which vendors are closest to satisfying providers' high expectations and therefore helping them deliver better patient care. KLAS spoke with medical leadership at 158 healthcare organizations to find out.
HtmlReportContent Current Time Inside Cache Tag Helper: 9/23/2023 8:06:40 AM and Model.reportId= 899 and Model.HtmlReportContent_LastWriteTimeUtcInTicks=637499614272476229
WORTH KNOWING:
EPIC LEADS, BUT NO VENDOR HITS A HOME RUN:
There are no home-run hitters among the vendors in this report, but Epic received highest marks for facilitating quality patient care overall, according to their larger health system customers. GE Healthcare and athenahealth follow close behind with midsize and smaller practices. Allscripts TouchWorks, Cerner, eClinicalWorks, and Greenway are middle-tier performers, while NextGen rates lowest. Allscripts Sunrise Ambulatory Care (SAC) had too few respondents for a full rating, but preliminary feedback places SAC in the top tier near Epic and GE Healthcare.
PARTNERSHIP IS MORE IMPORTANT THAN PRODUCTS:
Providers extolled various product strengths, such as integration, configurability, and preconfigured template libraries, but vendors' most impactful feature is their willingness and ability to hold providers' hands. Among fully rated vendors, Epic and athenahealth had the most customers say that their vendor's guidance on improving care is effective.
NO SHORTCUTS FOR VENDOR GUIDANCE, BUT THERE IS A "LONGCUT":
GE Healthcare is one exception to the partnership rule: Customers rated them second highest for patient-care impact, but only one-third said the vendor's guidance is effective. Customers compensate by optimizing the system on their own over time—something made possible only by many years live on the platform. Other attempts to shortcut guidance, such as Greenway's template libraries, provide value but fall short as providers must still endure a process of trial and error.
PATIENT THROUGHPUT NEGATIVELY IMPACTED BY EMRs:
Almost universally, providers say EMRs slow down patient throughput, and they rated that aspect lowest (6.1 out of 9). Physicians often compensate by working after hours to catch up on documentation. The highest rated area is facilitating patient interaction outside the office (7.2 out of 9), the benefits of which reflect classic IT strengths: communications and data access. Providers say EMR patient portals facilitate more frequent, direct contact with patients, and remote access to patient data by physicians allows for responsive care after hours.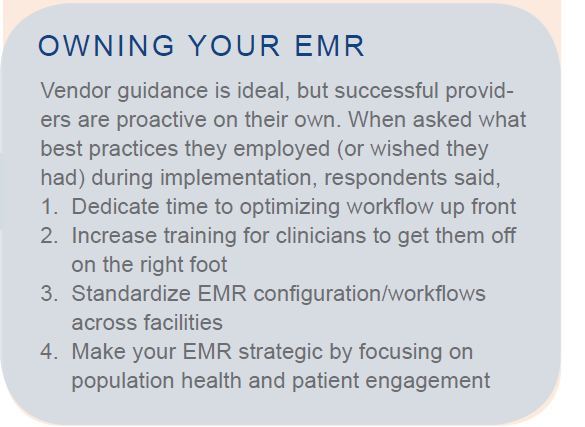 Bottom Line on Vendors
ALLSCRIPTS
TouchWorks is most-installed Allscripts EMR in large practices. Remote access to patient data praised. Lack of inpatient integration a barrier to managing care across the continuum. Customers call for more personal attention from Allscripts as well as faster delivery of enhancements/upgrades. (For more information on SAC and an upcoming addendum, see the "Drill Deeper" section)
ATHENAHEALTH
Cloud-based architecture streamlines physician access to patient data outside of the office. Mostly used by small (1 to 10 physicians) and midsize (11 to 75 physicians) practices. KLAS performance scores drifting downward due to implementation and support difficulties. Good at listening and innovating. Focus on reporting/metrics appreciated. Growing demand for decision support tools.
CERNER
One of a few vendors with rising KLAS score; due to more consistent delivery. Rapid patient portal adoption fostering patient/ physician relationships. Providers laud configurability for optimizing patient-care workflows—if they have the resources. Demand for more out-of-the-box content without nickel-and-diming.
ECLINICALWORKS
Physician friendly, but IT intensive. CCMR solution lauded for population health and interoperability. Slowdowns reported in support, development, and system response time. Providers desire more proactive guidance toward maximizing care quality with eClinicalWorks products.
EPIC
Top-ranked Best in KLAS vendor for several years running. Seamless integration between acute and ambulatory settings attracts large health systems and helps support continuity of care. Customers praise Epic for proactive guidance toward improving care but would like to see more robust clinical content and tools for analytics/reporting.
GE HEALTHCARE
KLAS performance scores moving upward due to implementation and product improvements. Rated second for positive patient impact based on configurability and optimization by customers over time . Not known for regular customer hand-holding/guidance. Customers desire product evolution.
GREENWAY
Reputation among core small (1 to 10 physician) practice customers for usability and library of flexible templates. KLAS performance dropping due to slowed support and development. Some code quality issues in v.17. Physicians call for optimization guidance and more provider-friendly workflow.
NEXTGEN
Robust functionality for customers with skills and resources to deploy. KLAS performance score has fallen since last year due to troubled implementations, support. Lowest rating for impacting patient-care quality. Nickel-and-diming a concern.
Writer
Sam Eaquinto
This material is copyrighted. Any organization gaining unauthorized access to this report will be liable to compensate KLAS for the full retail price. Please see the KLAS DATA USE POLICY for information regarding use of this report. © 2023 KLAS Research, LLC. All Rights Reserved. NOTE: Performance scores may change significantly when including newly interviewed provider organizations, especially when added to a smaller sample size like in emerging markets with a small number of live clients. The findings presented are not meant to be conclusive data for an entire client base.
Related Segments
​