2023 BEST IN KLAS
Preferences
Related Series
---
Clinical Documentation Improvement 2021
Clinical Documentation Improvement (CDI) 2018
CDI Solutions 2015
Related Segments
End chart zoom
* A page refresh may be necessary to see the updated image
CDI Services 2014
Providing Light to Documentation Darkness
Current Time Inside Cache Tag Helper: 2/8/2023 1:29:30 AM and Model.reportId = 941
To maximize revenue while improving patient care, providers turn to clinical documentation improvement (CDI) services and solutions for ICD-10 preparedness, case mix index (CMI) improvement, and/or revenue cycle optimization. Regardless of the catalyst, providers look for specialized resources to implement new CDI programs or support existing ones. While firms' approaches to CDI vary and the scope of offerings is often different, providers in this report rated their vendors based on the overall experience they had. Firms that offer combined CAC and CDI solutions are garnering the greatest mindshare, followed closely by firms focused mainly on CDI.
HtmlReportContent Current Time Inside Cache Tag Helper: 2/8/2023 1:29:30 AM and Model.reportId= 941 and Model.HtmlReportContent_LastWriteTimeUtcInTicks=637499702865850694
WORTH KNOWING:
NAVIGANT AND NUANCE (J.A. THOMAS) DELIVER STRONG SUPPORT FOR CONTINUED CDI SUCCESS
High CDI sustainability comes from constant CDI firm support, training, reports, and optimization. Nuance is praised for continual support; Navigant is applauded for immediate service and gets the edge over Nuance in overall satisfaction due to extremely personalized attention to a much smaller client base. Lower-ranked Precyse has the shortest engagements.
PHYSICIAN TRAINING NOT THE SILVER BULLET FOR CDI SUCCESS
Although KLAS found a direct correlation between on-site physician training and improved physician behavior, providers using a full CDI program reported greater success in CMI/financial outcomes than those using physician training alone. Advisory Board and PwC often deliver exceptional on-site physician trainers, facilitating high physician adoption/response; however, customers of PwC experience a much higher level of CMI/financial impact due to PwC's breadth of engagement. 
LOWEST OVERALL PERFORMER 3M HOLDS HIGHEST MINDSHARE
3M has a lengthy lead in CDI mindshare and the lowest overall customer satisfaction in this report. Client experiences are inconsistent, with some praising 3M's resources and technology while others are frustrated with unmet expectations, specifically in training, support, and reporting.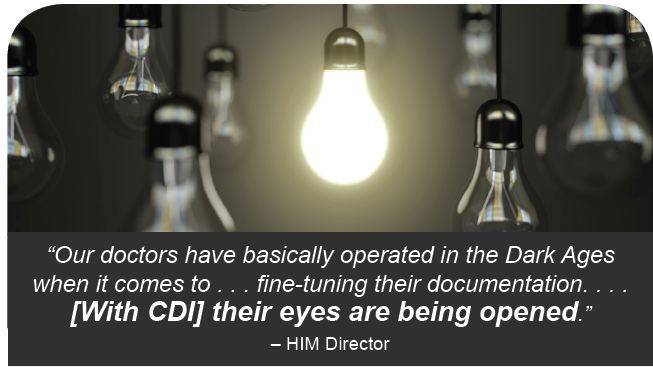 BOTTOM LINE ON FIRMS
BEST-OF-BREED CDI FIRMS
NAVIGANT:
High performer. Most clients are long-term CDI partners; the few new clients chose them for ICD-10 preparation. Trains clinical documentation specialists (CDSs) and physicians, and staffs CDSs while clients get up to speed. Offers strong resources. Providers like Navigant's CDI tools but feel they could be more robust. 
NUANCE (J.A. THOMAS):
Rave reviews for physician education and engagement. Guarantees provider success in CMI impact with structured CDI approach focused on long-term customer success. Very large CDI customer base; many providers chose Nuance because of prior experience with them. Maintains performance because of active involvement in delivering reports and analyzing organizations' status. Some clients wish reports were fewer and/or prioritized. 
ENTERPRISE/REVENUE CYCLE FIRMS
ADVISORY BOARD:
Top CDI strength is physician training/engagement. Resources are not consistent, as some providers feel the trainers were mediocre. Minimal CMI/ financial impact, but several clients didn't expect high ROI from CMI. 
DELOITTE:
Strong clinical and revenue cycle background yields a reputation for quality consultants with clinical and CDI expertise. Highly service focused; lack of highly developed CDI tools is a weakness. Most CDI projects are part of a larger engagement within organization. 
HURON:
Focuses mainly on CDSs and CDS workflow rather than physician engagement/training. Lower score in ICD-10 preparation due to lack of ICD-10 direction or tool offerings. Overall, meeting but not exceeding expectations. 
PWC:
Offers a flexible approach. Many use PwC in several areas of their organization. Clients pleased with PwC's high level of partnership. Almost always provides tools and CDS/physician training to clients, leading to high CMI/financial impact. 
MEDASSETS*:
Early data firm, but initial feedback is positive. Customers very pleased with intimate, stellar support. Some shared concerns with IT and tool/software functionality.
*Preliminary data vendor
CAC + CDI FIRMS
3M:
High breadth of CDI services and large industry CDI software and services footprint, but overall lowest performance, which is consistent across 3M's three tiers of CDI engagement. Some find success through robust tools and strong resources. Others struggle with inconsistent training and support that is not as responsive as it used to be. Many providers choose 3M based on existing relationship and integrated CAC and CDI; when not chosen, it is often due to cost.  
PRECYSE:
Market traction from ICD- 0 education program, Precyse University. Most customers are new and have upcoming CAC implementations with Precyse. Offers strong peer- o-peer training. While client optimism is high, some lower-performing customers are waiting for more ROI. 
OPTUM*:
Early data firm, with high interest, particularly from the large base of providers on or implementing Optum's CAC. Mainly performs small projects. 
*Preliminary data vendor
SOFTWARE-ONLY FIRMS
CHARTWISE*:
Web-based solution. Praised for standout service, customer engagement, and affordability. Clients note strong reporting and ease of use and are confident in ICD-10 transition.
*Preliminary data vendor
Note: Performance scores may change significantly when including newly interviewed provider organizations, especially when added to a smaller sample size like in emergency markets with a smaller number of live clients.
This material is copyrighted. Any organization gaining unauthorized access to this report will be liable to compensate KLAS for the full retail price. Please see the KLAS DATA USE POLICY for information regarding use of this report. © 2023 KLAS Research, LLC. All Rights Reserved. NOTE: Performance scores may change significantly when including newly interviewed provider organizations, especially when added to a smaller sample size like in emerging markets with a small number of live clients. The findings presented are not meant to be conclusive data for an entire client base.
Related Segments
​