2022 BEST IN KLAS
Preferences
Related Series
---
Image Exchange 2014
Image Exchange 2013
Related Segments
End chart zoom
* A page refresh may be necessary to see the updated image
Image Exchange Solutions 2013
A Close Look at lifeIMAGE
Current Time Inside Cache Tag Helper: 12/4/2022 7:01:01 PM and Model.reportId = 637
Currently, the ability for referring physicians to upload images from CDs, import outside exams to PACS, and send and receive exams electronically is not a streamlined process. Several vendors are tackling this problem with new and pioneering image exchange solutions. Due to provider interest in the early success of these new solutions, KLAS is publishing a series of reports on these vendor pioneers. lifeIMAGE is the first to be measured due to their PACS-neutral orientation, their early prominent client sales success, and a willingness to provide KLAS a c omplete client list. The lifeIMAGE tool set, which includes LILA (Life Image Local App), ReferralBox, and OutBox, is targeted at making the sending and receiving of images more efficient. KLAS spoke with 44 lifeIMAGE users to validate how effectively the solution meets these challenges.
HtmlReportContent Current Time Inside Cache Tag Helper: 12/4/2022 7:01:01 PM and Model.reportId= 637 and Model.HtmlReportContent_LastWriteTimeUtcInTicks=637497178395527174
Worth Knowing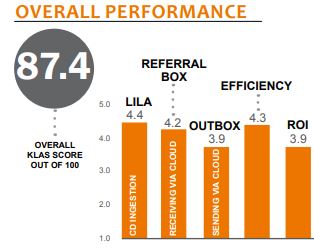 Improving Patient Care—KLAS validated that lifeIMAGE, specifically ReferralBox and LILA, helps providers give better and faster care to patients who are being transferred to their facility by allowing providers to triage and prepare before the patient arrives. Providers can also circumvent unnecessary or unsafe transfers. In addition, lifeIMAGE has a positive impact on patients because easier access to previous images means patients do not have to be reimaged. Patients get less dose exposure and are also treated more quickly.
Workflow Improvements—KLAS validated that providers' previous challenges with patient CDs were mitigated when using LILA. Providers say they can quickly and easily view images from almost all CDs that come in, whereas prior to LILA, the process was much less reliable and cumbersome. Providers also report that it takes much less time to upload the images with lifeIMAGE than with their PACS.
Strong Communication and Support—Working with lifeIMAGE is a win for providers, who laud the quality and dedication of the support. Also, lifeIMAGE is communicating their vision and providers are aware of the road map for the product. Most are excited to continue to adopt more of the modules.
Cost and Contracting and Challenges—Several providers say that lifeIMAGE is expensive, and while most are happy with the system, ROI is difficult to quantify. A few feel they are paying more than anticipated and pricing expectations were not properly set during contracting.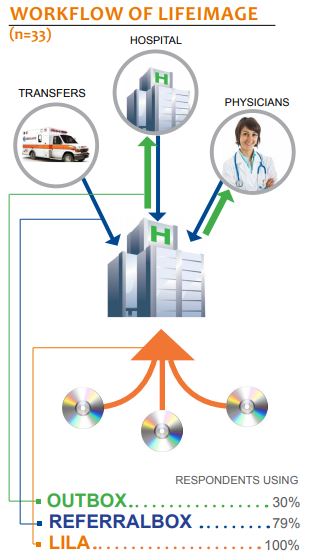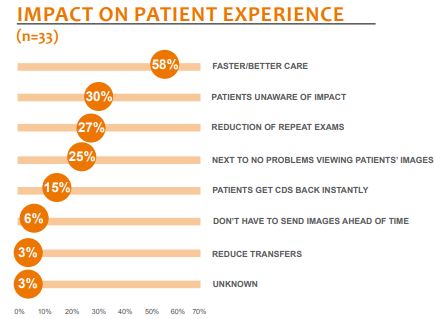 OutBox
OutBox is the youngest and least adopted of the lifeIMAGE modules live at the time of this research, and it also garnered a lower rating than LILA and ReferralBox. However, it still received positive reviews, and several providers have plans to adopt OutBox in the near future. Providers note that they are able to share images more quickly and easily than if they tried to do it through their PACS.
One provider said, "I was interested in OutBox because I oversee a large outpatient imaging practice that isn't part of our system. We use our enterprise PACS and systems to support that practice. The trouble is that referring physicians who don't have credentials don't have access to the web PACS or their own images. We use OutBox for our nonaffiliated physicians. We expanded our geographical area, and I can't afford to keep hiring messengers to cover more territory. With OutBox, we can provide same-day images and reports without having to send them all over the place by messenger."
LILA
LILA is the foundation to the lifeIMAGE system, and providers have described a huge improvement to their workflow around ingesting outside CDs. The solution is reported to be very scalable, and providers say that they are implementing LILA across many hospital departments and the intuitive nature of the system has made adoption relatively easy.
One comment from a systems engineer summed up what we heard from the many lifeIMAGE users—lifeIMAGE has helped them make CD ingestion an easier process: "lifeIMAGE will become our new standard workflow, and all the discs that come in with patients, either physically or mailed in advance, will upload to lifeIMAGE. Prior to purchasing lifeIMAGE, there was no standard method for importing studies across the different areas. When patients came with CDs, each area had to figure out how to deal with them. Also, a lot of people would come to the reading rooms and request drive-by consultations with a radiologist. That interrupted the radiologists' work, and then the radiologists were even more interrupted when trying to look at the CDs on their workstations. No report or record would be created of these drive-by conversations between the clinicians and radiologists, and there were some real drawbacks to our approach. With lifeIMAGE, people can upload studies from wherever they are. We don't have to store CDs anymore, and from their desktops, users can forward studies into the PACS along with a radiology order. That really streamlines the process."
ReferralBox
ReferralBox allows hospitals to obtain images through the cloud, rather than on a disc. Overall, providers that have adopted the ReferralBox piece are pleased. But for some, there has been less adoption of the system than they expected and adoption has taken longer than they predicted. Providers have noted major benefits such as quickly being able to receive images from referring sites, allowing for faster decision making. Most feel that it ultimately has a positive impact on patient care.
One provider described those benefits: "The benefits include improved assessment and preparedness, expedited care, and reduced imaging. Having the ability to get images from the referring doctors sooner is huge. We have been able to prepare better and give patients better care because of lifeIMAGE."
However, several providers have noted that "the major challenge has been resistance from outside facilities to use the process. That resistance is sometimes significant. Adoption of the . . . solution has worked well in some facilities, but these facilities' approval processes often result in long implementation processes."
This material is copyrighted. Any organization gaining unauthorized access to this report will be liable to compensate KLAS for the full retail price. Please see the KLAS DATA USE POLICY for information regarding use of this report. © 2022 KLAS Research, LLC. All Rights Reserved. NOTE: Performance scores may change significantly when including newly interviewed provider organizations, especially when added to a smaller sample size like in emerging markets with a small number of live clients. The findings presented are not meant to be conclusive data for an entire client base.
Related Segments
​