2023 BEST IN KLAS
Preferences
Related Segments
End chart zoom
* A page refresh may be necessary to see the updated image
Oncology 2014
Integration Is Key
Current Time Inside Cache Tag Helper: 12/1/2023 3:56:02 PM and Model.reportId = 949
For providers working with oncology solutions, integration still trumps functionality. Meaningful use is driving more providers to look for oncology solutions that can seamlessly tie medical oncology and radiation oncology together and then bring the data home to the EMR. Providers are also still searching for patient portals that can (most importantly) interface with their OIS and allow patients to exchange relevant, oncology-specific information. Which vendor is furthest along in the interfacing game? Are best-of-breed vendors able to compete with the integration strength of enterprise vendors? KLAS spoke with 247 providers from 214 organizations to find out.
HtmlReportContent Current Time Inside Cache Tag Helper: 12/1/2023 3:56:02 PM and Model.reportId= 949 and Model.HtmlReportContent_LastWriteTimeUtcInTicks=637499624583318665
WORTH KNOWING:
ELEKTA IS LEADING THE INTERFACE RACE
Elekta has improved their MOSAIQ interfaces to take a commanding lead over their competitors. Providers are more pleased with Elekta's pharmacy interfaces than they were in the 2013 KLAS oncology report, rating those a solid 8.0, almost a full point up from last year's 7.1. Elekta's single database for radiation and medical oncology continues to be a strength for the continuity of oncology care. 
VARIAN TRENDING DOWNWARD AND CUSTOMERS LESS SATISFIED THAN A YEAR AGO
Varian's providers are disappointed in general with Varian's poor showing around interfaces. Scores have declined this last year to the point where  Varian's only high interface score is for treatment planning at 8.0; every other interface scores below a 7. Although Varian customers are frustrated, they are optimistic about the future, saying Varian has improved v.11 and has a better road map of how they will meet provider needs with v.13.6. 
EPIC STILL NOT FULLY CONNECTED TO ONCOLOGY
Epic Beacon is well integrated with the Epic EMR compared to how other oncology solutions integrate with other EMRs, but it is lackluster for specific oncology clinical needs. Providers have been asking Epic to step it up when it comes to interfacing with solutions touching oncology, especially radiation oncology. While there are early whispers of a shift, one provider stated, "I know it makes sense to have one integrated system, and the more integrated the better, but while Beacon has tight integration with other Epic systems, it struggles to integrate with the rest of our oncology suite. It completely ignores radiation oncology, which is so key when it comes to the continuum of care." In contrast, preliminary data on Cerner PowerChart Oncology is very positive. While additional functionality is still needed, providers said Cerner is listening and investing in improvements. 
EPIC MYCHART DOMINATES PATIENT PORTALS MARKET SHARE, BUT VARIAN ON ITS HEELS FOR FUTURE PURCHASES
37% of providers who actively use a patient portal say they are using Epic MyChart. Providers said that as an enterprise standard, its oncology-specific features are practically nonexistent. Varian is the top choice of providers who have yet to purchase a portal. Current customers are pleased with the oncology-specific features. McKesson's portal, My Care Plus, has the best of both worlds, showing wide adoption and also taking high marks for oncology-specific functionality.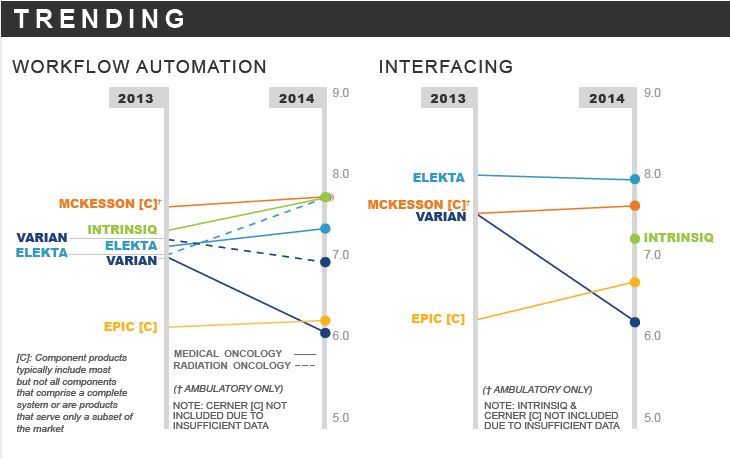 BOTTOM LINE ON VENDORS:
ELEKTA:
Customers appreciate MOSAIQ's improved workflow automation. IQ Scripts has been immensely helpful in speeding up workflow. Integration is strong all around except with radiation oncology, which struggles to interface with enterprise EMRs. Providers still considering the patient portal, but oncology-specific functionality is much poorer there than with Varian. Elekta has strong customer loyalty—93% would buy again, and 96% said MOSAIQ is part of long-term plans. 
INTRINSIQ:
Good marks for workflow automation, but losing market share to enterprise IT vendors and oncology vendors who also offer radiation oncology. Takes highest marks in contracting, implementation, training, and support. Less than half of providers feel that it has the needed functionality, and it has the most providers saying it is not part of their long- term plans. 
VARIAN:
Providers noted that Varian's greatest strength is the tie to treatment planning and radiation therapy equipment. Interfaces in general have not improved. Providers reported an increased interest on Varian's side to improving ARIA, and they welcome the well-needed change. Varian is rated the highest of all vendors when it comes to oncology-specific functionality in patient portals. 
CERNER [C]:
Preliminary data for Cerner looks promising. Relatively small install base reported that Cerner is invested in helping them succeed. Functionality is still limited, but providers see Cerner taking notes and making changes.
EPIC [C]:
EMR integration is strong, but radiation oncology interfaces are considered poor or nonexistent. Providers report frustrations with workflow automation and the need to enter information manually. Most performance indicators around clinical functionality remain low. Over a third of providers are presently using Epic for their patient portals but report oncology-specific functionality is yet to be seen. Implementations and training have improved significantly from last year. Providers hope to see better integration with radiation oncology in near future. 
MCKESSON [C] (AMBULATORY ONLY):
Workflow automation is rated very high. Providers have no plans to replace iKnowMed anytime soon. Providers are really excited about McKesson's patient portal, My Care Plus, and cited continual improvements to the portal. Long-time iKnowMed providers were hoping to be on McKesson's new version by now but do appreciate that the version was not prematurely released.
This material is copyrighted. Any organization gaining unauthorized access to this report will be liable to compensate KLAS for the full retail price. Please see the KLAS DATA USE POLICY for information regarding use of this report. © 2023 KLAS Research, LLC. All Rights Reserved. NOTE: Performance scores may change significantly when including newly interviewed provider organizations, especially when added to a smaller sample size like in emerging markets with a small number of live clients. The findings presented are not meant to be conclusive data for an entire client base.
Related Segments
​