2023 BEST IN KLAS
Preferences
Related Segments
End chart zoom
* A page refresh may be necessary to see the updated image
Oncology 2012
Pulling The Curtain Back
Current Time Inside Cache Tag Helper: 12/9/2023 11:30:25 AM and Model.reportId = 761
Oncology has been late to the meaningful use (MU) game, but the momentum is picking up as Stage 2 rules are bearing down. Patient portals are now inevitable for providers. Altos and McKesson are leading the charge for MU, but with pressure to integrate and consolidate, those vendors are also vulnerable to replacement. Varian and Elekta, the two most prevalent vendors in the oncology IT market, have room to up their game in regard to MU.
HtmlReportContent Current Time Inside Cache Tag Helper: 12/9/2023 11:30:25 AM and Model.reportId= 761 and Model.HtmlReportContent_LastWriteTimeUtcInTicks=637497131114253266
Key Findings

Elekta Leads in Radiation Oncology: Elekta earns the top score in radiation oncology, beating out Varian and the upcoming player BMSi. While ratings of Elekta's individual tools do not always outperform the competition, Elekta starts on the right foot with customers by setting realistic expectations, offering solid training, and doing good implementations.
Alerts and Reporting are most Challenging Aspects of Medical Oncology: Alerts and reporting are the tools that providers are least happy with overall. All vendors struggle with alerts, but Epic, Varian, and Elekta perform below the average. Altos performs much better than the rest, but with a small sample. Reporting is also an area for improvement. For Varian and Elekta, the canned reports do not meet providers' needs and custom reports are very difficult to use. Epic's customized reports still need some work to be user friendly for oncology.
Varian's Dominance in the Oncology Market Does Not Equate to Satisfaction: Varian's competence and knowledge of oncology create high expectations that Varian does not always meet and does not make up for unresponsive service and the perception of an uninvolved executive team. The lack of camaraderie provides no cushion for when there are bumps in the road, such as issues with training and implementations.
Providers not Settled on a Vendor for Patient Portals: The market is still up in the air in regard to patient portals, with only 30% of participants reporting patient portal usage. But it is something that providers will need to address soon as MU Stage 2 ramps up. Only 10% of Elekta's customers and just 24% of Varian's customers interviewed indicated that they are using a patient portal. Those still looking for patient portals are looking to their current oncology IT vendor. Both Epic and Altos have a high percentage (80% and 75%, respectively) of portal clients, though those figures are based on a small sample for each.
Ability to Interface is Critical: ACO's are getting more attention in the oncology space from providers and vendors alike. While more providers seem confident and hopeful that Varian and Elekta will be able to better integrate with the patient record, there are still challenges. On the other hand, Epic customers are frustrated that they will not be able to interface with radiation oncology systems. Altos and McKesson typically work in the ambulatory space and do not currently face the challenges of interfacing, but as clinics are absorbed by ACOs it is an issue they may need to address.
Oncology IT and Meaningful Use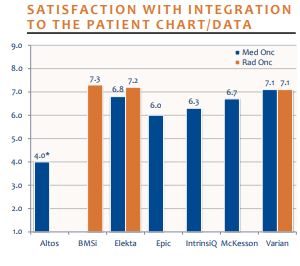 Oncology providers across the board say they are planning to attest for MU, but vendors differ in their ability to partner with providers. One hundred percent of Altos customers say Altos is an excellent partner when it comes to MU because they are willing to be hands on with customers going through that process; however, that is based on a small sample. The vast majority of BMSi customers also say that BMSi is an excellent partner for MU and that BMSi is very focused on helping customers succeed. Most of McKesson's customers reported a positive experience with MU.
Epic and Varian customers are much less inclined to say their vendors are excellent MU partners. While some Epic customers feel Epic's MU reporting is a benefit, the system is not designed for all of the needs of oncology providers. Varian customers mentioned that the MU version of ARIA did not come out on Varian's promised timeline, and some said that Varian seemed out of touch with their clients and what they expect in regard to MU.
Bottom Line on Vendors
Altos: Nimble, web-based system makes upgrades painless. Designed for medical oncology. Found in small practices or community cancer settings. Large proportion of customers attested for MU or in process. Small group using proprietary patient portal; largest patient portal adoption in the study. Rapid growth has dedicated sales and service team spread thin.
BMSi: Great functionality for radiation oncology needs. Does not have record and verify. Providers appreciate BMSi's proactive approach in getting them through the MU process. Great service and responsiveness to needs and requests reflect the niche quality of BMSi.
Elekta: Scalable in any oncology environment. Customers span from small groups to large acute care health systems. Robust tools in both medical oncology and radiation oncology but reporting difficult to use. Those with only medical oncology are the most frustrated. Behind in patient portals. Integration improved but needs improvement on medical oncology side.
Epic: Medical oncology tools not meeting provider needs, specifically with staging and alerts. System seen as functionally immature. IT personnel like easy integration to core hospital system, but clinical end users are not happy. Integration to radiation oncology not an option. Used in acute care settings and acute care owned cancer centers and clinics.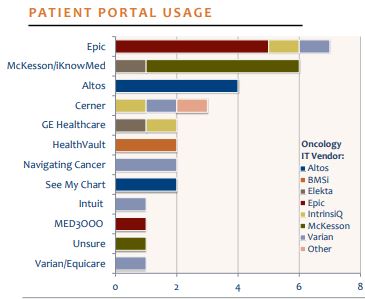 IntrinsiQ: Simple, well-designed medical oncology tools. Needs to pair with strong EMR to perform well. Scalable from small outpatient to acute care facilities. Doing relatively well with implementation, training, and contracting. Good integration double-edged sword when those having issues might choose their enterprise vendor over IntelliDose.
McKesson: Strong medical oncology tools for ambulatory and community cancer centers. No acute care offering may present problems as healthcare leans toward consolidation and ACOs. Integration needs improvement. McKesson keeping customers on track with MU. Offering a dedicated portal for oncology but still needs development. Struggling with training and implementations.
Varian: Oncology heavyweight in IT and radiation therapy equipment with good integration between those pieces if all are from Varian. Large number of clients plan to stay with Varian, despite relationship struggles. Extra charges for interfaces and upgrades. Those utilizing ARIA for MU attestation are dissatisfied with Varian's efforts. Varian/Equicare patient portal was the most looked at, though KLAS spoke to only one live user.
This material is copyrighted. Any organization gaining unauthorized access to this report will be liable to compensate KLAS for the full retail price. Please see the KLAS DATA USE POLICY for information regarding use of this report. © 2023 KLAS Research, LLC. All Rights Reserved. NOTE: Performance scores may change significantly when including newly interviewed provider organizations, especially when added to a smaller sample size like in emerging markets with a small number of live clients. The findings presented are not meant to be conclusive data for an entire client base.
Related Segments
​