2023 BEST IN KLAS
Preferences
Related Series
---
Patient Flow 2011
Bed Management and Tracking Market Review 2007
Related Segments
End chart zoom
* A page refresh may be necessary to see the updated image
Patient Flow 2013
Mapping Hospital Operations
Current Time Inside Cache Tag Helper: 5/30/2023 8:45:14 AM and Model.reportId = 795
In the hospital maze, operations staff members need dynamic maps to see patient movement clearly. Provider focus to improve efficiency and operational capacity has pushed adoption of patient flow software, and few providers would look back. KLAS interviewed 134 providers to ask which vendors offer the best bed management, environmental services (EVS), patient transport, and transfer/access center functionality.
HtmlReportContent Current Time Inside Cache Tag Helper: 5/30/2023 8:45:14 AM and Model.reportId= 795 and Model.HtmlReportContent_LastWriteTimeUtcInTicks=637497151663283695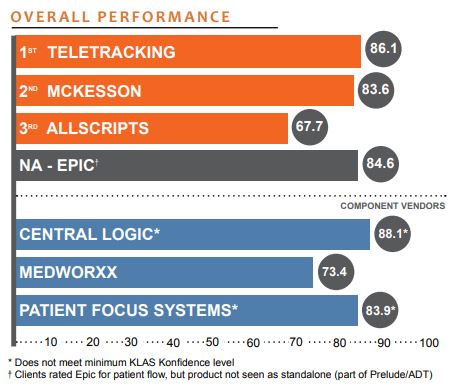 Key Findings
TeleTracking Claims Top Spot—TeleTracking's heavy market share and increased satisfaction from their new XT release position them as the vendor to beat. McKesson scores second, boosted by satisfaction from excellent visual appeal. Allscripts performs lowest with a multiyear downward trend in scores, though one client live on v.10 is very excited.
Integrated EMR Vendor Offerings Make First Splash—Epic is the first EMR vendor to make real headway with an organically built—rather than acquired—patient flow solution. Live clients report very basic functionality but anticipate considerable development. KLAS validated a few newly live clients on Cerner's new solution with positive, though bumpy, early experiences.
Hard to Define Impact on Length of Stay—Few providers report that their patient flow system significantly reduces length of stay. McKesson is the exception with the most clients citing a reduction, while Epic clients are the most unsure. Part of the gap could be attributed to providers needing improved reporting—the number-one reported problem for all patient flow vendors.
Providers Look Beyond Bed Management and Environmental Services—To optimize patient flow, providers seek more robust functionality in patient transport and particularly for transfer/access center. Epic and TeleTracking clients report recent improvements for transport offerings, and Central Logic carves out a niche with a strong solution in transfer/access center.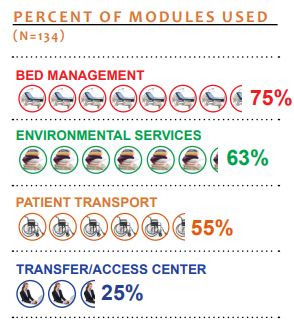 The Bottom Line
Allscripts (67.7): Significant 10-point drop in overall performance. Of respondents, 30% planning to leave as a result of delayed development and thinned support ever since Allscripts acquired patient flow solution from Premise. Fairly easy-to-use, integrated modules for bed management and EVS. Limited transport module. Most use different vendor for patient transfer/access center. Key struggles include limited reporting, upgrade challenges, and outdated technology. Early web-based v.10 reviews indicate highly improved user interface, modules, and performance.
McKesson (83.6): Good overall customer satisfaction. Praised for ease of use and excellent visual nature with colored icons and graphics. Integrated modules for bed management, EVS, and patient transport. Highest ratings for EVS. Limited transport functionality. Few using for transfer/access center. Support can be difficult to reach. Reporting still very limited. Clients complain of little customizability, with all display changes done through McKesson.
TeleTracking (86.1): Highest-rated solution with largest market share. Clients see vendor as benchmark for patient flow and note strong product development. New XT users pleased with version improvements to integration, user interface, customizability, workflow, and transport module. Responsive support and development teams. Some struggles with training on XT implementations. Reporting still a struggle for most; slightly improved in XT. Some purchase additional reporting features from TeleTracking.
Epic (84.6): New bed management, EVS, and transport modules to Epic clients only. Integration is the primary advantage. Clients see functionality as basic compared to more mature platforms but rate Epic highly in anticipation of development. EVS seen as weakest module. Multiple comments seeking improved alert/icon functionality and more reporting capability.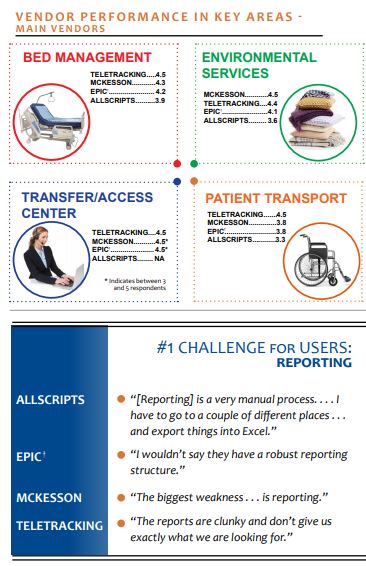 This material is copyrighted. Any organization gaining unauthorized access to this report will be liable to compensate KLAS for the full retail price. Please see the KLAS DATA USE POLICY for information regarding use of this report. © 2023 KLAS Research, LLC. All Rights Reserved. NOTE: Performance scores may change significantly when including newly interviewed provider organizations, especially when added to a smaller sample size like in emerging markets with a small number of live clients. The findings presented are not meant to be conclusive data for an entire client base.
Related Segments
​