2022 BEST IN KLAS
Preferences
Related Series
---
340B 2020
Who Should Be On Your 340B Speed Dial?
340B Management Systems
Related Segments
End chart zoom
* A page refresh may be necessary to see the updated image
340B Split Billing 2017
Who Can Help Providers Adapt to a Changing Market?
Current Time Inside Cache Tag Helper: 12/1/2022 4:31:17 PM and Model.reportId = 1176
As the 340B market continues to grow and change to meet federal regulations, providers report varying degrees of success with the vendors they use to help them adapt. Providers need vendors that consistently prepare them for and support them through these changes, such as the increasing number of HRSA audits. Which vendors are supporting and guiding providers through the audits? And who offers the strongest tools for 340B setup and reporting? KLAS spoke with 116 340B hospitals to find out how effectively their vendors deliver audit training and guidance as well as split-billing tools.
HtmlReportContent Current Time Inside Cache Tag Helper: 12/1/2022 4:31:17 PM and Model.reportId= 1176 and Model.HtmlReportContent_LastWriteTimeUtcInTicks=637689629386930702
1. MARKET TRENDS: MACRO HELIX CONSISTENT, SENTRY DROPPING, VERITY SOLUTIONS' MANAGED SERVICES ACCOUNTS RISING
Macro Helix's consistent product development and adequate product support have helped make them a 340B leader. The recent drop in Sentry customers' satisfaction is largely due to the vendor's overreliance on product development as support dwindles and resources remain inadequate. Verity Solutions customers with managed services (software and services) praise Verity's proactive audit support; desktop users (software only) do not receive this support, resulting in a 40-point discrepancy in overall satisfaction. Currently, Verity's go-forward product is Verity 340B, which includes managed services. Customer satisfaction with ARxIUM and eAudit Solutions has steadily declined, causing provider interest to wane.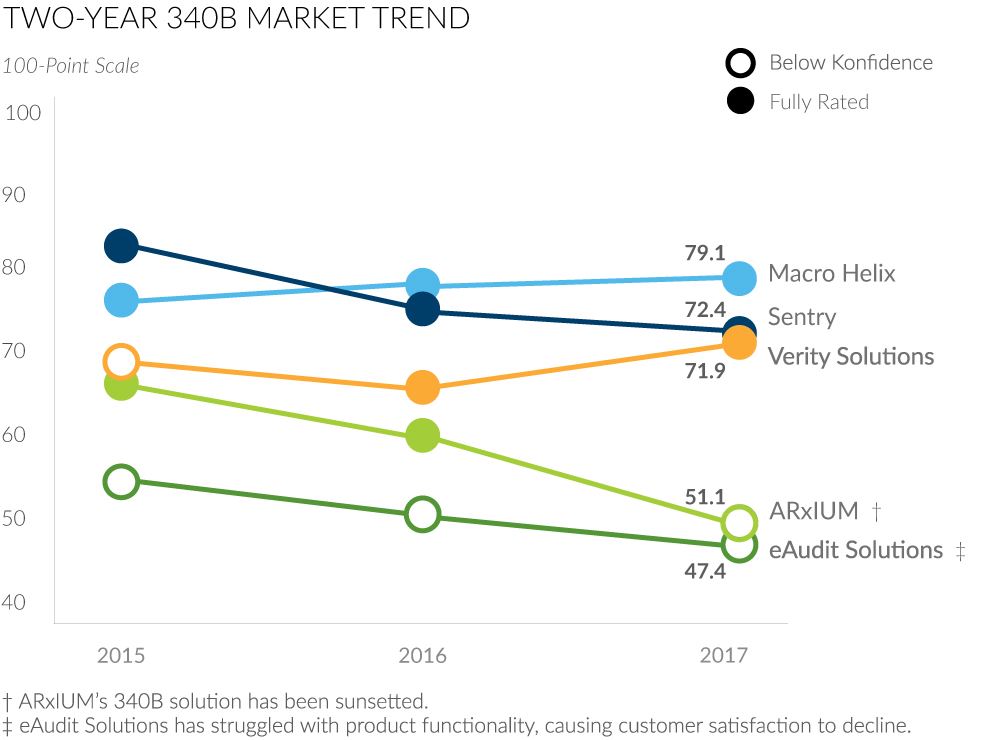 2. VERITY SOLUTIONS' MANAGED SERVICES STRENGTHEN CUSTOMER PREPAREDNESS
A limited number of Verity Solutions customers have completed an audit; of those, managed services customers report being the best prepared, with hands-on training prior to audits and experts that break down complex processes. Providers also praise Verity for refined mock-audit procedures and verified claims. However, these benefits are not available to users of Verity's desktop version. Additionally, customers agree that Verity's nonaudit training (e.g., for implementations) is satisfactory and that representatives are knowledgeable. Macro Helix clients feel that audit preparation (such as audit checklists) is basic and that the helpfulness of mock audits and reports is inconsistent. Sentry offers little audit or functionality training; the training that is available (through webinars and over the phone) is regarded as too impersonal.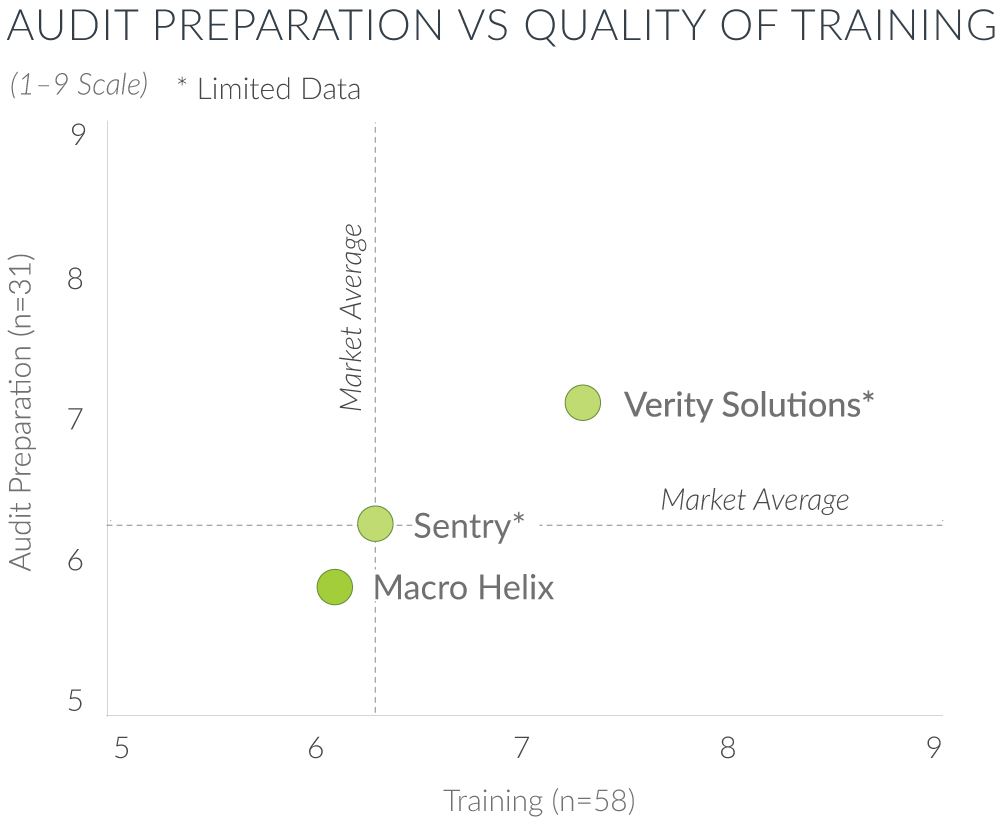 3. VERITY SOLUTIONS HITS HOME RUN WITH AUDIT-GUIDANCE EXPERTS
Verity Solutions stands out for leveraging their expertise to guide managed services clients during audits. Respondents say on-site staff provide claims data, proactively offer best practices, and help write policies and procedures that are compliant with changing regulations. Although Macro Helix and Sentry users appreciate the on-site presence during audits, many say their vendor keeps customers at arm's length to limit vendor liability. Macro Helix staff members need more training to be effective in pulling data feeds and reports during audits. Sentry is praised for overall industry knowledge. Resources are strained, leading to inconsistent responsiveness and follow-up, especially for large hospitals with over 200 beds.

4. SENTRY AND MACRO HELIX OFFER STRONG FUNCTIONALITY; VERITY AUTOSPLIT PLATFORM OUTDATED
Sentry's focus on product development has helped them develop superior functionality. Specific innovations include frequent updates to portal and dashboard, a rules-based NDC crosswalk for identifying prescriptions that don't have enough WAC purchases, and easy data manipulation that results in flexible reports. Macro Helix makes data easy to access, navigate, and digest with their intuitive utilization management tool. Macro Helix reports are detailed and flexible with retail audit data, while NDC crosswalk data requires tedious manual updates. Verity users struggle the most with their functionality as the AutoSplit platform is outdated. They report frustration with cumbersome data-access procedures, inaccurate GPO and 340B pricing, and the extensive manual work required to organize data dumps.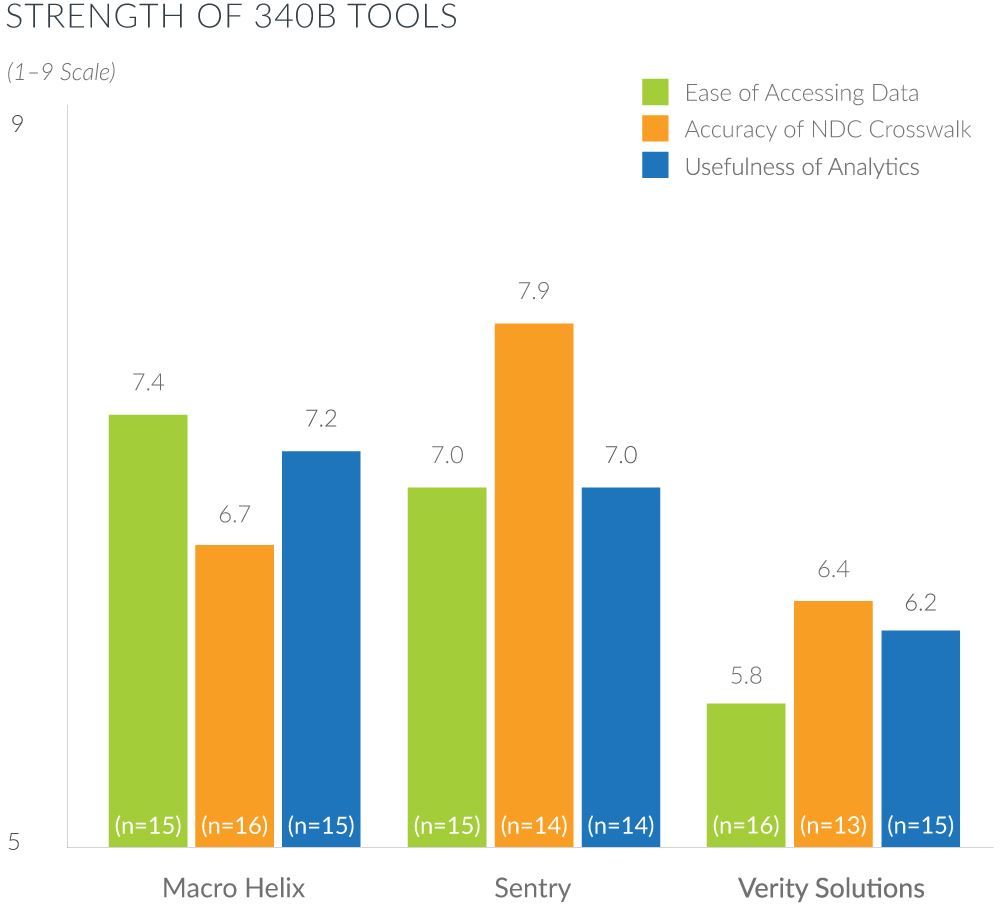 Writer
Jonathan Christensen
Designer
Jess Wallace-Simpson
This material is copyrighted. Any organization gaining unauthorized access to this report will be liable to compensate KLAS for the full retail price. Please see the KLAS DATA USE POLICY for information regarding use of this report. © 2022 KLAS Research, LLC. All Rights Reserved. NOTE: Performance scores may change significantly when including newly interviewed provider organizations, especially when added to a smaller sample size like in emerging markets with a small number of live clients. The findings presented are not meant to be conclusive data for an entire client base.
Related Segments
​