Phone required (###) ###-####, or int ######...
Tell us about your organization
error messages will go here...
Looks like we're already familiar with you!
Please press next to continue with the survey.
Looks like we're already familiar with you!
According to your account type you are not eligible to take surveys at this time. If this is a mistake, please contact KLAS.
If you are trying to access KLAS research data and reports, an email has been sent to with a link to login.
If the email doesn't appear in your inbox, ask your IT department to add KLASresearch.com to your company spam filter's "whitelist", and check your email's spam folder.
Membership Commitment
In exchange for giving their feedback, healthcare providers can create an account to get access to industry reports, user commentary, and real-time ratings.
By submitting your account request, you are engaged in patient care as either an employee (or contractor) of your provider organization and that you confirm that you have reviewed and agree to abide by the Terms of Use for this website as updated periodically.
To learn more about how we process and protect your personal data, you may view our Privacy policy.
By submitting your account request, you confirm that you have reviewed and agree to abide by the Terms of Use for this website as updated periodically. To learn more about how we process and protect your personal data, you may view our Privacy policy.
By submitting your account request, you confirm that you have reviewed and agree to abide by the Terms of Use for this website as updated periodically.
Thank You! Your information was submitted successfully!
Next Steps - An email has been sent to . Please follow its instructions to verify your email, and login.
If the email doesn't appear in your inbox, try asking your IT department to add KLASresearch.com to your company spam filter's "whitelist", and checking your email's spam folder.
Thank You! Your information was submitted successfully!
Next Steps - A KLAS representative will contact you to discuss working with KLAS, typically within 24 to 48 hours.
If you have any further questions please contact info@klasresearch.com or 1-801-226-5120.
Surprise! Looks like we already have an account for you.
An email has been sent to blah@blah.com with a link to login.
If the email doesn't appear in your inbox, try asking your IT department to add KLASresearch.com to your company spam filter's "whitelist", and checking your email's spam folder.
2021 BEST IN KLAS
Preferences
Related Series
---
EDIS 2011
EDIS 2010 - Functionality vs. Integration
Emergency Department Information Systems
Emergency Department Systems 2008
EDIS Perception Study 2007
Emergency Department Report 2006
End chart zoom
* A page refresh may be necessary to see the updated image
EDIS 2013
Revealing the Physicians' Voice
Current Time Inside Cache Tag Helper: 8/4/2021 9:58:23 PM and Model.reportId = 764
Hospitals are moving toward integrated enterprise platforms, and many are including the EDIS in that decision. But what impact does that replacement have on the ED physician? This report—KLAS' first to review ED systems strictly through the eyes of the physician—compares the differences between enterprise and best-of-breed (BoB) offerings in facilitating ED efficiency, documentation quality, patient safety, and interoperability.
Healthcare Providers,
Want to see more reports?
HtmlReportContent Current Time Inside Cache Tag Helper: 8/4/2021 9:58:23 PM and Model.reportId= 764 and Model.HtmlReportContent_LastWriteTimeUtcInTicks=637497116958017620
Key Findings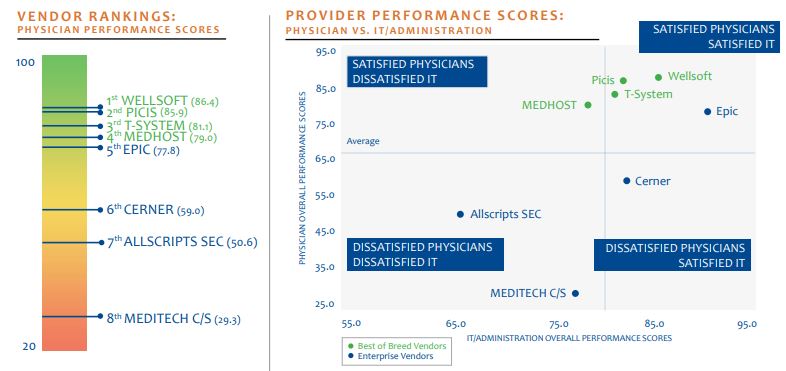 Confirmed—BoB Is Hard to Beat: Physicians using BoB systems rate their experience 59% higher than those using enterprise systems. Wellsoft and Picis have the most-satisfied physicians, whereas physicians using MEDITECH C/S and Allscripts SEC are least satisfied. From an IT perspective, top BoB systems perform well also. However, few come close to Epic's IT/administration performance scores.
Direct Physician Documentation Improves Accuracy: Physicians report that documentation accuracy improves as they directly document in an EDIS as opposed to using scribes or dictation. BoB systems have much higher instances of direct physician documentation and reported accuracy than systems from enterprise vendors have. T-System leads in this area with all physicians but one reporting that documentation accuracy is improved, praising the physician-friendly templates. MEDHOST and Wellsoft had the second- and third-highest percentages, respectively, with providers reporting improved accuracy.
BoB Improves Patient Care, CDS Needs Work: BoB systems outperform enterprise offerings relative to improving patient care thanks to intuitive screen/template layouts that reduce order entry errors as well as physician prompts to ask patients more-targeted questions and alert caregivers to adverse drug events. Physicians rate Picis, T-System, and Wellsoft highest in areas affecting patient safety. CDS, on the other hand, is a top concern and one of the most requested areas for vendor improvement.
Which Vendors Are Best at Improving the Quality of Patient Care?
KLAS asked physicians to rate how well their EDIS (1) provides effective clinical decision support, (2) helps avoid errors affecting patient safety, and (3) facilitates communication between caregivers within the ED. [See figure at left for average score in these three areas, by vendor.]
Rating Picis the highest for helping improve patient care, physicians appreciate Picis' customizable alerts, which help them reduce adverse drug events. They also report that the system's nurse-physician messaging services facilitate better caregiver communication. Said one physician: "Picis ED PulseCheck warns us about everything. We can set the degree for how strict we want alerts to be for things like medication interactions and so forth."
Among enterprise vendors, Cerner performs slightly better than Epic in helping physicians avoid errors that impact patient safety, whereas Epic scores better for CDS and facilitating communication. However, with average scores in these areas not surpassing 3.0 (out of 5), physicians want significant improvements from their enterprise vendors. MEDITECH has the most ground to cover, with physicians scoring them significantly lower than any other vendor in all three areas.
Integration or Interoperability?
When asked, physicians noted that enterprise ED offerings do a better job of providing them with all of the clinical information needed, especially Epic ASAP ED and Allscripts SEC. However, the large majority of BoB physician users feel their systems provide them with most of the information they need to be effective in the ED (e.g., lab/radiology results and pharmacy orders). While providing sufficient information for the ED, these BoB systems struggle to send the ED patient record back to the inpatient EMR upon admittance, which negatively affects the continuity of care within the hospital. A Wellsoft physician illuminated this challenge by saying, "We get what we need to treat patients here in the ED, including labs, x-rays, and so on. If a patient gets admitted, though, that record does not interface to Allscripts."
Bottom Line On Vendors:
Best of Breed Vendors:
Wellsoft (86.4): Highest physician satisfaction in report with best patient throughput and documentation speed. Above average for avoiding errors and for CDS. Most clients have all physicians directly documenting. Interoperability meeting most ED physician needs for lab and radiology results, but integration with core CIS for things like medication orders noted as biggest area for improvement.
Picis (85.9): High physician satisfaction. Customizable alerts contribute to best ratings for helping avoid errors and for CDS. ED/ancillary integration meeting needs but weaker for ED/inpatient. Customizable macros help improve documentation speed, although a quarter reported less than 50% physician adoption.
T-System (81.1): Intuitive templates lead to highest-reported physician adoption of documentation, highest percent reporting improved charting/documentation accuracy, and improved patient throughput. Good for helping avoid errors and for CDS, although a few physicians note it can be easy to click on the wrong medication due to the template design. Alert fatigue and integration are issues for some.
MEDHOST (79.0): Majority of customers say improvements in documentation accuracy are offset by increases in documentation time. Color-coded charting helps improve accuracy and avoid errors. Physicians like aspects of the CDS but say it needs improvement, as does integration with the inpatient EMR.
Enterprise Vendors:
Epic (77.8): Delivers on hospital-wide integration. Highest physician satisfaction for enterprise vendors. High percentage of physicians documenting directly, although over 70% reported charting/documentation is now slower with Epic. Below average for avoiding errors and for CDS, and only slightly more than 50% saying documentation accuracy is improved.
Cerner (59.0): Best documentation accuracy scores of enterprise vendors. Integration a plus, but physicians report decreased charting/documentation speed, below-average error avoidance and CDS, too many clicks, and alert fatigue.
Allscripts SEC (50.6): Second best for interoperability, though physicians would like better communication with outpatient facilities. Direct physician documentation cumbersome and time consuming. Second worst for avoiding errors and CDS—physicians can easily access the wrong patient chart, leading to order entry errors. Many report alert fatigue. Physicians uncertain regarding Allscripts' go-forward plans for Allscripts SEC and Allscripts ED.
MEDITECH C/S (29.3): Lowest-rated vendor in nearly every category. Physicians report poor user interface, functionality, and design, all of which detract from their ability to care for patients and lead to slow delivery of care. Physicians also report a glitch that pulls up the wrong patient record, allowing for order entry errors. Many choose to use dictation or scribes instead of dealing with slow, "clicky" documentation.
This material is copyrighted. Any organization gaining unauthorized access to this report will be liable to compensate KLAS for the full retail price. Please see the KLAS DATA USE POLICY for information regarding use of this report. © 2021 KLAS Research, LLC. All Rights Reserved. NOTE: Performance scores may change significantly when including newly interviewed provider organizations, especially when added to a smaller sample size like in emerging markets with a small number of live clients. The findings presented are not meant to be conclusive data for an entire client base.
​